Claire Hudson Presents at Maryland Water Monitoring Council Conference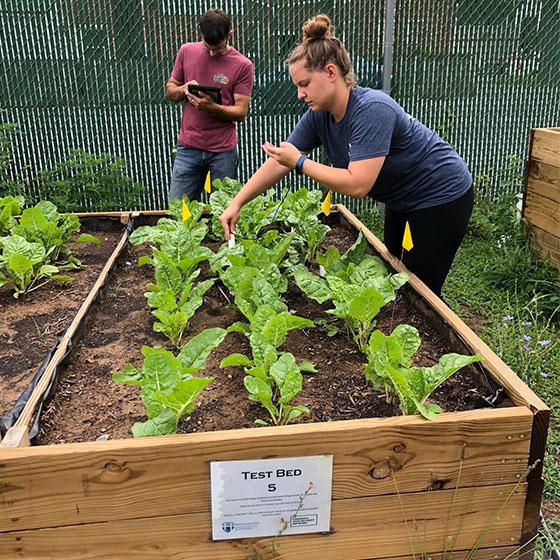 Claire Hudson, coastal studies program director, recently presented at the Maryland Water Monitoring Councils (MWMC) annual conference.
Claire Hudson
Program
Coastal Studies Program
Environmental Science & Policy (B.A.)
Biology (B.A.)
Department
Claire Hudson, coastal studies program director at Hood, and Rachel Rosenberg Goldstein, from the University of Maryland, presented a talk titled: "Is rooftop runoff safe for growing vegetables? Evaluating water quality and food safety of rooftop runoff using a subsurface irrigation system" at the Maryland Water Monitoring Councils (MWMC) annual conference in December.
During summer 2018, Hudson and Rosenberg collaborated on a pilot study that involved summer students from Hood and the University of Maryland. They studied the efficiency of garden beds designed to receive rooftop runoff and act a reservoir for sub-irrigation. The team of students and faculty explored the system's ability to improve and maintain water quality throughout the growing season. The study site, located at the Religious Coalition for Emergency Human Needs (a Frederick Food Security Network partner), consisted of four vegetable rain garden (VRG) beds sub-irrigated from rooftop runoff, and two control raised beds.
The pilot study evaluated ambient rainwater, first-flush rooftop runoff and sub-irrigation water for lead, copper, aluminum, cadmium and zinc. Soil and Swiss chard that were grown in the VRG's were tested for total coliforms, E. coli, and Enterococcus spp. They found that all heavy metal levels were below the EPA's recommended water quality criteria for irrigation and that [presumptive] E. coli exceeded FSMA standards from first-flush samples on one date. In addition, E. coli was detected once on chard. 
Their conference presentation explained that the VRG system has possible environmental and community stewardship benefits such as stormwater mitigation, water conservation and the ability to provide community members residing in food deserts with fresh produce.
Are you ready to say Hello?