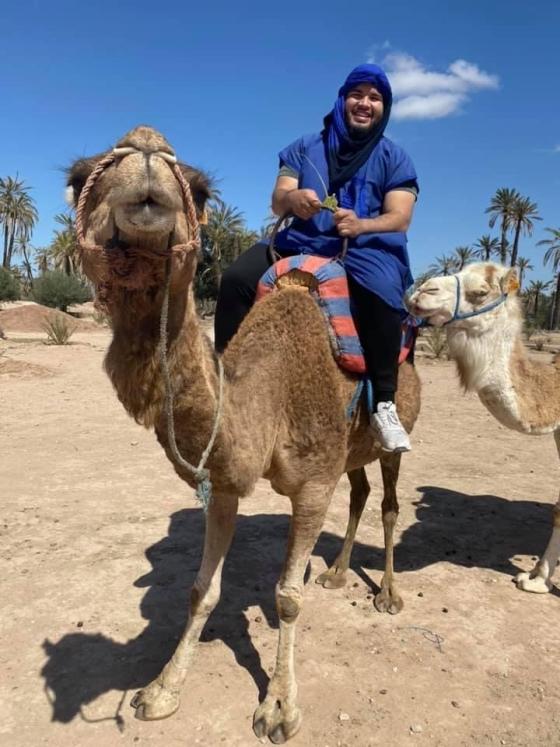 B.A. Business Administration and Marketing; Admissions Counselor, Assistant Coach Men's Soccer at Hood College; Study abroad: Barcelona, Spain
Graduation Year
Tell us why you chose to attend Hood?  Was there a particular moment when you knew Hood was where you wanted to pursue your bachelor's degree?
I chose Hood because it provided me the opportunity to focus on my academics while playing the sport I love. I knew Hood was home when I was here for an overnight visit. The people I met were great and extremely welcoming.
When did you know that you wanted to make a study abroad experience part of your Hood career? How did you decide upon Spain as your academic destination?
When I was a freshman my teammate told me about his experience abroad. Being a Spanish major, a lot of my peers went abroad as well. So I decided that there was no better way to end my bachelor's degree than to be abroad for my last semester. Barcelona, Spain is home to the best soccer club in the world (F.C. Barcelona) and my dream as a child was to watch them play live. Studying abroad in Barcelona gave me that opportunity and more. 
Tell us about your life in Barcelona; what was the most challenging part of your experience? What did you find most rewarding?
Barcelona was more than just the home of FC Barcelona. My most challenging time there was when I first arrived. I pretty much got thrown in a city with 1.62 million people and I did not know anyone. I had the opportunity to live with a host family and that made my transition a little smoother. The time zone difference was hard because I could not talk to my friends back in the states as much. However, I learned to embrace it and made new friends there. I got to travel to over eight countries and two continents; that photo was when I went to Marrakesh, Morocco for a weekend! I was not sure if I would like the city at first but having access to the metro and using it daily to go to class I learned to love it.
Did the Covid-19 pandemic affect your study abroad experience at all?
Unfortunately, Covid-19 cut my trip about 2 months short. It was a learning experience to see this pandemic unfold while I was abroad. There were a lot of unanswered questions but I think in the end it was a learning experience for everyone. At first, we transitioned to online learning and we thought it would last a week or two. However, things got worse and the reality of the situation started to settle in. We had met many students that were studying abroad in Italy and they had been sent home. We knew it was only a matter of time for our program to send us home. Eventually, the CDC advised us to head home and that was the end of my time in Barcelona, Spain.
When comparing higher education in the United States and Spain, what are some advantages and disadvantages to both academic cultures?
I think that studying abroad was an eye-opener for me. While abroad, I took two classes at a local university, with local students, and local professors. Those classes were definitely different from what I am used to here at Hood. I thought that their style was more of a bigger university with little to none interaction between the student and the professor. While I enjoyed my time in those classes abroad I did miss the small classroom environment and the relationship with my professors that experienced at Hood.
What was your most favorite, the non-academic experience you had in Spain?
My favorite experience while abroad was my trip to Morocco. I had the opportunity to visit a 3rd world country that is so rich in culture. I also got to ride camels and ATVs through the Sahara Desert. My favorite part of the trip was the people from this city. They were so welcoming and made me feel at home. Lastly, their food was super good and they had endless options.
Lastly, what advice would you give current Hood students who are considering a study abroad experience in Spain?
I would advise you to drop everything you have going on and go abroad! I am so glad I had the opportunity to go abroad and I think that every student should do the same. It challenges you as a person and it will help you understand others as well. After my trip abroad, I've become a more open-minded person and it has helped me understand other people from other cultures. Hood provides many different destinations so it could be a country of your choice. I also made many different friends that attend colleges/universities all over the country.
Are you ready to say Hello?
Choose a Pathway
Information will vary based on program level. Select a path to find the information you're looking for!