Dean Boulton Wins National "Trailblazer in Mentoring" Award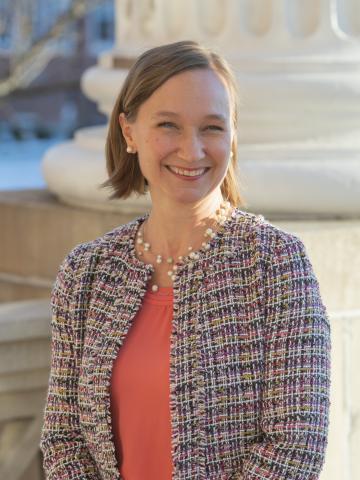 Interview with April Boulton, Ph.D., Dean of the Graduate School at Hood College and "Trailblazer in Mentoring" awardee.
April Boulton, Ph.D., Dean of the Graduate School
Program
Environmental Biology (M.S.)
4PLUS Environmental Biology Program (B.A., M.S.)
Environmental Science & Policy (B.A.)
Department
April Boulton, Ph.D., Dean of Graduate School at Hood College, won a  national "Trailblazer in Mentoring" award for her STEM mentoring contributions in Fredrick, MD. She was nominated by Million Women Mentors for this award, which recognizes individuals who have made notable contributions to their community and who have demonstrated excellence in the field of mentoring. The award was announced by STEMconnector, the nation's largest professional organization dedicated to developing a diverse, STEM-ready workforce.
What inspired you to get involved with Woman to Woman Mentoring and other programs helping women in STEM? 
Across the globe, women are systemically under-represented in STEM fields (science, tech, engineering & math). Once engaged in STEM, they are also significantly less likely to stay in these fields compared to their male peers especially during their child-bearing years.
That trend has to change - women have so much to contribute to these fields.  We need diverse backgrounds at the table, so I wanted to contribute to that long overdue change. As a mom of three and a biologist, I thought that I might also bring a perspective that resonates with women aspiring to make a career in STEM (not that motherhood is desired by all, nor should it be).
Did you have women mentors throughout your educational career? How has that experience influenced your career growth? 
Absolutely, my undergraduate advisor had a significant, long-lasting impact on me, Dr. Mykol Hamilton in Centre College's psychology department.  She was incredibly influential on my career choices and steadfast commitment to scientific investigation.  Dr. Brent White (professor emeritus at Centre College) was also a staunch supporter during and after my bachelor's degree.
Later, at Bucknell University, my master's advisor, Dr. Martina Ramirez (now in the biology dept. at Loyola Marymount University in LA), picked me up after my initial thesis project failed.  If it was not for her encouragement and infectious tenacity, I would not be who I am today.  There were so many other women (and men) along the way that influenced my dedication to STEM - I am indebted and grateful to them all.
Hood is a nurturing community by nature, which is evident across both undergraduate and graduate programs.  I think that's a result of combined factors: small size and the unique student focus valued by the people who choose to work here.
As a historically women's college, there is a strong foundation, still present today, that bolsters our women students interested in STEM careers from faculty role models to special programming.  Whatever the reason, women students aren't afraid to be leaders on this campus - much more so than at many other co-ed campuses I've worked at in the past.
What would you like to say to women in STEM who are starting their career and looking for professional guidance?  
Find your cheerleader - you only need one.  Whether it's a faculty member you've had only once in a course, but with whom you felt an energy and connection, or your research advisor who you meet with regularly, find those mentors you connect to. They will write you amazing letters of recommendation down the road, model for you the work-life balance that is possible for a woman in STEM, and give you the confidence to undertake one of the most challenging, yet rewarding, career choices. 
And PERSEVERE!  People in STEM fields all experience their share of failure.  Those uncomfortable, disappointing moments teach us so much--don't let them deter your commitment to the field.
Ready to #GOFURTHER in your career? Learn more about Hood College graduate degrees in STEM by clicking here.
Are you ready to say Hello?
Choose a Pathway
Information will vary based on program level. Select a path to find the information you're looking for!