Discovering the Humanities Conference—One Student's Reflections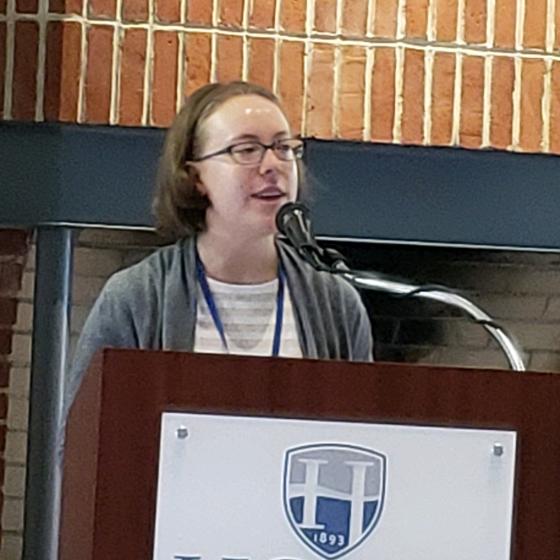 Recent alumna Olivia Imirie presented research that she began as a student last year. She was one of 10 Hood students who presented. Students from four other colleges presented as well.
Olivia Imirie
Graduation Year
Program
English (B.A.)
Literature (Minor)
Hometown
Department
English & Communication Arts
10/25/2018
By Olivia Imirie '18
It was an honor to be back among such gifted students at Hood's second annual Discovering the Humanities Conference. While I have presented at conferences before, it was wonderful to present in a more relaxed environment. It was such a relief to share my ideas without worrying about a grade, too! I was equally excited to be reunited with my friends from Hood, and we supported each other before, during and after our presentations.
I enjoyed the Q&A portion of my presentation the most, because it gave me the opportunity to interact with the audience. It opened up some great conversations with everyone there. I'm so pleased people were interested in my paper on "Giovanni's Room." It was one of my most difficult and involved projects while at Hood, and I am so proud of how it turned out.
One of the great things about the humanities is that we can view the world through many lenses. Disciplines such as history, literature, music, art and philosophy can all teach us something about who we are as human beings and, more importantly, who we can be. We presented our ideas, thoughts and opinions about the world in a place where we were all welcomed and respected. We may come from different backgrounds and walks of life, but we grew closer as a community simply by listening to one another, and that's powerful!
If there are any students interested in presenting at conferences, I would highly recommend giving the Discovering the Humanities Conference a try. Sometimes conferences can feel intimidating, but I promise you will feel supported by faculty, staff and fellow students as you share your ideas. Thank you, Dr. Campion and Dr. Angello, for making this conference a success, and I wish everyone all the best for next year! Happy presenting!
Are you ready to say Hello?