Doctoral Candidate's Research Leads to First Report of its Kind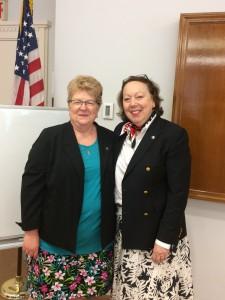 Aug. 28, 2018 -- Some of the most knowledgeable people in Hood College's Doctoral Program are the candidates themselves.
Peggy Dufour
Program
Organizational Leadership (DOL)
Department
The George B. Delaplaine Jr. School of Business
The new program has no graduates yet, with the first cohort beginning their third and final year this fall, but participants are already making waves in their wider world. One member of that first cohort, Peggy Dufour, is using her capstone project to make an impact in her industry. She is studying business ethics, specifically for proposal development professionals. As this is a field that she has worked in for 25 years, she is very familiar with it, and its pitfalls. 
"People in this industry have a lot at stake. One of the proposals I worked on (and won) was worth $22 billion. Ethics challenges arise when the stakes are that high," said Dufour. She explained that she wanted to study this group and industry in particular because it is her area of expertise and because they, as a group, haven't been studied in relation to ethics.
Dufour worked with the Association of Proposal Management Professionals (APMP), an organization with 8,000 members in 40 countries, to distribute a survey on ethics in the profession. The survey, created by Dufour and presented at the APMP National Conference in May, got immediate interest, receiving 1,750 responses. The executive director of APMP supported the project, and members from around the world responded to the survey and its concept. For instance, a member from South Africa who works with the South African Ethics Institute will be using it in his work. Dufour analyzed the data and reported the results to APMP, which released the data as a report. This report, the first one of its kind, had findings that were "equal parts surprising, encouraging, and inspiring."
The APMP summarized the report with three key takeaways, with some statistics that are encouraging and others that show areas for improvement. Eighty-eight percent of those surveyed felt a strong sense of accomplishment and 87 percent felt that their opinion is valued. However, 80 percent also reported some type of "overwork, burnout, or emotional distress in an industry known for its long work hours and demanding schedule." Nearly 48 percent of the respondents also believed that there is gender discrimination with pay and/or promotion for women in the bid and proposal area of the industry.
Dufour will also be using the data, particularly those questions which connect to the gender pay gap, for her capstone dissertation. She says that "a lot of research shows that women are paid less than men for the same work."
The numbers are real but often used incorrectly. One statistic from the international Glassdoor Survey  says that women are paid 76 cents for every dollar a man makes. If all men and women are combined into two groups and their median wages compared, that's true. But if men and women in the same job with similar experience are compared, the 24-cent difference shrinks to about nine cents. However, the question remains as to why that remaining difference exists. Called the 'unexplained gender pay gap,' It is true even for women at the very top of their professions. Why are they being paid less?  We look forward to finding out her results and recommendations!
Are you ready to say Hello?
Choose a Pathway
Information will vary based on program level. Select a path to find the information you're looking for!