Downtown Diversity Food Tour with Rona Mensah '92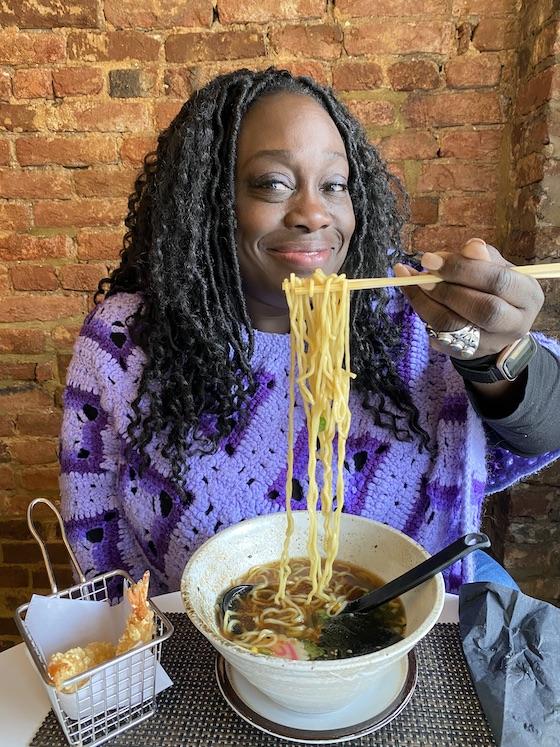 Rona Mensah '92 and Matt Lee '15 showcase Downtown Frederick restaurants owned and operated by underrepresented groups.
Frederick Focus
Graduation Year
There are more than 50 restaurants, bars and cafés in Downtown Frederick. Our vibrant food scene rivals that of many bigger cities. The diverse array of offerings reflects the cultural melting pot that Frederick has become over the years. In the spirit of uplifting underrepresented groups, we are delighted to highlight several eateries owned and operated by people of color and/or members of the LGBTQ+ communities.
I recently accompanied Rona Mensah '92—who is also a Board of Associates member—on a culinary tour of Downtown Frederick. We sampled delectable delights from four local hot spots, with a focus on inclusivity. Along the way, we discovered flavors as rich and varied as the people they came from. When we sit down to share a meal—whatever a person's background may be—it's clear to see that we are not so different. Food is the common denominator for us all. As Rona puts it, "Discovering new flavors helps us learn about cultures we might not be familiar with. Supporting these businesses is good for the whole community. When one thrives, we all thrive."
Breakfast/Brunch | 

Glory Doughnuts & Diner
162 W Patrick Street, Frederick, MD 21701 | 240-651-3467 | glorydoughnuts.com
Owners: Keirsten and Alissa Straiter
Since 2012, Keirsten and Alissa Straiter have been slinging old-fashioned dough with a modern twist—everything on the menu is 100 percent vegan. We stop by their charming creekside location on a bustling Saturday morning. What better way to start the weekend than with handmade, small-batch doughnuts and hot coffee? We opt for traditional chocolate, blueberry glaze, spicy hot chocolate and cinnamon twist. The doughnuts are a work of art. As Rona bites into her traditional chocolate, her eyes light up. "I can't believe this is vegan. It's so pillowy and soft. You can tell it's made fresh." Sipping her coffee, she looks at the line of customers waiting to order, as colorful as the doughnuts themselves. "And I love the energy in here. It feels like a safe space." This is no accident. The Straiters have made it their mission to foster an inclusive environment. "Diversity and representation in the industry are vital. Historically, people of color and the LGBTQ+ community haven't had the same access to opportunities as others have," says Alissa. "Representation is important because it normalizes diversity, celebrates culture and lifts communities who may need it."
Snack | 

Jerk N' Jive Caribbean Kitchen
91 N East Street B, Frederick, MD 21701 | 240-429-4518 | jerknjive.com
Owner: James Smith
Walking into Jerk N' Jive, the smell has us salivating before we even order. Owner James Smith opened the restaurant in 2017. Specialties include all the classics—jerk chicken, oxtail stew and coconut shrimp, to name a few. We decide to snack on a couple of the restaurant's famous Jamaican patties. A combination of minced meat, spices, garlic and onion wrapped in flaky, golden crust, these patties will transport you straight to the beaches of Kingston. "There is nothing better than this," Rona says between bites. "A little kick but not too spicy. The crust on here is the bomb. I love that you can just grab one and go. It's good for any time of day." Smith takes pride in his recipe, which he spent a long time perfecting. "The key is having seven or eight layers of pastry. That's the formula for a nice crust," Smith says. "You have to take your time and cook them at the right temperature; not too fast, not too slow." Whether you're dining in or grabbing takeout, this Black-owned business is a must-stop destination for Frederick foodies.
Drinks / Appetizers | 

Hootch & Banter
49 S Market Street, Frederick, MD 21701 | 301-732-4971 | hootchandbanter.com
Owners: Sherif Salem and Cherie Nearman
With its chic interior and eclectic menu, Hootch & Banter looks like it was plucked from uptown Manhattan. Instead, this hip little eatery calls South Market Street home. Owners Sherif Salem and his wife Cherie Nearman opened H&B in 2015. Since then, the business has garnered rave reviews and expanded to include a lounge on the second floor. Rona and I start off with a round of cocktails—classic Cosmopolitan for her, Hot Buttered Bourbon for me. This adult take on a hot cider is everything I could ask for on a chilly winter night. For an appetizer, our waiter suggests the Charm City Egg Rolls. Inside the exquisitely fried wonton wrappers we find a mixture of leeks, bell pepper, charred corn, imperial sauce and succulent lump crab, topped with spicy remoulade and accompanied by malt vinegar aioli and homemade Thai chili dipping sauce. Rona is dancing in her seat. "This might be my new favorite. A little tangy, a little sweet, super rich and decadent. The sauces are amazing. The presentation is gorgeous." We make short work of the egg rolls and enjoy a bit of people watching. There's a palpable buzz in the atmosphere as patrons at the bar laugh and tables start filling up for dinner. Time for another cocktail...
Dinner | 

Tsunami Ramen
20 N Market Street, Frederick, MD 21701 | 240-815-6744 | tsunamiramen.com
Owners: Moo Rung and Pong Chan
The last stop on our food-filled tour of Downtown Frederick takes us to Tsunami Ramen. After opening in 2020—during the middle of the pandemic, no less—it's great to see Tsunami filled with happy (and full) customers. Co-owners Moo Rung and Pong Chan established themselves as heavy hitters in the local restaurant scene when they launched sushi-centric Lazy Fish in 2014. At Tsunami, however, noodles reign supreme. Rona orders us Tsunami Dumplings to start. These bite-sized pockets of deliciousness are surprisingly colored blue (like a tsunami, get it?) and pack a ton of flavor. Next up, Rona tries the Tempura Ramen, while I go with the Pork Katsu. I waste no time devouring the thin, panko-fried cutlet over a bed of rice—superb. The ramen does not disappoint either. Silky egg noodles swim in a massive bowl of shoyu broth. The tempura-fried shrimp are served on the side to preserve their crispiness. As Rona pokes around with her chopsticks, she discovers corn kernels, seaweed, a soft-boiled egg and a fish cake. "There are a lot of different textures. Deep umami flavor. The noodles just soak up that broth." She takes a slurp and smiles. "This is not the instant ramen I had in college!"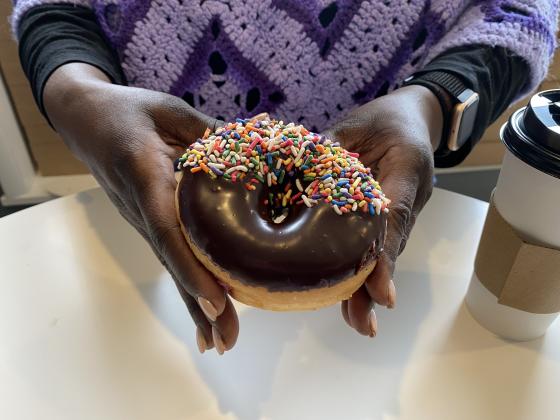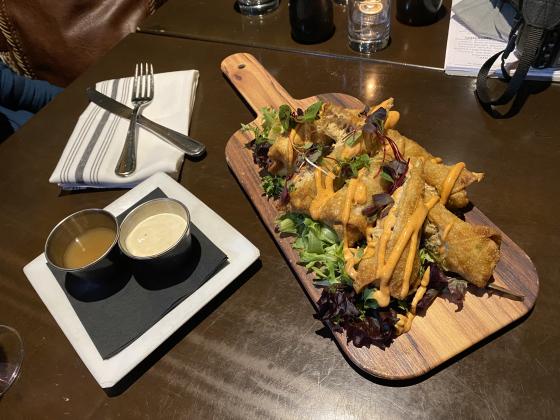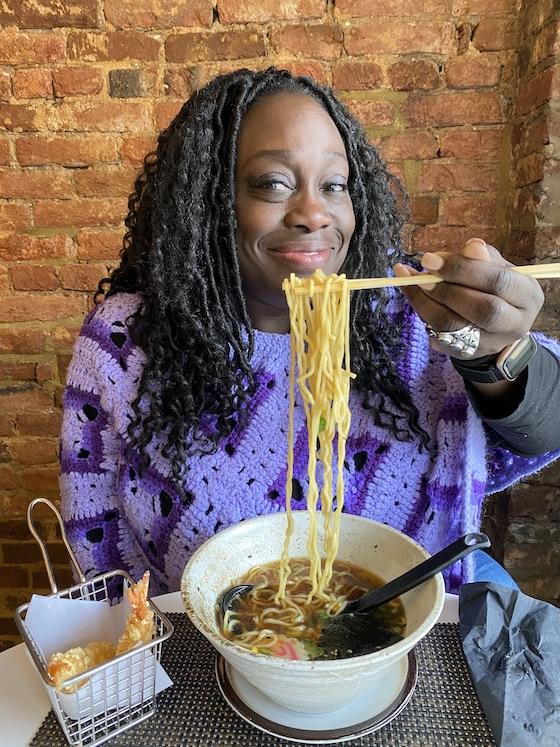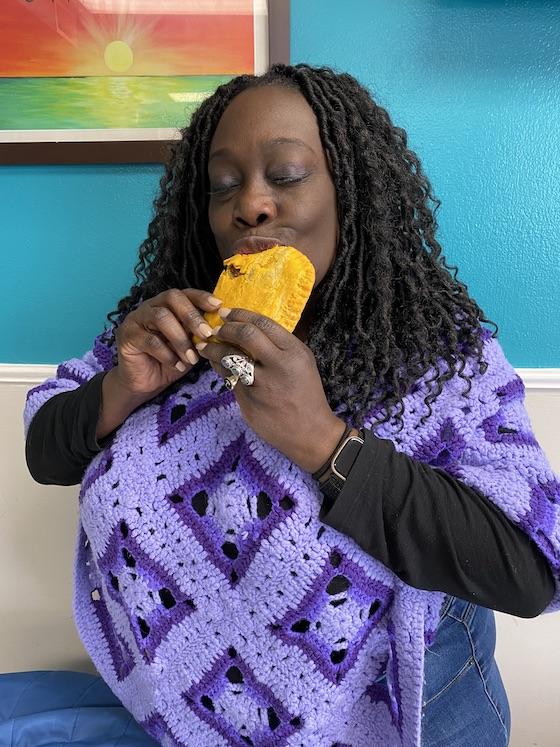 Are you ready to say Hello?
Choose a Pathway
Information will vary based on program level. Select a path to find the information you're looking for!