An Environmental Biology Student in Action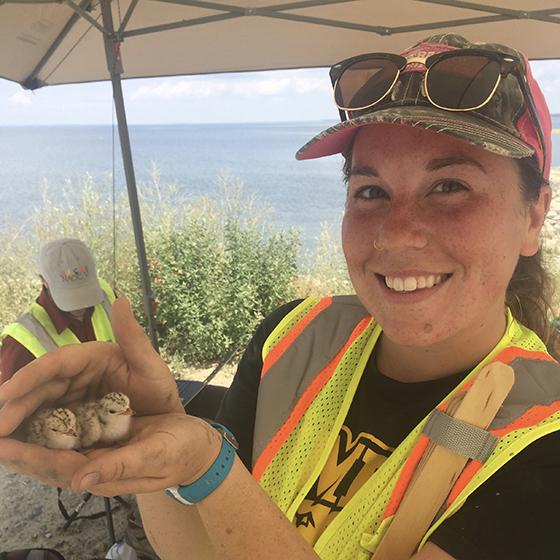 Mia Zimnik, an environmental biology student, works as an environment specialist to help keep the Chesapeake Bay clean.
Mia Zimnik
Program
Environmental Biology (M.S.)
Title
Mia Zimnik, a Hood College environmental biology student, says she chose this path because she was "tired of working with animals in captivity, and would rather work in preserving wild populations of those same animals."
Zimnik spent the spring, summer and fall of 2017 working as an avian research technician for Patuxent Wildlife Research Center under the United States Geological Survey (USGS) and Dr. Diann Prosser. The project was focusing on the breeding population of common and least terns on Poplar Island in the Chesapeake Bay. "It was an incredible experience, and despite being the hardest job I've ever had, I would do it again in a heartbeat." Zimnik is using data she gathered for her master's independent research project, which is measuring egg survivability of the common tern in relation to proximity to nearest nest.
Currently employed as an environmental specialist for Angler Environmental/Resource Environmental Solutions, she surveys local construction sites, making sure there is no sediment-laden water leaving the site and washing into the waterways, which would eventually get to the Chesapeake Bay. She learned about her current job from her department's professors.
"This program has been incredible for my professional development. I really value how the professors here have such rich real-world experience, and want the students to do as well as we can." Zimnik also points out she has never felt as if she is "annoying" professors by asking for professional help outside of school, and that she has always had great relationship with her peers. For her, Hood is a really supportive community that only wants success for everyone who is a part of it.
Her tips for the current graduate students? Always be organized and to push for what you want. She also mentions that it is crucial not to burn bridges, as well as to make lasting personal and professional connections while you are in the graduate school. "Nobody will work as hard for your future as you will, so put yourself and your dreams first."
Are you ready to say Hello?
Choose a Pathway
Information will vary based on program level. Select a path to find the information you're looking for!