FFSN Provides Work Opportunities for Students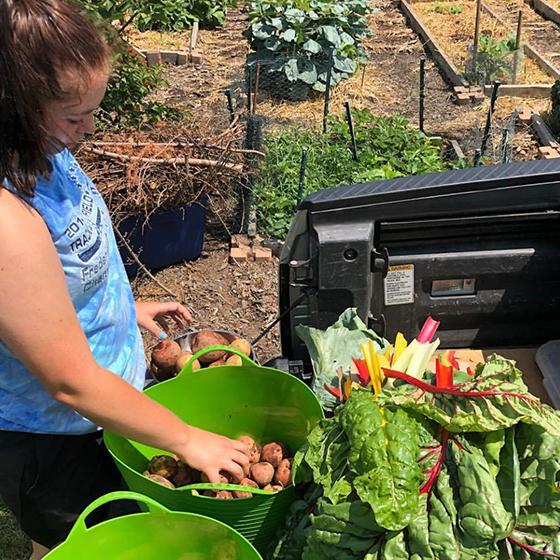 Paige Tolbard, who graduated from Frederick High School in June and took classes at Hood last year, worked for the Frederick Food Security Network over the summer.
Paige Tolbard works in an FFSN garden.
When I first heard about the opportunity to work with the Frederick Food Security Network, I was a bit worried I was not qualified for the job; I have never kept a plant alive, let alone cared for a successful garden.
Since receiving the job, I have been able to learn a lot about growing food and gardening in a short amount of time. Most of my days with the network were spent outside, planting or harvesting fruits and vegetables in gardens across Frederick. Watching firsthand the foods that I eat grow from seedlings to what I buy at the store, made me appreciate the work that goes into farming and the unseen faces tending to my food everyday.
I learned about the goal of the network, and how a food desert really affects the people living in it. I also learned a lot about Frederick County, such as the number of food deserts in the Frederick City limits alone, and the other organizations working to help those affected by those food deserts. My time with the Frederick Food Security Network has increased my interest in food sustainability and nonprofit work, which has prompted me to possibly make it my minor as I begin college.
Viewing the impact that a small nonprofit can make on hundreds of people within Frederick alone makes me excited to both watch it expand, and to take what I have learned into my career path. Seeing the faces of the people receiving the food that I harvested made me feel a sense of purpose. It was my most rewarding job experience, and made me a part of something much bigger than myself.
Are you ready to say Hello?
Choose a Pathway
Information will vary based on program level. Select a path to find the information you're looking for!