Five Reasons Why I Love Hood College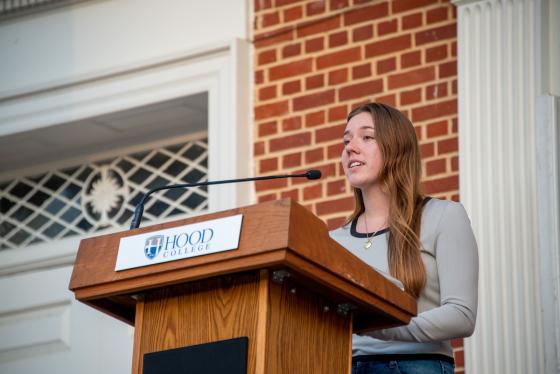 Ashley Coppage '23 is a biology major and member of the Blazers women's swim team. She shares why Hood College was the best fit for her.
Ashley Coppage '23
Department
I go to Hood College in Frederick, Maryland.
I absolutely love it.
I wanted that close-knit community and the small classroom setting. I can't imagine going anywhere else for college, and here's why.
Everything is within reasonable walking distance. I love that it only takes me five minutes to get anywhere on campus, a major perk for 8 a.m. classes. This is great for so many reasons, whether it be because you are like me and hate walking far or because it makes things more readily accessible. All of freshman year, I had back-to-back classes on Monday, Wednesday and Friday. I only had 10 minutes to get from Spanish to chemistry, but I always made it to class on time, if not early.
Getting to know people is a lot easier. I know most of my graduating class and the people that live in my dorm building. Communicating with others at Hood is easier in my opinion. If you don't know someone, it's nearly guaranteed that one of your friends does. It's a tight community. Walking on campus, I'll stop to say "Hello" to at least one person I know.
Having a small class of maybe 15 people is amazing. You truly get to know the professor and they get to know you. You're not just a name on a paper, a seat assignment or number. There's a catering to your personal learning style and more consideration to how everyone is doing in the class.
There are plenty of clubs to get involved in. Whether it be advocating for healthy relationships and consent with SPARC, supporting cancer patients and the fight against cancer at CAC meetings or getting involved in schools and supporting students at the Buddy Club, there are plenty of clubs available that you can join in order to advocate for change both on and off campus.
Athletics are a big part of my college experience. A large percentage of the student body is part of an athletics team. The coaches are all very invested in all their athletes' scholastic success. Every effort is made so that despite having the athletic commitments, the students are students first and athletes second.
I stick by my choice to go to a small college; it was and still is the right choice for me. I love the traditions and all the many advantages my college offers me. I am in love with my campus and Downtown Frederick. I have amazing relationships with the professors I had in the past semester, especially those that taught classes relating to my major. I could not imagine going to another college.
I love my small college and wouldn't change anything about it.
Are you ready to say Hello?
Choose a Pathway
Information will vary based on program level. Select a path to find the information you're looking for!