Funding for High-Impact Learning Benefits Everyone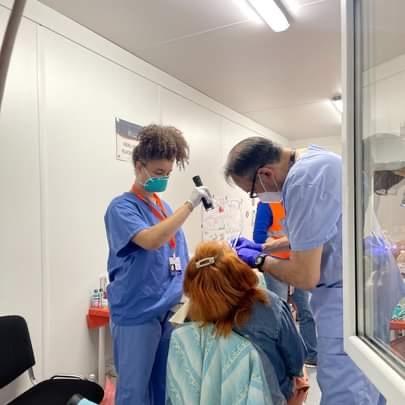 Hood College is committed to increasing resources for experiential learning opportunities, including internships, study abroad, service learning, fieldwork and student/faculty research.
Three Hood Students Share Their Stories
A top priority of the Forging the Future comprehensive campaign is to increase resources for high-impact learning—internships, study abroad, service learning, fieldwork and research with faculty. We want to ensure every student has at least one life-changing experiential learning opportunity before graduation.
High-impact learning opportunities carry significant costs, for both students and faculty. Internships and research experiences, for example, often occur in the summer, when many students must work full time to earn money for college tuition. Students and faculty incur costs related to travel, housing and supplies. Further resources are needed to support curriculum development, research, mentorship and advising. To encourage our students' full engagement in high-impact learning, Hood offers financial assistance for participating in these programs.
To illustrate the importance of these programs, here are a few examples of how this support has enriched the experiences of three Hood students traveling abroad:
Linda Redd '23
Linda is a pre-dental studies biology major and Chair of the Board Scholar. She recently received funding from Hood to participate in a mission trip with the International Medical Relief organization. The week after this year's finals, Linda traveled to Poland, where she has been providing aid for Ukrainians displaced by the conflict with Russia. At a refugee camp, Linda has worked alongside dentists from around the world. In addition to offering dental care, she teaches classes to children about oral hygiene.
Linda says working with a vulnerable population is challenging but rewarding, and she is grateful that Hood has given her this opportunity to make a difference and help people, while gaining real-world experience in the field of dentistry. After graduation, Linda plans to attend dental school. Her goal is to specialize in dental care for people with disabilities. Linda says dentistry combines her love of science with the desire to care for people who have special needs.
"I am very blessed to have received support from Hood to travel. Dental care is a necessity that is often overlooked, and I want to supply that need to people who do not have access to it. This war is a heartbreaking reality that I am sheltered from being in the States," says Linda. "The most rewarding part of my work has been seeing the resilience of the children in the refugee camp. They laughed, played and fought with each other. They welcomed me into their space, and I had genuine fun playing with them."
Greighson Rowe '22
Greighson received her degree in psychology and Spanish. She served as Psi Chi president and received awards for outstanding research contribution in psychology and proficiency in the Spanish language as a non-native Spanish speaker. She studied abroad in fall 2021 at the University of Seville, Spain. Living with a host family, she was fully immersed in the language, which built her confidence. As a result, she was able to refine her language skills and expand her academic experience through coursework.
Greighson believes the experience was invaluable to achieve her long-term goal of becoming a mental health professional with a focus on Spanish-speaking and ethnic minority populations. This was Greighson's first visit to Europe, and she was able to seize opportunities to travel to France, Portugal and Germany. Having earned her degree from Hood, Greighson is looking forward to realizing her dream of becoming a bilingual clinical psychologist through American University's M.A./Ph.D. program in Washington, D.C.
"This experience was something I will never forget, and it is a great gift to have a second home all the way across the world," says Greighson. "This opportunity would not have been possible without the financial support I received from a Hood travel abroad fund, which significantly contributed to the costs of studying abroad. Thank you so much to all who contribute to Hood College's high-impact learning opportunities!"
Stephanie Villalobos '23
Stephanie is majoring in French, as well as law and criminal justice. She is a member of the Honors Program and spent the spring 2022 semester in Paris, France. The opportunity to study abroad allowed Stephanie to achieve many goals that she had set for herself before embarking on this journey. First, to become more comfortable with public speaking, especially in French. Second, to be more open to change. Third, to explore the world outside the classroom in Paris and nearby cities. And finally, to integrate into the French culture.
Stephanie is extremely thankful for the once in a lifetime experience. She received travel abroad funds from the Shirley Conner Hardinge '44 Center for Global Studies and the Susan Whaley '74, J.D. Study Abroad Fund. Stephanie has received additional awards, including the Founders Scholarship, the Judge Edward S Delaplaine Scholarship, the Honors Program Scholarship, the Helen Burton Shelton '40 Scholarship and the Florence A. Pastore Memorial Award.
"Prior to pursuing this overseas opportunity, I found myself to be a rather timid and reserved individual who viewed public speaking to be an extensive challenge," says Stephanie. "However, this program played a pivotal role in developing my communication skills. I actively participated in open class discussions, explored travel opportunities to foreign markets and historical sites, and surrounded myself with a native French-speaking host family, all of which significantly enhanced my French-speaking capabilities and interpersonal skills."
Are you ready to say Hello?
Choose a Pathway
Information will vary based on program level. Select a path to find the information you're looking for!