The Future of Public Health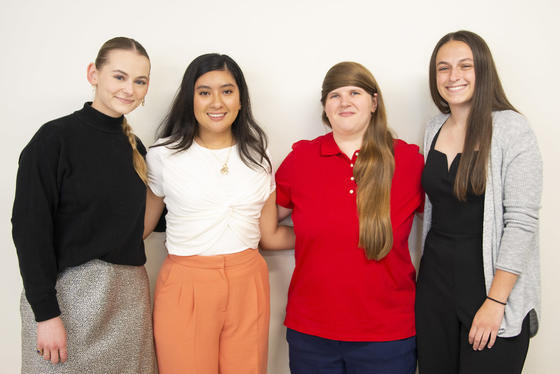 Sara Swanson, Ashley Cabrera, Olga Dunlap and Julee Wells (pictured left to right) are the first students to graduate from the public health B.A. program at Hood College.
First Graduating Cohort from Public Health Program
Program
Department
The field of public health is broad. Whereas medical providers handle the health of individuals, public health examines the health of entire communities. It encompasses nutrition, physical fitness, hygiene, sociology, psychology, epidemiology and much more. Public health professionals aim to improve the overall health of populations through outreach and education. By advocating for healthy lifestyles and addressing healthcare disparities, chronic conditions and diseases can be mitigated.
"I would define public health as protecting, promoting and preventing in all different aspects of healthcare," says Ashley Cabrera '23, one of four students who make up the first graduating cohort from Hood's public health program. "We make sure people get the right information to reduce health inequities. Education can go a long way in health outcomes."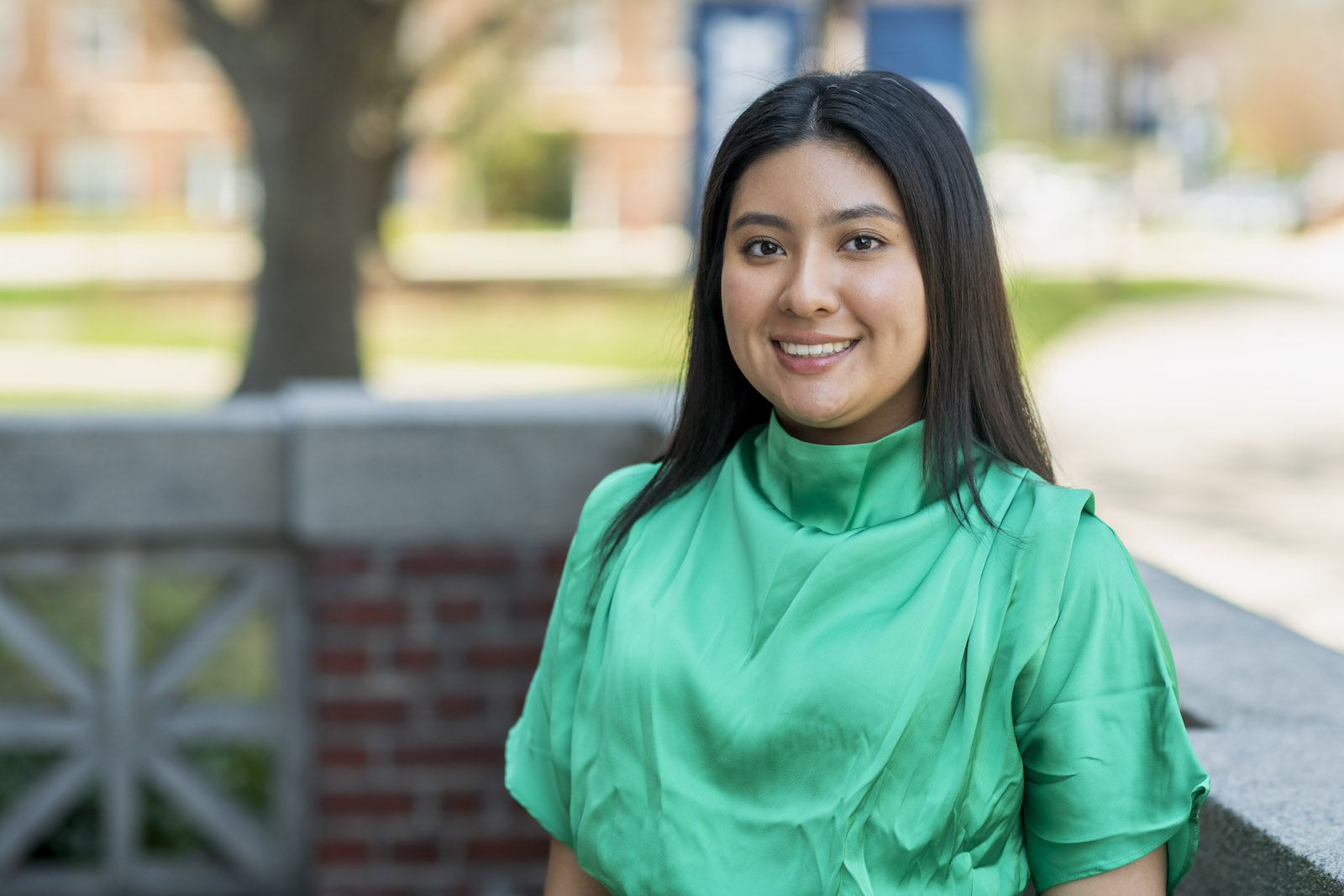 Cabrera's family is originally from El Salvador. Seeing the lack of food security, education and healthcare access that affected her siblings motivated Cabrera to pursue a public health degree. Today, she's applying the knowledge gained in her coursework to making an impact in the surrounding Frederick community, such as completing an internship with a children's dental clinic.
"A lot of what we discuss in class or read in our textbooks I'm able use for my internship. We look at real, relevant cases going on in the field of public health, and I can assimilate that with my actual work," says Cabrera.
Much of what the first public health cohort does involves a combination of research, analysis and implementation. The students examine datasets for trends and then recommend ways to improve results. Subjects range from drug use and mental health to cancer rates and heart disease.
"We look at people's health outcomes, like weight or blood pressure. We track and study the general population's health, then try to make changes to improve it," says Julee Wells '23. "We want to keep people healthy. It comes down to that—making people healthier, happier and live longer."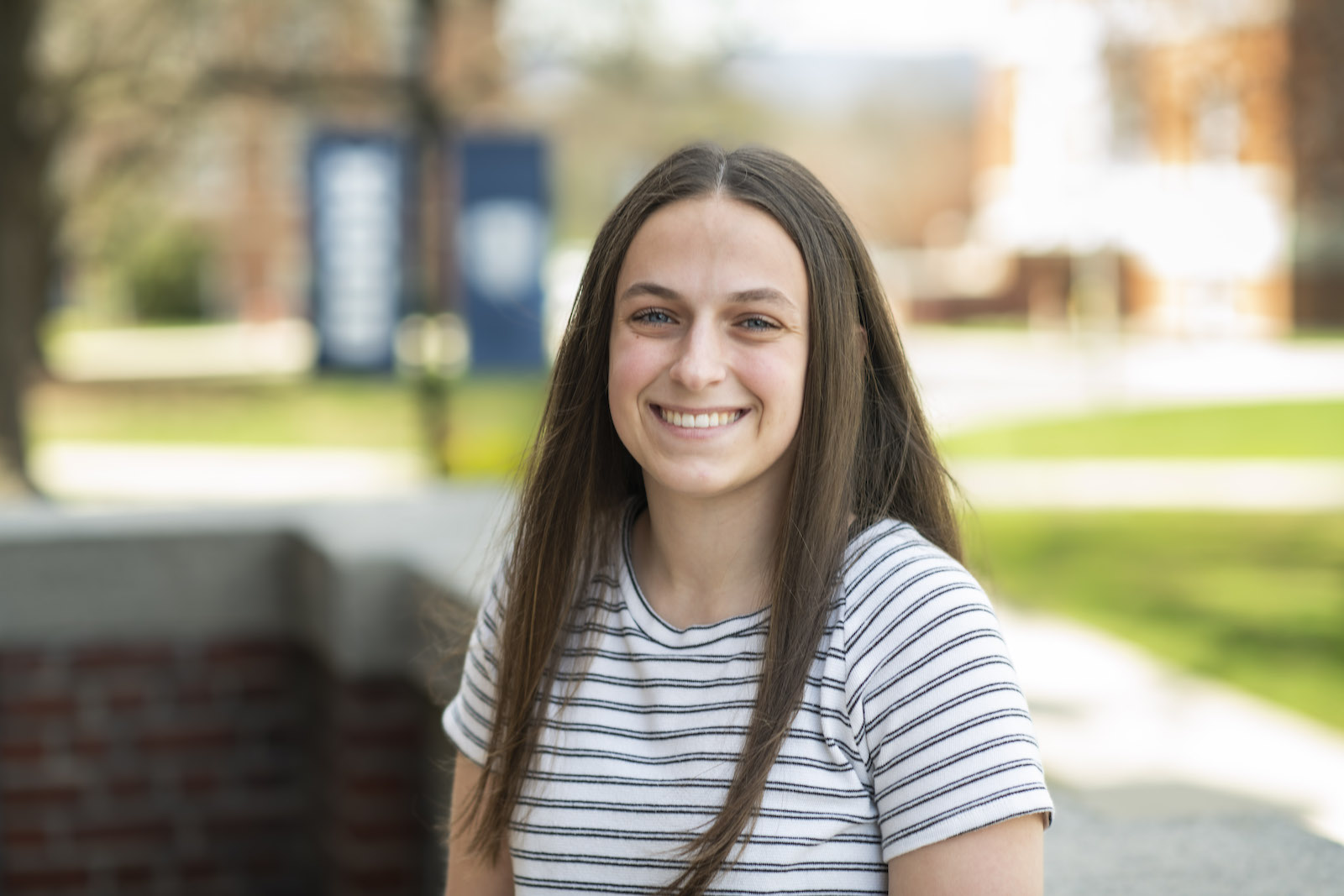 For Wells, the public health program presented an opportunity to work in healthcare without having to undergo the rigors and time commitment of medical school—a sentiment echoed by her classmates. At Hood, she's studied harm reduction and safe injection sites as well as the health effects of energy pipelines running through indigenous lands. A member of the track and field and cross-country teams, Wells did a presentation on depression in student-athletes. She also completed a study abroad semester in Amsterdam, where she compared the U.S. and Dutch public health systems.
Besides the challenges inherent to being the first cohort of an academic program, the class of '23 public health students had to contend with an unprecedented health crisis. In an ironic twist of fate, Hood College announced the launch of its undergraduate public health program on March 23, 2020—the same day Maryland instituted the first statewide lockdown. The coronavirus pandemic, of course, touched everyone in different ways. Millions were infected with the virus, and many lost their lives.
Suddenly, public health was at the forefront of the international stage. People became aware of the importance of prevention, remediation and treatment like never before. For the four students who were the first to enroll in Hood's public health program, the pandemic was also something unexpected—a learning opportunity.
As part of an initiative spearheaded by the Centers for Disease Control (CDC), Hood's public health students participated in the "MASCUP" project, which tracked mask-wearing habits on college campuses throughout the country.
"We observed who was wearing a mask and what type of mask they were wearing, and we had to complete a training to make sure our approach was ethical," says Sara Swanson '23. "It felt beneficial to do actual research and then provide data in a larger study."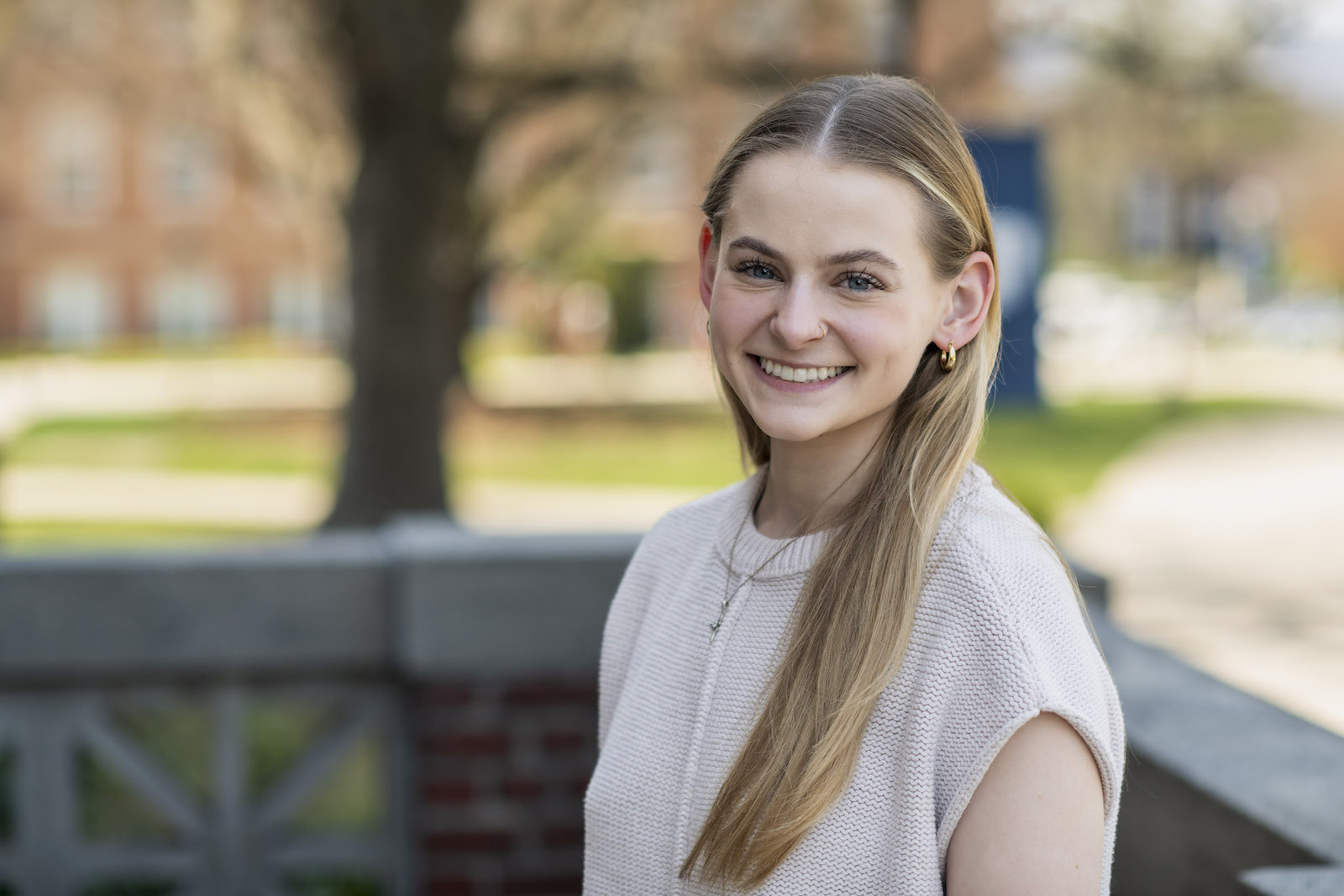 The 10-week study yielded impressive results. Out of more than 3,400 instances of mask wearing, 97 percent of students, faculty and staff were recorded adhering to proper mask use guidelines when required.
"We were on the frontlines," says Olga Dunlap '23. "It took a lot of research, and there's still so much we don't know about the pandemic, even after two years. It was a balancing act. We were living it and learning it at the same time."
Getting hands-on experience has been a common thread with the public health program. Part of the curriculum requires students to complete a year-long fieldwork placement. Cabrera, Dunlap, Swanson and Wells all completed internships with different divisions of the Frederick County Health Department.
Swanson, for instance, helped develop nutritional lesson plans for the Special Supplemental Nutrition Program for Women, Infants and Children (WIC). "What we're doing now with our internships is so cool," Swanson says. "The public health program has set us up for success because we've had so many opportunities to do research and make connections."
For one of her internships, Dunlap helped with the Community Health Needs Assessment for Frederick County. "Over the course of six weeks, we got to work at Frederick Health and sit in on all the meetings, looking at what kind of questions they were developing," Dunlap says. "I did a lot of secondary data analysis with how many people had cases of a certain cancer. And it was a paid job!"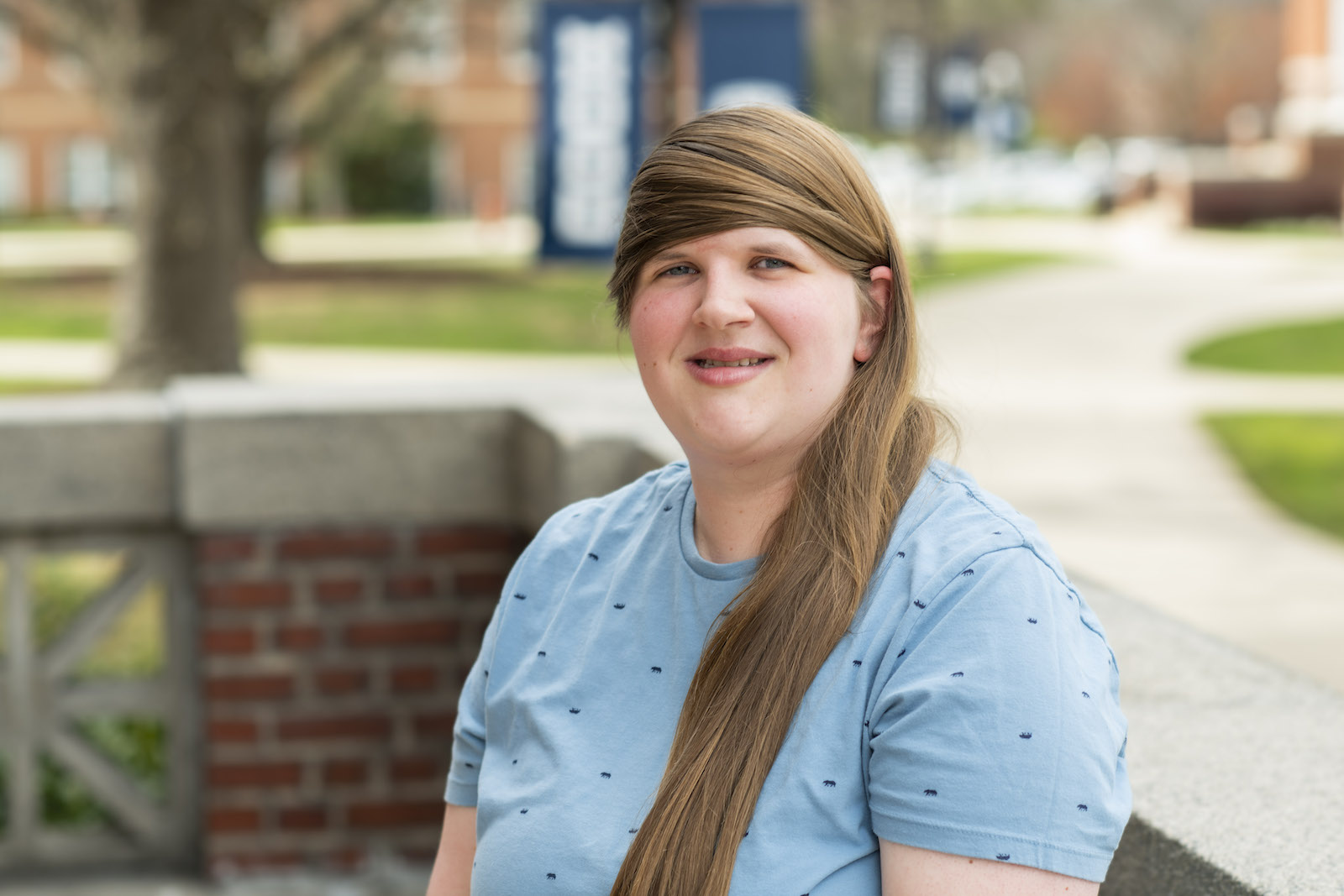 These students—dubbed "the first four"—have grown close as part of such a tightknit program. Even though they were in uncharted territory, this cohort embraced difficult and rewarding moments in equal measure. "We just really got to know each other. We were able to go through the program and navigate the challenges of being the first group together," says Wells.
Helping to guide these students is Sherita Henry, DrPH, assistant professor and public health program director. She is thrilled at the work they've accomplished. "I am most proud of this initial cohort based on the fact that they have successfully endured through a global pandemic, make their public health curriculum relevant for community-based projects, strive for excellence and have taken all the required coursework for the program with me as their instructor," says Henry. "No other cohort after them will get to say that."
What might "the first four" say to the public health student who will be following in their footsteps?
"Go for it! It's tough, but it will pay off, and you'll learn a lot," says Swanson.
"Just take it day by day. Even when you feel like things aren't going your way, it always ends up working out. Enjoy every moment of it," says Cabrera.
"It's hard, I'm not going to lie, but I think these students coming in are going to do great," says Dunlap.
"There's so much you can do and study and immerse yourself in, so you'll find your niche," says Wells.
If you're searching for a cutting-edge program that prepares you for multifaceted, versatile careers, while also giving you a chance to help the people in your community, look no further than public health.
Are you ready to say Hello?
Choose a Pathway
Information will vary based on program level. Select a path to find the information you're looking for!