Giving the Gift of Travel | Hood Magazine Spring '23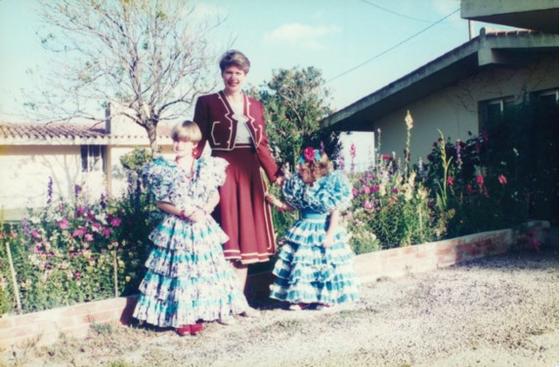 The Beth Darroch Coggins '81 Memorial Travel Fund offers financial assistance for Hood College students to study abroad.
Celebrating Beth Darroch Coggins '81
The life of Elizabeth "Beth" Darroch Coggins '81, P'11 was nothing short of extraordinary. She traveled to 38 countries and 49 states, living abroad for seven years. Her sense of adventure and curiosity about other cultures were irrepressible. Now, thanks to the Beth Darroch Coggins '81 Memorial Travel Fund, a new generation of Hood students will be able to explore the world and partake in life-changing experiences.
Beth toured several colleges before selecting Hood, where she earned a B.S. in home economics education. She thrived as part of the small and close-knit campus community. Beth especially treasured the friends she made at Hood and remained close with several for the remainder of her life.
"My mom loved her time at Hood College and the lifelong friends she made there," says Beth's daughter Julie. "She would return for reunions and always enjoyed catching up with her Hood friends. She enjoyed a few special getaways with Marcella Kelley Fedalei '79, Rebecca Lennen Crocket '80 and Donna Smith Mecca '81."
After graduation, Beth accepted a computer operator trainer position with a Department of Defense contractor, which took her overseas for the first time. A chance encounter in Athens, Greece, in 1985 connected Beth with her future husband, Kenneth "K.C." Coggins, a Naval Flight Officer deployed to Greece with a USN reconnaissance squadron. The couple married in 1987.
Over the next few years, Beth gave birth to two daughters, Kristina and Julie. In 1992, K.C. was assigned to work at a NATO headquarters located in Oslo, Norway. "When I called to ask Beth if she would like to move to Europe, she thought for about two seconds before saying yes," recalls K.C. "Norway was Beth's favorite place of the four countries and six states we lived together during our 33 years of marriage."
From Norway, the Coggins were able to visit Sweden, Russia, Denmark and the United King- dom. Subsequent overseas Navy assignments took the Coggins family to Rota, Spain, and Copenhagen, Denmark. Throughout this time, Beth often worked as a substitute teacher at the schools her daughters were enrolled in.
Beth's eldest daughter Kristina CogginsHeck '11 fondly recalls a misadventure on a road trip to Prague. "Little did we know that our planned border crossing point, from Germany into the Czech Republic, was seasonal and there- fore closed for the winter. As a result, our six-hour drive turned into a nine-hour drive," says Kristina. "Rather than allow the experience to ruin our trip, we laughed and got on with it, seeking an open crossing point. Flexibility and a sense of humor were essential skills in our family."
Upon K.C.'s retirement from the Navy, the family moved to the Dallas area, where K.C. worked for a defense contractor. When Julie and Kristina matriculated to college, Beth resumed teach- ing on a full-time basis. She encouraged her daughters to consider Hood, and in 2011, Kristina earned a B.A. in political science from Hood College.
With her children off on their own, Beth continued globetrotting, with memorable trips to Bavaria, France, Iceland and Latvia. Sadly, Beth passed away in 2021 following a courageous battle with cancer.
To pay tribute to Beth's remarkable life, K.C., Kristina and Julie established a fund at Hood in her honor. "We decided this fund would keep her memory alive," says Kristina. "Knowing that she is helping students expand their world would delight her."
The fund is available to students as need-based support to cover the cost of travel, such as airfare, while any leftover funds may be used for additional travel expenses at the study abroad location.
"I know there are students whose financial aid packages might cover tuition and fees but not travel expenses," says K.C. "For some students, the one thing standing in the way of studying abroad is money for travel. We wanted to focus on these students and enable them to enjoy the study abroad experience."
Julie notes that although travel became one of her mother's great pastimes, it was out of reach as a student. "She was not able to travel during college due to financial limitations," Julie says. "This fund will allow students like my mom to experience other cultures as part of their Hood College experience."
Several of Beth's closest friends have helped endow the fund. Jennifer Eccles knew Beth for 50 years, and along with husband Tom, visited the Coggins in Norway, Spain and Denmark. The Eccles were proud to contribute to the memorial fund in Beth's name.
"I know how much Beth loved to travel and see new places, and I share those feelings," says Jennifer. "I also know how important Hood College was to her. What better way to offer a tribute than to establish a fund in those two areas of interest?"
Julie and Kristina believe that the passion for traveling their mother instilled in them has been invaluable. Their time living abroad helped shape them, and now they can help others have the same opportunity.
"The perspective that students will gain from studying abroad is unbelievable," says Kristina.
"This fund enables students to transform their lives. The Danish author Hans Christian Andersen said, 'At rejse er at leve,' which translates as, 'To travel is to live.' This phrase is one that my mother held close to her heart."
Julie wholeheartedly agrees. "I believe that studying abroad opens the minds of students and makes them more tolerant. Through studying abroad, I became less ethnocentric and more accepting of others and foreign customs," she says. "Some of my favorite memories from studying abroad in Belgium simply came from sitting at the kitchen table with my host family and talking about our days, families and cultures."
The Coggins are thrilled to be giving the gift of a study abroad experience to students at Beth's alma mater. For those studying abroad, K.C. has a few words of wisdom. "If you're thinking about doing something or going somewhere on a whim, just do it. You don't need to make a lot of plans. Get on the train and go for it."
Family, culture, cuisine, traditions, education— these are what Beth treasured most in life. Thanks to the generosity of her friends and family, Beth's legacy will continue through Hood students for years to come.
To support the Beth Darroch Coggins '81 Memorial Travel Fund, visit hood.edu/give.
Pick up a copy of the latest issue of Hood Magazine on campus or view online.
Are you ready to say Hello?
Choose a Pathway
Information will vary based on program level. Select a path to find the information you're looking for!