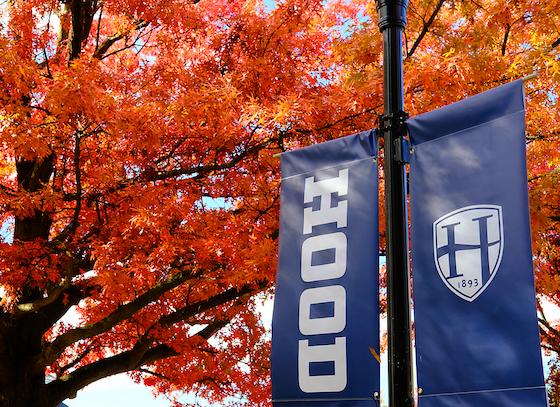 This year at Hood College, our students, faculty and staff share some thoughtful words of gratitude.
Happy Thanksgiving from Hood College
Tanith Fowler Corsi, Director of Graduate Admission
During this week of International Education Week, I am grateful for our diverse Hood community – I love that it is a small yet inclusive community focused on helping one another and sharing our personal stories & global connections!
Paige Eager, Ph.D., Dean of Faculty
I am grateful to be back in the classroom with our Hood students.
Dylan Onorevole, a marketing major
I am personally thankful for the adversity I have faced and being able to grow through the struggle and become more individually stronger.
Emily VanderWoude, Director of Leadership Giving
I'm thankful for Hood! In all honesty, Hood is impactful for every member of my family – my husband is a graduate student, my children go to the Georgetown Hill preschool at Onica Prall, and I'm have been very happy as a member of the IA team for 4½ years. We are all a part of this special community and wouldn't change a thing! Hood, Hood, Hooray!
Andreas McKendry, a business administration major
This year I am thankful for a trade that I made last January. I decided to buy in on a stock called OCGN, a whole-virion COVID-19 vaccine. I bought in at $2.05 and again at $8.03. The stock soared to $18 this month after getting approved by the WHO. I was able to make 10x my original investment of $250 and help my parents buy part of this semester's tuition.
Mary Atwell, Archivist and Collections Development Librarian
I'm thankful for the Hood community and the chance to help students in any way I can, large or small! I'm thankful for my family and the safety and health of my three children.
Kristine M. Calo, Ph.D., Associate Professor of Education
I am grateful every day for being surrounded by awesome people here at Hood—ECE majors, the students in my courses, my fellow education department folks, and the rest of this caring, kind community.
Maddy Dillon, a psychology major
I am thankful for having an amazing support system both here and Hood and also back home.
To the Senior Team, a huge thank you for working so hard to get Hood employees a compensation boost. Coming from a corporate background, I can attest that the boost was significant and, given the challenges of the pandemic, it is monumental!
Nikki Bamonti, Director of Admission
I know I am not alone in being thankful to work for an institution where the President and senior leadership truly support faculty and staff. In a time of so much uncertainty, Hood is thriving thanks to the collective efforts of our community. Whereas many organizations have made cuts, our leadership recognizes our dedication and has awarded bonuses, raises and equity increases over the past year and a half. It is so nice to know your work is appreciated and I am grateful for my Hood family.
Richana Brown, a biology major
I'm thankful for my amazing family. They always support my crazy decisions and treat me really well.
Linda Rodriguez, custodian
This year I am thankful for my brother-in-law, who has survived brain cancer. He had started treatment about seven months ago, and we thought we were going to lose him because we had just lost his older brother and older sister to COVID in December. I'm thankful that he is still with us. And that my dad's cancer is now in remission and he's doing well. He's going to be 80 in January. And the fact that I'm working here. I have great bosses and work with great people at Hood College.
Susan Kolb, Ph.D., Director of Athletics
My mom was diagnosed with breast cancer in April, but I am thankful for the doctor's that have guided us through her treatment so far. My mom is the strongest person I know, and I am so thankful for her and everything she has taught me.
Marcus French, a business major
I am thankful for the faculty and staff at Hood that have made this year so great already.
Are you ready to say Hello?
Choose a Pathway
Information will vary based on program level. Select a path to find the information you're looking for!