Go Blazers! | Spotlight on Hood College Athletics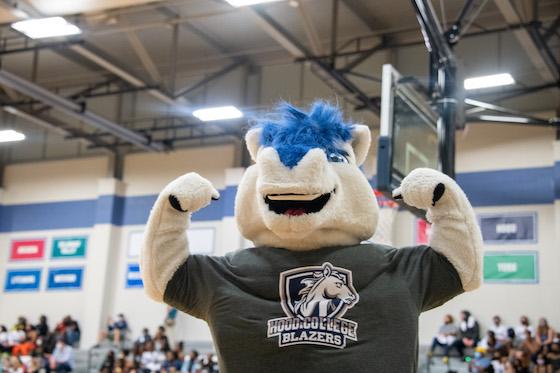 Hood College athletes excel on the field and in the classroom.
Hood Athletics
Over the past several years, Hood College has seen a dramatic expansion of its sports programming. It all started with the completion of the Ronald J. Volpe Athletic Center in 2011, a 41,000-square-foot multipurpose facility, which features the 1,600-seat BB&T Arena and the two-story Hodson Fitness Center. This space is complemented by the adjacent Hood Softball Field and the Thomas Athletic Field, not to mention the Huntsinger Aquatics Center and Hood Tennis Complex.
Alongside these fabulous amenities, Hood now offers 24 unique sports programs, from basketball and soccer to golf and esports. The Blazers are part of the highly competitive National Collegiate Athletic Association (NCAA), Division III. Each year Hood athletes enter the Middle Atlantic Conference (MAC) to play dozens of matches against a variety of regional private, nonprofit colleges and universities.
Part of the Blazers' success is in no small part due to the efforts of Susan Kolb, Ph.D., who has served as Hood's director of athletics since July 2018. Growing up in small-town Pennsylvania, Kolb was herself a voracious athlete. After graduating from Davis & Elkins College, she got her start as an assistant coach at Bluffton University, where she also earned a master's degree in instructional leadership. From there, she became a head coach at Eastern Mennonite University. She transitioned to athletic administration, working for George Mason University and the University of South Carolina Upstate before coming to Hood.
When Kolb first started, there were 270 student-athletes at Hood. Today, there are 415. "I'm just encouraged by our student-athletes and our staff who work so hard. I truly think we have the opportunity to be more successful than what we have been in the MAC conference. We have a lot of the right pieces. It's putting them in the right place at the right time," says Kolb.
One of her goals is to see the Blazers boost their competitive edge. "I think that we've made so much progress in three years of just equipping our staff with the right tools to be successful, putting the right people in the seats that we have here and just trying to change the culture of the student-athletes—getting them to understand this competitive side that had been missing for some time."
This means offering a comprehensive support system for student-athletes. In the offseason, a strength and conditioning coach works to keep the Blazers fit. But an able body is only as strong as its mind. That's why a sports psychologist is available for counseling students year-round. This is all in addition to a diverse group of coaches, assistant coaches and graduate assistants.
Academic support is another major factor in ensuring our student-athletes are succeeding in the classroom as well as on the field. GPA and degree progress requirements hold the Blazers to a high standard. Meanwhile, study hall and tutoring allow for ample time to be spent on schoolwork. "My biggest motto is developing the athlete, the student and the person," says Kolb. "Whether that can be financial literacy and leadership or diversity and equity training, we make sure that we're hitting in the areas that we feel would be best. We definitely monitor the academic side as much as we do the athletic side."
There's a surprising amount of overlap between athletics and academics. Playing sports can instill a sense of discipline—doing homework is akin to doing drills. Student-athletes are also experts when it comes to time management. Juggling practices, games, classes and more requires careful planning and follow-through. On the flip side, student-athletes transfer skills picked up in the classroom, such as processing information, creative problem solving and critical thinking. Not to mention all the math necessary for timing and calculating exercises, the food chemistry of maintaining a proper diet, and the physics of planning and executing plays.
Thomas Kasanicky, an undergrad public health major who runs cross country and track and field, sees these benefits as also shaping his character. "Being an athlete helps me in the classroom by making me not accept failure. I push and work hard not to fail classes and tests. When I do fail, I go and talk to my teachers like they were a coach and ask how to improve," says Kasanicky. "I think a lot about schoolwork on runs and try to apply it to life. I think about what I can do to help others when running by places and seeing where I could improve the community when I join the workforce."
Although most of our student-athletes are actively recruited by coaches, everyone is welcome to get involved. There are numerous recreational intramural sports offerings for casual players, as well as an equestrian club for horseback riding. If you're interested in trying out for a team, simply contact one of our coaches. Kolb also hopes to see more students, faculty and staff coming out to support the Blazers at any number of home field games. "It's fun to just be with your peers and cheer on the Blazers!"
For more information about Hood College athletics, click here.
Are you ready to say Hello?
Choose a Pathway
Information will vary based on program level. Select a path to find the information you're looking for!