Grace Weaver '21 Lands Disney Internship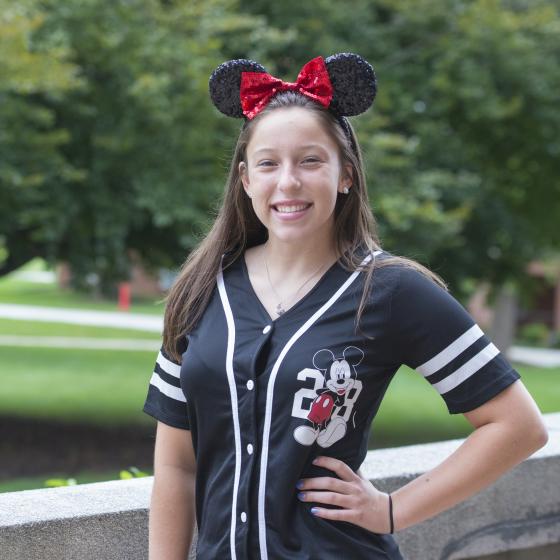 Grace Weaver '21 has accepted a paid internship with the Disney College Program for the spring 2019 semester.
Grace Weaver
Graduation Year
Program
Secondary Education Certification
History (B.A.)
Hometown
Department
Disney's College Program is a full-time, paid college internship opportunity in which students gain work experience in Disney parks, meet and live with people from all over the world, take personal and career development classes, and build transferable skills including problem solving and teamwork.
Grace Weaver '21 and her family love Disney. They have visited Disney World six times, and they have been on four Disney cruises. She heard about the Disney College Program from one of the participants on a ferry from her resort to Magic Kingdom. After she researched it and watched some YouTube videos about the program, she knew she had to apply for it.
She completed the three-step application process: a general application asking for work experience and where the student goes to college, an online survey to determine if the student fits at Disney and a phone interview.
"I had questions laid out and practiced the answers with my best friend," said Weaver. "I knew I had to get them down."
Out of 50,000 applications this year, Weaver was one of 5,000 students chosen to participate in this program during the spring 2019 semester, from Jan. 14 to May 16, and she could not be more excited.
"I'm going to learn about different people and cultures," she said. "I'll have roommates from around the country, and I'll work with people from around the globe!"
Through classes and programs, Weaver will gain experience in nearly every aspect of the Disney business.
"We will have a ton of opportunities to network within the Disney company and meet people in all different aspects of the company," she said. "This will allow me to make connections with people from all over the country."
Professional development opportunities can include classes in leadership, guest services, corporate analysis, networking, environmental sustainability, corporate communications, marketing, hospitality management and human resources. These classes teach conflict resolution, time management, guest relations and the business of Disney. They include guest speakers who are experts in their fields.
Are you ready to say Hello?
Choose a Pathway
Information will vary based on program level. Select a path to find the information you're looking for!