Graduate Athlete Focus | Michael Wallace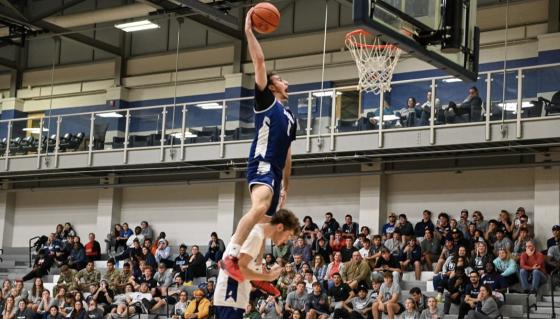 "It hasn't been two months since I started at Hood, and it already feels like home. I thought it would be weird going from a school I'd been at for four years to a new place, but I've felt really comfortable at Hood College."
Michael Wallace, MBA
Program
Business Administration (MBA)
Department
The George B. Delaplaine Jr. School of Business
Michael Wallace is a current student in Hood College's MBA program and is a member of the men's basketball team. Michael joined Hood College in 2022 and is using his additional year of eligibility to compete as a graduate student. Before Hood, Michael graduated from McDaniel College in 2022 and was a three-year member of their men's basketball program. Michael was also an intern for the Chase Fieldhouse in Wilmington, Delaware, where he assisted in hosting events, general management and other tasks.
What made you want to study at Hood College?
I played against Hood College last year in basketball. I saw that they had a great MBA program and that they had the best value for the money you were spending. The College is really flexible—they made it manageable to be an athlete and a grad student. Hood being only 35 minutes from McDaniel also made it easier for me to look into the program in person.
What led you to join Hood College's MBA program?
Having summer sessions was the biggest factor that made Hood College stand out. Those sessions helped take some of the workload off for the fall and spring, which is when I will have more work, due to the basketball season. Being able to work around classes conflicting through independent studies also helped me. The professors are very hands-on and supportive, and they have interacted with me daily. They are some of the best professors I've worked with.
It hasn't been two months since I started at the College, and it already feels like home. I thought it would be weird going from a school I'd been at for four years to a new place, but I've felt really comfortable at Hood College.
Did you do any sports before playing basketball for Hood College?
I played three years of basketball at McDaniel College. I did not play my junior year due to the pandemic, so I can play my final year as a graduate student at Hood. Everyone around me was super supportive and helped me get to this point.
What has life been like as a grad student and as part of the men's basketball team? How do you manage it all?
It's like a new day and age of sports because of COVID. I will be the third grad student that played here at Hood. You practice in the morning and take classes at night. The roles have been switched from undergraduate to graduate.
There's still that aspect of getting work done on your own. It's always a balance between sports and classes, just reversed compared to undergrad. Most people in the grad program are working professionals, so playing basketball for Hood College is like my job when it comes to my schedule.
The basketball team's first in-season practice starts on Saturday. We practice six days a week. Our first game is a month away on November 11, which will happen alongside the ring ceremony for the championship we won last year.
What advice would you have for athletes interested in Hood College's grad programs?
You have to know what you want. Coming to Hood, I knew that I wanted to be very hands-on and involved. The professors and the way they interact with you would fit in with what I knew from a Division III school. Basketball just happened to fit perfectly in my schedule and take care of itself.
I'd recommend that people visit the campus in person and see things for themselves. Looking at things online doesn't do the College justice. You should also talk to professors and see if the programs are right for you.
Are there any fun facts about yourself that you'd like to share?
I'm from Wilmington, Delaware. Delaware is a big part of me. My sister and brother went to school in Maryland, though. We all transitioned from Delaware to Maryland as a family, so to speak. My sister was also a Division I athlete, so I am not the only athlete in my family. She earned her doctorate in physical therapy from the University of Maryland.
Inspired by Michael's story and ready to #GOFURTHER in your career? Learn about Hood's graduate programs, including the MBA program, by clicking here.
Are you ready to say Hello?
Choose a Pathway
Information will vary based on program level. Select a path to find the information you're looking for!