Heidi Gonzalez Ramirez '22 | Q&A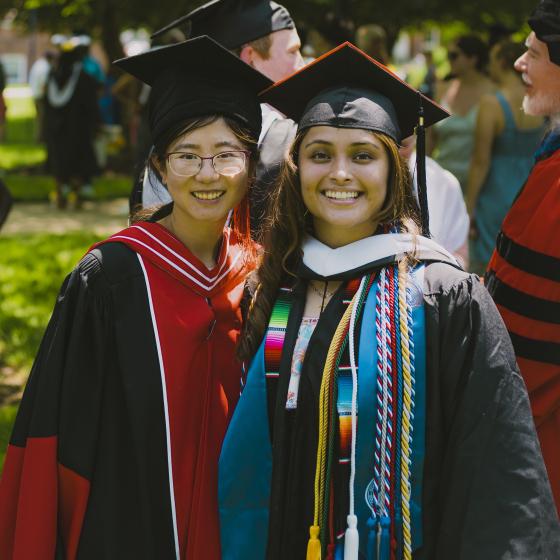 Heidi reflects on her community service as a student with Hood's Frederick Food Security Network.
Community Service
Program
Hometown
Department
Biology
Chemistry & Physics
When most students are on academic break recharging, you could find Heidi Gonzalez Ramirez weeding and watering in one of the gardens and greenhouses within the Frederick Food Security Network (FFSN). All while pursuing her degree in biology at Hood College, Heidi worked countless hours with FFSN helping to raise food for those in the local community who do not have access to fresh produce. FFSN garden helpers work weekdays and weekends planting seeds, weeding, watering, harvesting, battling pests and offering outreach to the community. 
Heidi explains she has realized the benefits of working in the community, not just for the positive impact it has on others, but also for the inspiration she would receive herself and in setting her future goals. She admits that although attending college is busy, "there is time to give back on top of studying and working." Heidi's advice is that in order to help others, you have to get out of your comfort zone, which will benefit you in the future.
What influenced your career path in science that resulted in choosing Hood for your undergraduate studies?
I did not really know what I wanted to study when I was going into college. However, I was always fascinated with science because growing up, I wanted to work in the medical field. When it came time to choose between colleges, I ended up choosing Hood because it was close to my family, it was a small school and there were a lot of science programs that I could pursue. I ultimately ended up choosing biology because I easily made a lot of connections with the professors and met a lot of friends who were also following the same path. Eventually, those professors I thought I would only have for one class and never speak to again became my support system, consistently guiding me and encouraging me in my goals.  
What has been your academic focus while at Hood and what experiences have influenced that focus?
My primary academic focus at Hood was understanding biological systems and patterns, at all levels of organization. This has been heavily influenced by working at a pharmacy and learning how vaccines protect us from future infections as well as learning the effects pharmaceuticals can have on the body. This would soon be reinforced in classes such as microbiology, human anatomy and physiology, and cellular biology, among others. Additionally, after learning about all the ways modern medicine has greatly benefitted humans, I also realized that not all populations have access to these lifesaving resources. Therefore, I knew that it was my goal to make these resources accessible to more people.
How will your experience working for Frederick Food Security Network positively make a difference in your life?
I have been fortunate enough to work with the Frederick Food Security Network for most of my college career. I would not trade this experience for anything. Here is where I learned how such a small group of dedicated individuals can truly impact someone's life. Here I have learned the importance of giving back to the community, networking with other groups to grow the populations you are helping and the importance of sustainable practices. All these experiences with the network have encouraged me to get out of my comfort zone for the purpose of helping others, which is something I will need in the future as an aspiring pharmacist.
What unique perspective did you gain from your work with FFSN and how did your Hood education connect with your experience?
I think a unique perspective I gained from working with FFSN is how involved both professors and students are in the community. Coming into college, I did not think I would be able to have the resources or time to get involved in the community—mainly because everyone tells you how busy college students are with studying, especially students in STEM. However, seeing firsthand all the work and time my professors/classmates that work for FFSN put into the community is truly encouraging and inspiring. It demonstrates that there is time to give back on top of studying and working.
What is an experience that stands out most to you about your time at Hood? 
Something that always stands out during my time at Hood is probably when I would go help the Boys and Girls Club with their garden beds. Surprisingly, a lot of younger kids in this generation are not aware of where their food comes from. They were so happy when they planted their first tomato plants, and they were so surprised when they saw the tomatoes growing on plants. They all talked about how much they though tomatoes were gross but after caring for the plant and watering it over such a long time, they couldn't wait to try the tomatoes they had grown on their own.
Do you have advice for others considering enriching their Hood education with community-based collaboration experiences? 
I think the best advice I could give is do not be afraid to reach out to your professors/mentors about volunteering or interning. I know that I was hesitant in asking for help because I thought I wouldn't find an opportunity, but the truth is there is opportunity everywhere. Additionally, as a biology major, I didn't know working in a food network would help me in the future. However, after applying and interviewing for graduate programs and pharmacy school, a lot of my work in the network demonstrated my passion for helping my community, which is what a lot of schools want. I have learned that it is your grades that get you the interviews for these programs, but during the interviews, hands-on experience and passion is what makes you stand out.
What are your plans now that you have graduated from Hood College?
My plans now that I have completed my degree at Hood are to pursue my Doctor of Pharmacy degree at University of Maryland School of Pharmacy. I will be moving to Baltimore in August to begin this new journey!
What are your future aspirations? 
My future aspirations after completing pharmacy school are to work in an ambulatory care setting in an underserved area. My goal is to promote a welcoming community to make healthcare accessible to all populations. Here I would be combining my passion of helping underserved communities and my passion of science and pharmacology.
Are you ready to say Hello?
Choose a Pathway
Information will vary based on program level. Select a path to find the information you're looking for!