High School Media Day at Hood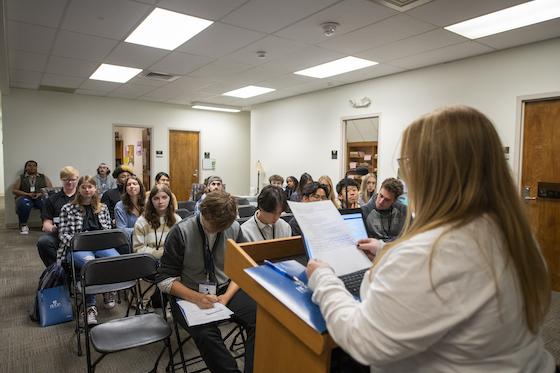 High school students with a passion for journalism gain firsthand knowledge from Hood faculty.
CMA Faculty Host Workshops for Local Students
Program
Communication Arts (B.A.)
Integrated Marketing Communications (B.A.)
Department
English & Communication Arts
On Friday, October 14, high school juniors and seniors from Frederick, Montgomery and Washington counties were invited to Hood College for a workshop in journalism, communications and more. High School Media Day saw students attend various sessions on news writing, reporting, strategic communication and photography.
The Hood faculty who spearheaded the event include Liz Atwood, Alan Goldenbach, Timothy Jacobsen, Katherine Orloff and Brooke Witherow. Faculty led workshops in the Delaplaine Media Center, while Hood communications majors acted as mentors for the visiting high school students.
"I was really excited to see that Hood was offering this opportunity for students interested in media to come in and learn from professors and use the broadcast studio," says Victoria Benson '04, a Hood alum who currently teaches journalism at Linganore High School. "I studied communications here, and I thought this would be an excellent opportunity for those that are interested in communications as a career."
The day's events culminated in a mock press conference that recreated the aftermath of the Brodbeck Hall fire, which happened September 9, 2021. Students assumed the roles of Hood's president, vice president of marketing and communications, director and chief of campus safety, and the chief of the Frederick County Fire and Rescue Department. Other students acted as members of the press or witnesses.
"The main point I learned is that you have to take everything from multiple perspectives," says Ian Troung, a senior at St. John's Catholic Prep, who played the role of Hood's chief of campus safety. "For example, when you're taking a photograph, you have to make sure to get the right perspective. If you do it a certain way, people will think a certain way. When you're presenting information, people can be swayed, or they can be skeptical."
Many students remarked that this was their first visit to Hood's campus, and they were impressed with the broadcast studio and media labs. Having worked on their own school newspapers and yearbooks, these students were eager to learn.
"When I offered this to my students, they jumped right on it," says Judy Ballenger, a publications journalism teacher at St. John's Catholic Prep. "They were excited to see what Hood has to offer and enhance their writing skills for our school newspaper. For a lot of them, journalism is the field of choice they want to enter. This opportunity is great because they get a little taste of everything, and they get to learn from college-level professors."
For more information about the communication arts program, click here.
Are you ready to say Hello?
Choose a Pathway
Information will vary based on program level. Select a path to find the information you're looking for!