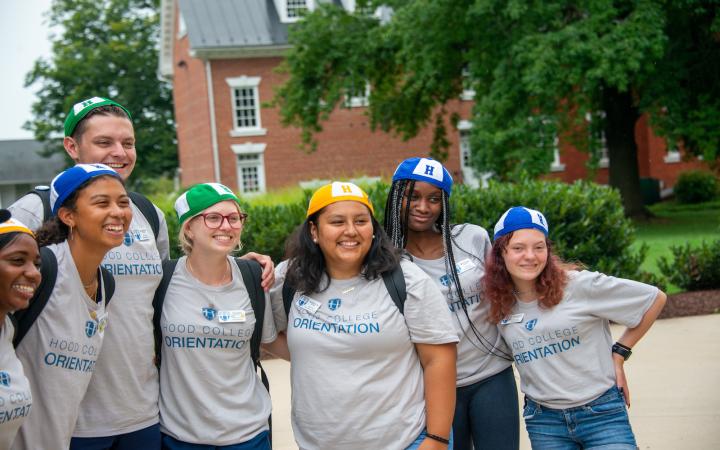 Creating Community
We provide guidance and resources to students, faculty and staff about creating, fostering and maintaining community – community that acknowledges and embraces diverse backgrounds and experiences and affirms the dignity of every individual.
As members of an educational community, one of the most enriching elements of our experience is finding ourselves in the company of people whose background and beliefs and practices may be very different from our own. We hope you will have that experience many, many times over during the course of your time at Hood and throughout life. Though at times intimidating and/or challenging, there is much to be gained by all of us through this type of exposure, discussion and self-reflection. 
We trust you will also find and enjoy community with individuals with whom you have much in common and can simply relax and be yourself! 
Resources and support are available to the entire campus community. Our primary focus is underrepresented communities, those based on ability, age, citizenship, ethnicity, gender identity, national origin, race, sex, sexual orientation and socio-economic status. We support students' efforts to:
Connect and feel at home at Hood

Find and access resources, both on and off campus 

Access academic and social support

Learn about underrepresented groups 

Report bias-based incidents
Whether helping students to connect with resources, or organizing training sessions for faculty and staff, or simply providing a listening ear for someone working through a question or issue related to diversity and inclusion, the Office of Community and Inclusivity is here to serve you. 
Acknowledging and celebrating differences while encouraging and empowering excellence. 
For additional information, please contact the Office of Community and Inclusivity at communityandinclusivity@hood.edu.
Are you ready to say Hello?
Choose a Pathway
Information will vary based on program level. Select a path to find the information you're looking for!