Honors Program Spotlight: Julia Aldred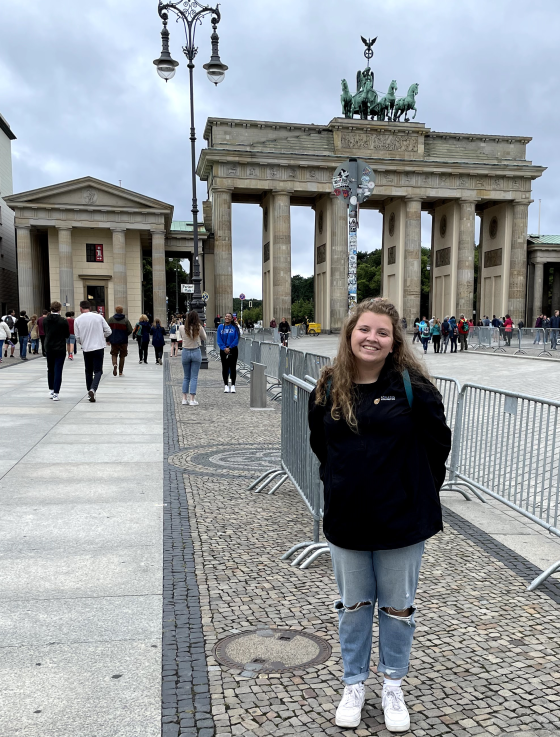 From academics to sports to community service, Julia Aldred has done it all!
Outstanding Honors Student Julia Aldred Reflects on Her Time In the Honors Program
"It's hard to pick just one!" replied Julia Aldred, when asked her favorite memory from her time in Hood's Honor's Program. If forced to pick, she went on to say, "Satan in Salem FYS with Dr. Powell during my first year – I'm still friends with a lot of people that were in the class with me, and it definitely set the standard for Honors courses going forward!"
Now a senior in the Honors Program, Julia has been affiliated with the program since her first semester and has been an active and accomplished member ever since. A double major in Global Studies and Art History with a minor in German, she makes juggling academics and lacrosse look easy. Julia isn't just juggling her positions between these two groups, however. She is also the Vice President of Queer Student Union, the National Ambassador for our Morgan's Message chapter, the Campus Captain for the mental health organization Hidden Opponent, a Tischer Scholar, and a Trans-inclusivity council member. It is no surprise that alongside these titles, she has received many awards, including the German Embassy Award, the Dr. Robart Kochman German prize, and the Dean's List.
Julia reports that the multidisciplinary structure of the Honors Program has been beneficial to her academic career at Hood College. The content, niche topics, and community service events have led to fond memories. These factors helped her affirm her interest in human rights as well as connect her work in her Global Studies major with the community in a meaningful way. Some advice Julia has for incoming students is to take it easy, not feel pressured to join a lot of organizations or projects at first, be kind to yourself as you adjust, and to know your boundaries.
As of late, Julia is considering furthering her education through graduate school in Berlin, Germany. She plans to use her knowledge to combine public policy and architecture to create a more sustainable world with improved housing accessibility.
Are you ready to say Hello?
Choose a Pathway
Information will vary based on program level. Select a path to find the information you're looking for!