Hood Campus Tree Walk is launched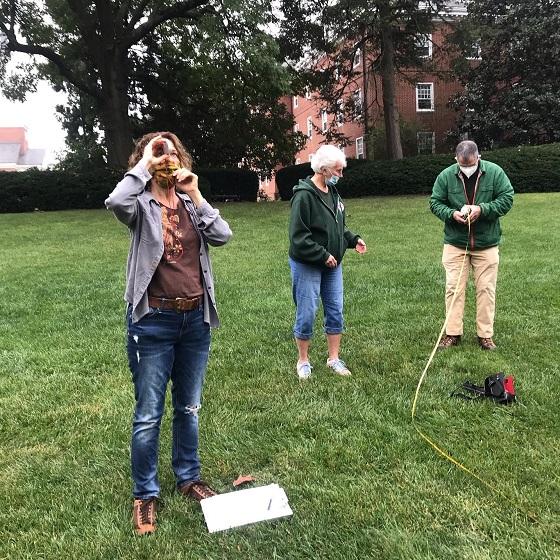 Self-guided Tree Walk includes 14 unique tree specimens on Hood College Campus. Map and tree info are available online.
Frederick County Forestry Board help create self-guided campus tour of trees
Hood College is home to many unique and large species of trees which has become a draw for visitors walking the campus. To highlight these trees, the Frederick County Forest Conservancy District Board (FCFCDB) recently published an organized guide to 14 trees on campus, which includes a map and information on each specimen. FCFCDB member, Bethany Dell'Angello was thrilled to visit the Hood Campus and discover the variety and size of some select campus trees. Bethany documented each tree with representative photographs and created each write up for the online guide. The tree walk is self-guided, so you can visit one or more trees at your own pace. 
The walking tour includes the State Champion Big Leaf Magnolia found on the front lawn of Admissions and a champion Hornbeam tucked between the Outdoor Theater and sports fields. Other species have seasonal interest such as the large Copper Beech's amazing fall color, and the interesting seed pods of the Kentucky Coffee Tree. Students, staff, and visitors alike are encouraged to spend some outdoor time, using the guide to explore campus looking up and visiting our wonderful trees. Learn more about Campus Trees here
It is anticipated that the trees specific to the guided walk will be tagged in the future and for more trees to be added as they are reviewed by the FCFCDB.  (Update: Tree Walk Tags installed March 2021)
View the FCFCDB Tree Walk Series at: frederick.forestryboard.org/tree-walks which also includes links to the Baker Park Tree Walk, in Frederick.
Are you ready to say Hello?
Choose a Pathway
Information will vary based on program level. Select a path to find the information you're looking for!