Hood-CCWS provides workshop on Schoolyard Urban Heat Investigations at MAEOE conference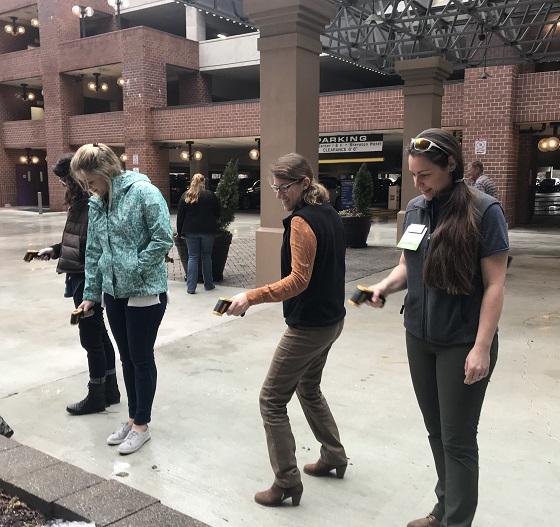 On Friday, February 9th staff from Hood College's Center for Coastal and Watershed Studies hosted a 3-hour workshop at the MAEOE Annual conference for attendees to learn how to measure potential urban heat island effects at their schoolyards.
Center for Coastal & Watershed Studies Program
Involvement
Department
It's long been known that urban areas with high percentages of impervious surfaces tend to be warmer when compared to rural wooded areas, both day and night.  These "urban heat islands" can impact our environment and human health by raising the temperatures of land surfaces, atmosphere, surface waters, and stormwater runoff. Educators can demonstrate this urban heat island effect using inexpensive technology and by comparing data to various references. Recently, at the Maryland Association for Environmental and Outdoor Education (MAEOE) Annual Conference, Susan Simonson (M.S.'99) and Claire Hudson (M.S.'07), of the Center for Coastal and Watershed Studies (CCWS) demonstrated several lessons which are part of their Schoolyard Urban Heat Investigations Program. The program trains teachers to explain the concepts behind why urban heat islands form and measure whether their own schoolyards have impacts to local surface, air, and water temperatures.  
Attendees of the workshop learned about "albedo" of building materials and used hand-held infra-red thermometers to measure surface temperatures of various land uses (both impervious and pervious) at the conference facilities. Examples of temperature logger data from local Frederick County schoolyards collected this past fall semester were used to compare air and water temperatures to a wooded reference site located in the undeveloped Frederick County "watershed".  When considering seasons, weather, and the real data collected through the program, teachers have an opportunity to discuss with students the impact development has on our health and the environment, as well as consider what projects could be put in place to mitigate the rising urban heat. 
Hood-CCWS's Schoolyard Urban Heat Investigations are funded by a three-year NOAA Chesapeake Program B-WET grant.
MAEOE Workshop: Schoolyard Urban Heat Investigations - February 2019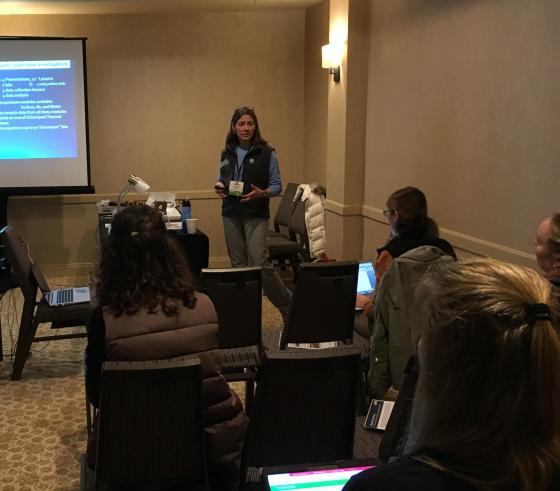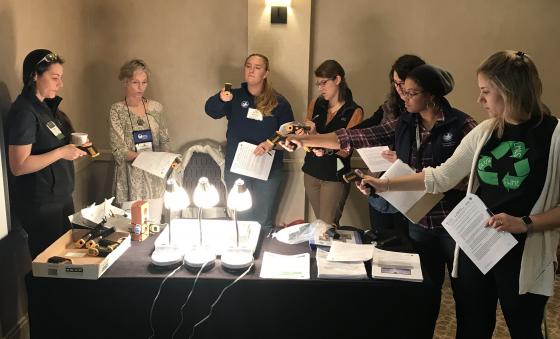 Are you ready to say Hello?
Choose a Pathway
Information will vary based on program level. Select a path to find the information you're looking for!