Hood Grad Student to pursue her PhD on aquatic insects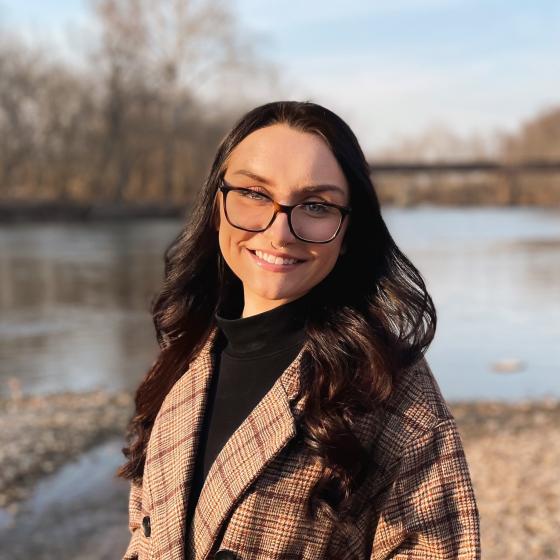 Earning her M.S. in Environmental Biology in September '22, Kierstyn Higgins reflects on her experience as a graduate student while at Hood College. In the Fall, she will begin her doctoral degree in Ecology at the Pennsylvania State University.
Q&A '22
Graduation Year
Program
Environmental Biology (M.S.)
Geographic Information Systems (C)
Hometown
Department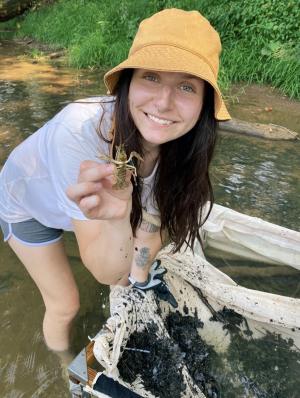 Kierstyn Higgins was determined to evaluate an invasive crayfish's impact on local aquatic insect communities (aka benthic macroinvertebrates) for her thesis research. With an ambitious schedule, she spent countless hours in the field collecting over 400 crayfish, and even more time in the lab identifying nearly 10,000 macroinvertebrates, all in less than one year! 
As a graduate teaching assistant, Kierstyn also provided instructional support and encouragement to undergraduate students in and outside of her courses. She was a valuable part to the Coastal Semester teaching team, mentoring students during the hands-on data collection and offering advice on career searches.
With Dr. Eric Annis has her advisor, Kierstyn anticipates completing her Master's degree this September. She will then attend Penn State this fall for her PhD in Ecology. In the following interview, Kierstyn reflects on her experience as a Hood College Graduate Student and offer advice to incoming students pursuing STEM careers. We are excited for Kierstyn and wish her best of luck in the next chapter of her academic pursuits.
What influenced your career path in science that resulted in choosing Hood for Graduate School?
 My interest in ecology was cultivated long before I knew what ecology really was. For as long as I can remember, I have felt a deep connection with my environment and surroundings. I am originally from Upstate New York and spent my summers camping in the Adirondack Mountains as a child. That connection eventually blossomed into a desire to understand the way the natural world works and how humans interact with it. While pursuing my undergraduate degree at SUNY Plattsburgh, my desire to seek knowledge and truth persisted and I soon realized that I could create a career for myself where I am constantly investigating unanswered questions. This career as a young scientist would ultimately begin with my decision to come to Hood College to pursue a graduate degree in Environmental Biology.
What is the focus of your thesis, project or internship while in the Hood program?
My thesis focuses on the recent invasion of the rusty crayfish in the Monocacy River, which runs from Adams County, PA and drains into the Potomac River. Little research has been done on the potential impacts of the rusty crayfish's feeding patterns on benthic macroinvertebrate populations in lotic ecosystems. My research investigates how this invasive crayfish species may change both overall benthic macroinvertebrate diversity and individual composition of genera between invaded and non-invaded sites. 
How will your research/project/internship make a difference?  
My research will hopefully give scientists a better understanding of the feeding behaviors and/or preferences of the rusty crayfish in a stream system. This type of study can be used to support invasive species management as well as serve as a basis for more research, whether that be at Hood or other institutions.
What is an experience that stands out most to you about your time at Hood? 
My most memorable experiences at Hood are the semesters where I was either TA-ing or teaching. In the Fall of 2021, I served as the teaching assistant for the Coastal and Watershed Studies Semester. Through this experience I was able to share my passion for watershed science with 13 incredible students and help guide them in their searches for jobs/internships/graduate schools. In Spring of 2022 I served as an instructor for an undergraduate Evolution and Ecology lab, where I was able to develop my teaching and interpersonal skills immensely.
Do you have advice for others considering furthering their education in STEM fields at Hood? 
My best advice would be to form strong professional relationships with your professors. STEM fields can be extremely challenging and even isolating at times, so having a support system who understands and has been in your shoes can make a huge difference. For this same reason, it is just as important to form relationships with your peers as no one will understand your academic struggles better than the person sitting next to you in class! Lastly, and I cannot emphasize this enough, get involved in research! As an undergraduate, especially if you are considering graduate school, having research experience will really set your application apart. If you are a grad student, do the thesis track! It can be challenging and exhausting at times, but it is extremely rewarding to see your research come to life.
What are your future plans or aspirations? 
In the Fall of 2022, I will begin my doctoral degree in Ecology at the Pennsylvania State University in the Allen Lab. My research at Penn State will concentrate on the effects of drying on benthic macroinvertebrate community structure in streams across the southern US under the StreamCLIMES project.
Are you ready to say Hello?
Choose a Pathway
Information will vary based on program level. Select a path to find the information you're looking for!