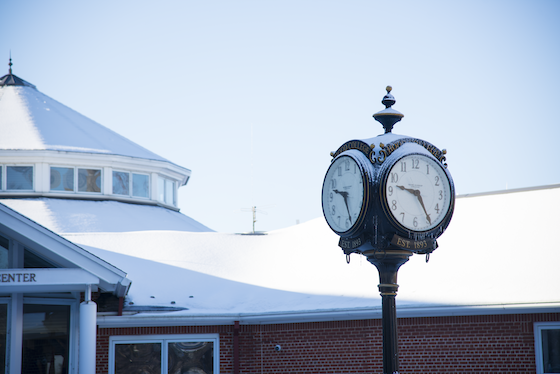 'Tis the season! Our amazing faculty and staff share some of their time honored holiday traditions.
Faculty & Staff Holiday Traditions
Meg DePanise, assistant director of marketing and communications
Unfortunately, since the pandemic we've skipped the big gatherings, but hopefully we'll get back to this one next year with the next generation—three new babies between myself and my cousins! My family on my dad's side traditionally gathers at my parents' house for Christmas Eve to exchange gifts and celebrate the Feast of the Seven Fishes, an Italian-American tradition. The selection varies each year, but we're talking salmon, scallops, king crab, muscles, squid, lobster, cod, you name it. I, however, actually hate seafood so my personal tradition is Velveeta mac n cheese!
Doreen Jarvis, communications supervisor/transportation coordinator
The tradition in our home from both sides of the family is making homemade root beer every year. On my side of the family, my aunt and uncle made it every year to share. When I met my husband, I learned that his mother also made it every year. So for the past forty years we have continued this tradition and share it with our friends and family. We all would gather on Christmas Eve on the farm of my in-laws' home and share the root beer, but we also had to have coconut cake and plenty of other deserts to go along with it. This is Christmas to me, spending time with family and enjoying special memories and keeping our childhood memories going.
Maura Page, employer relations manager
Our family tradition began Christmas of 1993. I was a newlywed and my husband Brian made me a nativity crèche out of large popsicle sticks. We put it out the day after Thanksgiving with Mary and Joseph, the shepherd, and animals all inside, with the three wise men in the distance because they don't arrive until the Epiphany. Baby Jesus stays hidden until Christmas morning when he is added to the scene. We sing Happy Birthday and then open presents. I have five children, each year a different child gets to put baby Jesus inside.
Tanith Fowler Corsi, director of graduate admission
I will be in the South of France in my hometown of Cap D'ail, which translates into Cape of the Garlic, to celebrate the winter holidays with my parents, who are American expats living in France for the past 52 years. I was born there and grew up there, doing my schooling until the age of 18 in the French educational system.
Our winter holiday family tradition is Swedish, as we have Swedish and Norwegian blood on my dad's side. We start our Christmas eve meal with the traditional Swedish moonshine called Acquavit and then we have the traditional Swedish white mush (white rice soup) followed by meatloaf and Lutefisk, which is a horrid white fish that we replace with something better like salmon or gravlax. To finish, we have the traditional Swedish cloud berries and cream for dessert.
So Swedish Christmas eve dinner in the South of France by U.S expats!
Laurie Ward, vice president for marketing and communications
My father loved baked goods; about 15 years ago I came up with the idea to bake for him once a month. It became his favorite tradition, to have fresh cookies from me each month. Even when I moved away from New York, I would double up months and mail him multiple packets of homemade cookies to cover the "next two or three months." I miss baking for him. We also used to leave beer, cheese and crackers for "Santa" on Christmas Eve.
Jeff Welsh, instructional technologist
Every Christmas since 2002 our family has ventured to Mayne's Tree Farm in Buckeystown, MD for our annual Christmas Tree cutting. By the numbers, we started with seven of us in 2002 and 19 years later we have 13 of us doing this tradition as a family.
We have always gone the first weekend of December or as close to it as our respective schedules would permit. The day usually starts earlier and earlier each year, but we typically shoot for an 11am rendezvous at Mayne's. We then assemble at the tractor and wagon circle to load up for our ride out to the tree fields. We dismount typically at the Fraser Fir Tree lot and begin the hunt for each family's perfect tree. Some years they are tall, some years fat, and some years very fat and very tall. We verify that we have found the one tree of all trees, and my wife hugs our tree and says, "This is it!" …Until I say, "No," because the trunk is crooked or the needles are falling off with the slightest touch. Once we haggle over the quality we usually come to a compromise and pick a tree. When the kids came into the picture there was even more debate about the tree, so as the years go by, we have become less concerned with perfect triangle tree shapes and look for trees that need someone to love them for a month even with flaws. We then proceed to the task of cutting the tree and dragging it back to the wagon pick up area to wait for a ride back to the parking lot. Once back at the parking lot we unload our bounty of pine and have it sent to the shaker and the wrapper before carrying it to the car. Afterwards we always go to my sister's home and have a lunch or brunch, and then head to our respective homes for immediate decorating activities.
Renee Rohwer, creative services director
Years ago, I invested in a beautiful advent calendar, with an ornate painting on the front and little wooden doors for the kids to discover treats and treasures each day in December. It continues to be a tradition the kids count on and are sure to tell me when December 1 is coming!
Payton Mills, front desk and admission visit coordinator
My family's holiday tradition is getting ice cream and walking around Downtown Frederick looking at Christmas lights. Fun fact: my sister's first date with her now husband was doing this very activity in December of 2016. Abigale is also class of 2015.
Martha Bari, assistant professor of art history
Every year, Mike and I take an extended trip in our car to visit 41 of our relatives in different places up the east coast. We go to Phoenixville and East Norristown in Pennsylvania; Bethel and Exeter in Connecticut; Princeton in New Jersey; another Exeter in New Hampshire; Newburyport and Haverhill in Massachusetts; and finally, to Brattleboro, Vermont. Family is everything to us!
Susan Erb, associate director of financial aid
We gather at my sister's farm in PA on Christmas Eve for a big family dinner and white elephant gift exchange. Santa stops by early with new Christmas PJs for the kids. On Christmas Day, we spend the day in our PJs, open presents, watch Christmas movies and play games with the family. We have a brunch spread that lasts all day long. The day is full of a slower pace and lots of family time.
Hilary Stipelman, administrative assistant for faculty services
Our family celebrates both Hanukkah and Christmas, so we have a 9-ft. tree in the living room and candles in the windows all season long. My favorite holiday tradition has to be baking Nigella Lawson's delicious, gooey gingerbread (recipe can be found here) and leaving some out for Santa, along with some carrots because, as my children never cease to remind me, "Reindeer don't eat cookies and milk!"
Are you ready to say Hello?
Choose a Pathway
Information will vary based on program level. Select a path to find the information you're looking for!