Hood Honors at Maryland Collegiate Honors Council Conference 2022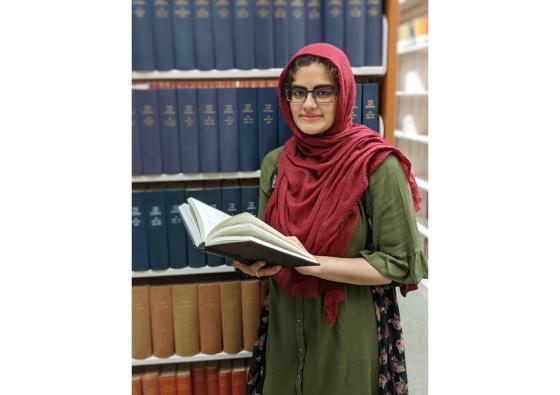 Honors Students Present and Win at Maryland Collegiate Honors Council Conference 2022
MCHC 2022
It's not uncommon for Honors students to achieve great feats, but that does not mean that these achievements should go uncelebrated! Take, for instance, the various talented and hard-working Hood College Honors students who recently participated in the 2022 MCHC conference.
First though, what is the MCHC conference? Why is it a big deal to participate? Also known as the Maryland Collegiate Honors Council conference, the MCHC conference allows collegiate Honors students from all over Maryland to present on a topic of their choice. For example, there were presentations on crime, popular culture, political philosophy, and environmental studies this year. 
It's no exaggeration to say that there's something for everyone who attends. However, not just anyone can present. In fact, presenters are evaluated by the MCHC board and have the potential to win awards. Some awards are based on the presentation at the conference. Others include evaluation of students' entire collegiate education. This year, Alyssa Rae Loe, Faith Mae Kiser, Maryam Iftikhar, Pankhuri Kabthiyal, and Sai Jallow all presented!
Alyssa Loe and Faith Kiser hosted their presentation,

 '

Pop Culture of North Africa,

'

 in the Arts and Popular Culture section.

Maryam Iftikhar hosted her presentation,

 '

Understanding Demographic Trends Through the Lens of Cultural Anthropology,'

 in the Political Philosophy section. 

Pankuri Kabthiyal's presentation, 'Reagan and AIDS,' was in the Global Health section.

Sai Jallow presented

'

Rationalizing Divination as Analysis Paralysis Prevention, Blame-Diffusion, and Legitimized Randomness in Decision-Making,'

 

in the Human Mind section.
To add to these already amazing presentations, there is another element of this conference that must be celebrated: Maryam Iftikhar won the Portz award! It is reserved for outstanding, well-rounded honors students. It's no small feat to win it! We are so proud of Maryam and all of students presenting at MCHC this year! 
Are you ready to say Hello?
Choose a Pathway
Information will vary based on program level. Select a path to find the information you're looking for!