Hood Soccer Alumni Blazing a Trail in Female Brain Injury and Concussion Education and Awareness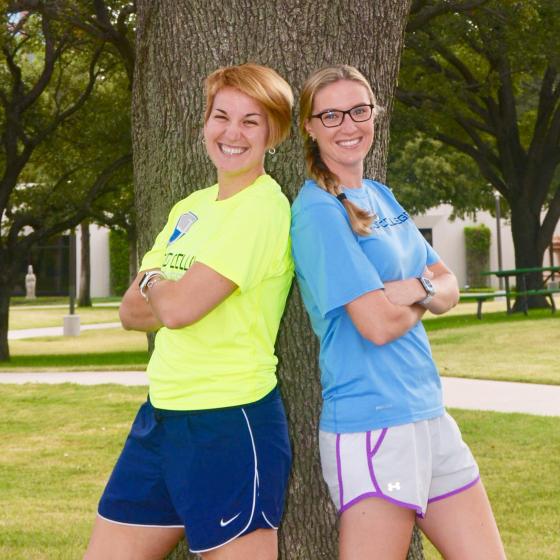 Women's soccer alumni Colleen Slaton and Brittni Souder are brain injury survivors and are now spokespeople for the nonprofit PINK Concussions.
Colleen Slaton '10 and Brittni Souder '15
11/13/2018
Colleen (Cruice) Slaton, '10 and Brittni Souder, '15 are former members of the Blazers women's soccer team. They are also brain injury survivors who crossed paths when they were invited to be part of the first female brain injury workshop at the National Institutes of Health in Bethesda, Maryland, in December 2017.
At this historic event, Slaton and Souder made the connection that they were both Hood alumni and had played on the women's soccer team. Their personal journey of acquiring a traumatic brain injury and their passion to educate women and young girls across the country on concussion and brain injury awareness has led to a life-long friendship, and they are now spokespeople for the international nonprofit, PINK Concussions.
PINK Concussions is the first 501(c)(3) nonprofit to focus on female brain injury, including concussion and post-concussion syndrome from sports injuries, domestic violence, accidents, and military service. The mission is to educate the general public as well as civilian and military medical professional specialists on the sex and gender differences in brain injury to improve the pre-injury education and post-injury care and support for women and girls. PINK also facilitates patient education, medical professional training, research trials, medical/research summits and ongoing support groups for women, veterans and caregivers/parents as well as medical professionals.
Slaton earned her bachelor's degree in psychology in 2010 from Hood en route to pursuing a master's degree in occupational therapy. During her junior year at Hood, she lifeguarded at a children's pool outside Ocean City, Maryland, where she was inspired to become a pediatric occupational therapist. After graduation, she decided to take the year off to gain more experience working with adolescents with autism and study for the GRE's. During this time, she worked for a small neuro-developmental company where she visited the homes of adolescents with autism.
In December 2010, Slaton's dream of becoming an occupational therapist was put on hold after a violent workplace assault. She acquired a mild traumatic brain injury and PTSD. This sudden, life-altering event led her to move back home to her family on the Eastern Shore of Maryland for a year and a half of recovery. Slaton was accepted to occupational therapy school at Virginia Commonwealth University (VCU) in spring 2011; however, she deferred her acceptance since she was not mentally or physically equipped to begin. During this time, she developed severe depression, lost the ability to recall the last two years of her undergraduate studies, and the abilities to drive and perform basic activities of daily living. In the midst of some of her darkest days, she found journaling and forgiveness to be therapeutic to her healing and recovery. She also believes that much of her recovery was from the incredible love and support of her parents.
In December 2014, Slaton graduated from VCU with her master's degree in occupational therapy and was nominated by her graduating class to deliver the Commencement speech. In 2016, she was invited to speak on Capitol Hill for Brain Injury Awareness Day on behalf of all brain injury and concussion survivors in the U.S. by sharing her success story of returning back to school after her brain injury. Slaton currently works in early intervention as a pediatric occupational therapist for Berks County Intermediate Unit and is a member of the BrainSTEPS program for Pennsylvania.
Souder was asked to join the PINK Board of Directors in 2016 and also speaks as an ambassador on the PINK Patient Panel at medical conferences around the country. She is a native of Frederick, Maryland, and suffered more than 10 concussions in her soccer career. After sustaining three concussions in one season during her junior year at Hood, Souder underwent two surgeries on her head. This led her to take the semester off before returning to school for her final semester and fall 2014 soccer season. With two games left in the season, she suffered a career-ending concussion in a head-on collision with another player.
She completed her bachelor's degree from home with the help of her professors andDean Olivia White, and officially graduated in May 2015. Four years after being forced to quit the sport she loved, Souder continues to battle symptoms and is passionate about spreading concussion awareness to athletes, parents, athletic trainers and coaches. She hopes her story will serve as an example to other athletes to care for their brains. She now coaches soccer privately in one-on-one and small group sessions, and she is taking classes toward her master's degree in exercise science with a dual concentration in performance enhancement and injury prevention, and sport psychology.
Slaton and Souder now travel across the country on behalf of PINK Concussions and share their experiences, personal insights and advice targeted specifically to the medical and research community on female brain injury and concussions. Research has found that women and girls are rarely educated about female brain injury and are often unprepared for the amount of time and effort required to recover.
Slaton and Souder were able to recover thanks to perseverance and support from their family, friends and medical professionals. They are now spreading the word to others.
Visit www.pinkconcussions.com to learn more about this nonprofit.
Are you ready to say Hello?