A Hood-to-Work Network Story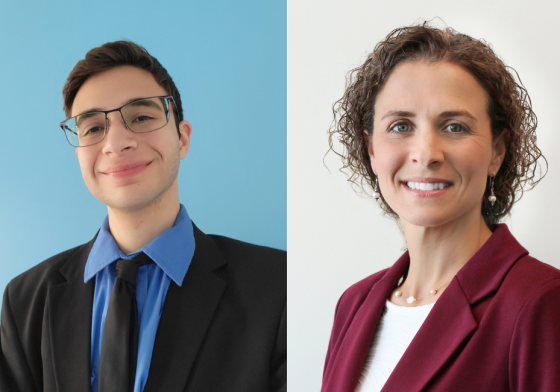 How Judith Lubkin Apshago '93 helped Jack Wilder '22 supercharge his job search and launch a career
Through a Career Center alumni connection, Jack Wilder '22 received senior year job search guidance and support from Judith Lubkin Apshago '93.
Department
Computer Science & Information Technology
When Jack Wilder '22 reached the spring of his senior year at Hood, he felt prepared for a job in the Information Technology field, but he wasn't sure if the world of IT was prepared for him! So he went to the spot that attracted him to Hood in the first place—the Career Center—and found the alumni connection he needed to power his transition from computer science student to IT professional. 
Judith Lubkin Apshago '93 is Vice President, Digital Technology, at Amtrak. She also serves on Hood's Board of Associates as Chair of the Career Center Committee. Judith works closely with the Career Center to help find ways to connect students with alumni who can advise and assist them in their careers and job search. When Jack asked for help, she became a perfect example of that connection.
Jack: Initially what drew me to Hood as a student was its promise of personalized learning and career counseling services; other schools that are much bigger seem to have a harder time finding specific alumni to direct graduating students to their field of work. I studied computer science throughout my four years.  
My absolute favorite memory was taking some friends down to the new esports arena in the basement of Coblentz right before finals and playing Super Smash Brothers (video game) for hours and ordering pizza! And another incredible memory: the book sale in the library during the last few weeks of the spring semester, there were lots of senior presentations going on too and it was so inspiring to see this collection of knowledge on display, both in print and in person. 
Judith: I was drawn to the campus (so beautiful!) and the faculty. I liked the personal focus, small classes, and sense of community on campus and in Frederick. I double-majored in business management with a concentration in finance and math. Most of my career has been in Information Technology roles. I have actually found that the skills and experience gained from both of my degrees, along with a solid liberal arts foundation, were instrumental to my career success. 
I graduated from Hood during its centennial, 1993, which was quite special. The new Beneficial-Hodson Library opened, and the students formed a line from the old library in the Joseph Henry Apple building to the new library to move all the books. I loved living in Coblentz above the dining hall and one of my favorite memories was the dining hall being open late during exam week. I'd head downstairs in my pajamas, grab some snacks, and cram for my exams. I also made great friends at Hood; in fact, my Hood roommate is still my best friend today. 
Jack: At the end of my senior year, I set up an appointment with the career center to search for alumni in my computer science field that were in positions to offer recommendations. We found Judith at Amtrak, and I corresponded with her throughout the application and interview process at Amtrak—and I got the job! If it were not for the career center linking me up with Judith, I am not sure if I would have gotten hired so immediately after graduation! My current job title is IT Developer for Amtrak, and it has been really rewarding and insightful to discover the internal structure of a transportation network! 
Judith: Lisa Littlefield, dean of the Catherine Filene Shouse Center for Career Development & Experiential Education, reached out to me. I work closely with Lisa in my role as chair of the Career Center Committee on the Board of Associates. Lisa asked if I'd spend some time with Jack to give him some advice on his job search. Jack was looking for a position in IT, which I've worked in for most of my career, so I was happy to help. I coached Jack on his job search and interviewing skills and gave him feedback on his resume and LinkedIn profile. I also referred him to a job in Amtrak's Digital Technology department (my employer), in a new rotational program for recent graduates. He applied through the formal channels, and I also sent his resume to HR and referred him to some of the department leaders. He did well in the interviews, was selected, and is now happily employed in his new role. 
I was fortunate to have been given so much during my time at Hood and I've also had some incredible mentors help me on my career journey, so I'm happy to do what I can to pay it forward. I encourage other alums to connect with the Office of Alumni and Constituent Engagement or the Career Center to see how they can get involved. 
Are you ready to say Hello?
Choose a Pathway
Information will vary based on program level. Select a path to find the information you're looking for!