Hood's First Chair of the Board Scholars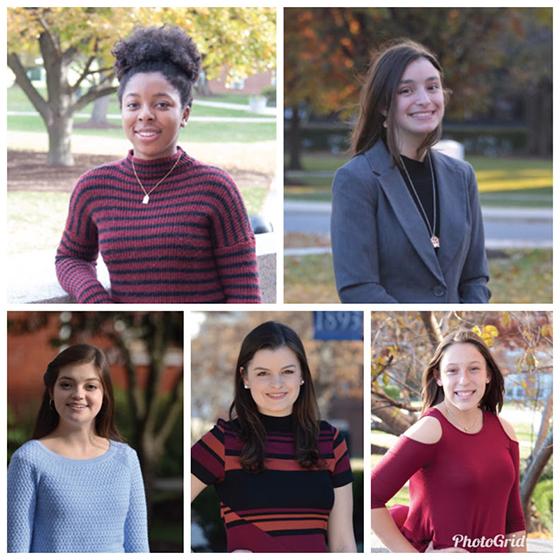 April 2018 -- The first Chair of the Board Scholars were admitted to Hood in fall 2017.
Chair of the Board Scholars
Graduation Year
By Lindsay Tubbs '18
Chelsey Adedoyin '21
For Chelsey Adedoyin, the uniqueness of Hood's campus was the selling point.
"The buildings, the green…wow this campus is beautiful!" Chelsey said of her first impressions of Hood. The Laurel, Maryland, native knew about Hood from a high school friend who played in basketball tournaments on campus.
She also knew the close-knit campus was something she wanted.
"I love the small class sizes. I find that I excel when I can have a closer relationship with my professors," she said. "The Hood community is really my favorite part of being here. Everyone knows each other, as opposed to a big school, where I don't know anyone, no one knows me and maybe I don't even know my teacher. That would be crazy."
There is a downside to the close-knit community. "You're always around people. There is truly no time to be alone," she said with a laugh. "I just didn't expect that, I really didn't. I was really shocked when I figured it out. I'm just always around people. The upside to that though…you get to enhance your communication skills and networking. I'm always looking at the positive."
In high school, Chelsey competed on the field hockey and track teams, was in Honors Orchestra, was involved with the African Student Association, a mentorship program and a member of Charles County's Unified Bocce Team. At Hood, she's taking a step from so many extra-curricular commitments and is involved with just the Black Student Union and the Urban Outlet.
"I really just wanted to come here and see what the workload was like and get accustomed," she said. "There's still time next season to think about field hockey or music lessons, but I came here to get an education."
The biology major hopes to go to pharmaceutical school at the University of Maryland after graduating from Hood.
Remembering back to Scholars' Day, "that was the most traumatic day!" she said.
"It was my first time coming to Hood and I was so nervous. I had to be so polite. How do you have conversations with someone you just met? I just kept reminding myself, if they truly like you for who you are, then you'll get the scholarship."
On waiting to find out: "I was nervous. I was scared. But I don't remember having to wait that long to find out," she said. And when she finally found out? "I'm so lucky, so blessed."
Jenna Frick '21
Had it not been for the offer of the Chair of the Board scholarship, Jenna Frick might not have visited Hood, but the business major from Clermont, Florida, thought it was such a great opportunity she needed to explore it.
"I learned about Hood and applied because the golf coach (Chelsea Danel) had reached out to me," Jenna said, "but I wasn't sure I wanted to move this far away from home, and after I got accepted, I hadn't thought about it much. Then I got the call about applying for the scholarship."
Jenna and her mother arrived in Frederick in early February for Scholars' Day, where she endured a full day of interviews. It was noted by those who met with her that she "was passionate about her studies and community service, extremely articulate and comfortable in the interview."
Jenna remembered it a little differently. "That was a crazy day! I was so nervous." But her initial impression of Hood was all positive. "As soon as I stepped on campus, I fell in the love with the school and it was at that moment, I knew I needed to go here."
Waiting to hear whether she would be awarded the scholarship was "terrible. I can't even explain it!" she said. "I think I checked the mail three times a day and when it finally arrived, my hands were shaking and I opened the letter…and oh my gosh!
"Everything just fell together for Hood. I felt like I was missing something from all the other colleges I looked at. When that letter arrived, it was all really clear to me that I belonged at Hood," she said.
The five scholars met at Accepted Students Day in the spring and formed a special bond. "We have a group text so we check in with each other a lot. It links us all together," she said.
Now fully immersed into her freshman year, Jenna is on the golf team, considering a double major in business and economics, and involved with
Enactus (a student group dedicated to inspiring students to improve the world through entrepreneurial action), the Maryland Student Legislature and student government (vice president of her class).
"Time management is a huge thing…to stay on top of my classes, activities, practice," Jenna said. "But I've surprised myself. There's so much going on and it hasn't been easy to be away from home, but I surprised myself in how much I can handle on my own."
Natalie Kolosieke '21
Natalie Kolosieke '21 of Greensboro, North Carolina, aspires to have a career in the nonprofit sector and "make the world better" after honing her management skills at Hood.
"The types of nonprofits I'm looking at are more education, or women," she shared. "Those are things that I'm really passionate about. I want to start working at a nonprofit, and if I really enjoy it, I may decide I want to start one."
Natalie, whose father works for Habitat for Humanity, loves volunteering there and seeing the difference that she can make.
"It's really rewarding work," she said.
Natalie was involved in management activities in high school, such as being the editor in chief of her school's yearbook for two years, and discovered that she was good at it. She realized that she could combine her management skills with her love of nonprofits to make a career of helping people.
At Hood, she is studying business administration and wants to pursue a minor in nonprofit and civic engagement studies.
"I looked at the business program, and I saw that Hood has a nonprofit minor, and I was like, 'What? That's crazy! Mom, we have to go!'"
Natalie and her mother traveled from North Carolina to visit Hood, staying with family friends and Frederick locals who had encouraged her to look into Hood when she had expressed interest in small liberal arts schools.
"I got to tour Hood, and it was November, and it was icy and cold and kind of gross, and I was like, 'This is the prettiest place I've ever been. I would love to go here,'" she said. "Things fell into place with the scholarship, and now I'm here!"
How did she react to finding out that she had been chosen for the Chair of the Board Scholarship?
"I took the letter to my room to open, and my mom heard me scream, and then I started dancing," she recounted. "And my mom came upstairs and we happy danced for a little bit. It was really fun. It was perfect."
Since beginning college a few months ago, Natalie has been surprised by how much she has learned in her classes.
"There's just so much that I don't know, so I'm definitely learning a lot," she said. "And having to really take a step back and walk through your reasoning that you do so quickly. It's really neat. Brain exercise, good stuff."
She has also been surprised by the amount of time that she has to socialize.
She explains, "Here it's like, eat breakfast with your friends, go to class with your friends, meet them for lunch. And then after class it's like, 'Do you guys want to do homework together in the library?', or, 'Let's all have a movie night if we don't have too much work.' And I love that because the people here are great, and I just love them!"
Grace Weaver '21
Grace Weaver '21 of New Market, Maryland, has a very clear vision of her future, aspiring to be a divorce lawyer in Miami.
"I just love the warm weather, and I figured that Miami is such a big city that there's got to be someone getting divorced," she explains. "Since third grade, my dad would tell me, 'You're gonna be a great lawyer, Grace,' because I play devil's advocate in a lot of discussions. I like to argue because I want to see different points."
In high school, Grace had the chance to practice this passion through the mock trial club with her favorite teacher, Natalie Rebetsky, a 1985 Hood alumna who was in charge of the club. Grace joined and fell in love with it.
"One of the reasons that I was driven (to Hood) was Ms. Rebetsky," she said. "I actually have her Hood ring. She said, 'I don't have a daughter, but you're like a daughter to me, and you're going to my school.' And so I have it, and it actually fits my finger perfectly."
As a student-athlete in soccer and lacrosse, she enjoys being close enough to home to have her family's support at games. In addition, she is glad to be nearby while her sister battles a second round of Ewing's sarcoma.
"I feel like it was everything working around me, pushing me here. And everything just fell into place, like this is the place that I need to be," she said.
Grace never thought she would earn a prestigious scholarship, and she is excited to be rewarded for her hard work through the Chair of the Board scholarship.
"I was taught when I was little that you have to put in the work to get what you want," she said. "I put in my work, and I was able to receive what I thought was never going to happen to me."
The scholarship is a reward for her in more ways than one. "My junior year, my mom said, 'If you get a full ride, I'll take you on a cruise.' I was not thinking it would ever happen." Remembering the day that she got the news, "I opened the letter up, and I was just starstruck. I was like, 'Oh my gosh, it actually happened!'"
The cruise is planned for this summer, depending on her sister's treatment.
And if it doesn't happen this summer, it might happen next summer. It'll happen eventually. My parents say I earned it," she said with a smile. In the meantime, Grace will continue to experience college life at Hood. "It has been a huge change; it's very different than high school. But I think what surprised me the most was that I found so many friends so quickly, and how easily everyone was able to click. It's just so nice," she shared. "I feel like there's a match for everyone to find their friend here at Hood."
Caylee Winpigler '21
"My goal in life is to do something that impacts people, and I want to make a difference," said Caylee Winpigler '21 of Walkersville, Maryland.
She is considering a history and political science double major and an English minor.
"I have time still to decide, but I feel like if I go down maybe the political science route, it'll lead me somewhere that I will be able to make an impact," she said. "I thought for a while that I could be a lobbyist for environmental science."
In her AP environmental science class, she learned about environmental consequences and the domino effect of how actions affect other parts of the environment.
Caylee is not one to shy away from public speaking or meeting new people. In high school, she enjoyed reciting poetry competitively through a program called Poetry Out Loud, and serving as a student ambassador.
"I always loved doing that because I like to meet new people. So then, of course, that's what led me to be a Blazer Ambassador," she said. "And I'm so fanatical about Hood that I was like, 'Please let me do this!'"
As a Frederick county native, Caylee was initially unsure about going to school so close to home, stating, "I was on the fence before I first came to visit Hood. However, when I came here, and through all of the multiple times I came to Hood, I always was greeted so warmly, and everyone is so friendly, that I always came looking to see if there was that one disagreeable person, and I could never find them. It's like they didn't exist here. So with the atmosphere being so welcoming, I felt like I belonged here."
When Caylee found out that she was being considered for the Chair of the Board Scholarship, she was bawling. Waiting for the decision to come in the mail, she said she felt sick.
On that fateful Friday, "I handed my mom the envelope, and I said, 'I can't look at this. Can you please open it for me? I'm not gonna look at you,'" she recounts.
"So I handed it to her and I turned away, and I closed my eyes, and I was trying to just kind of center myself, and then I started to hear her cry. I looked, and she's just nodding her head vigorously. And then the reception thereafter from my family was amazing."
Since starting at Hood, Caylee has been surprised by the amount of independence that she has.
"Before, you have to go through your parents to do anything. And not having them around, I do miss them a lot, but they're so close," she explained. "I do enjoy being able to make my own decisions without having to check with my parents first. So being able to manage my own schedule is very liberating."
Chair of the Board Scholars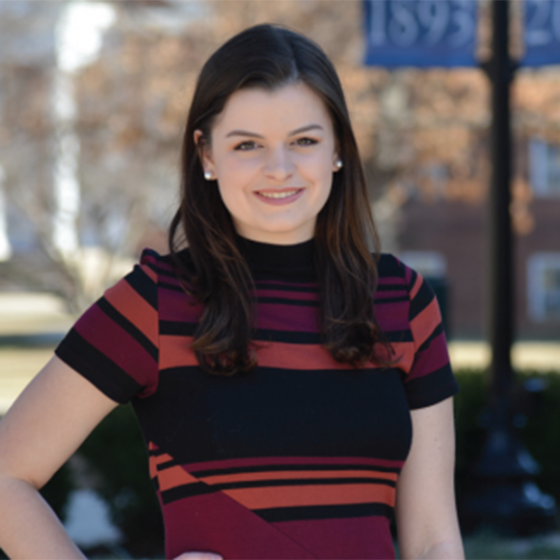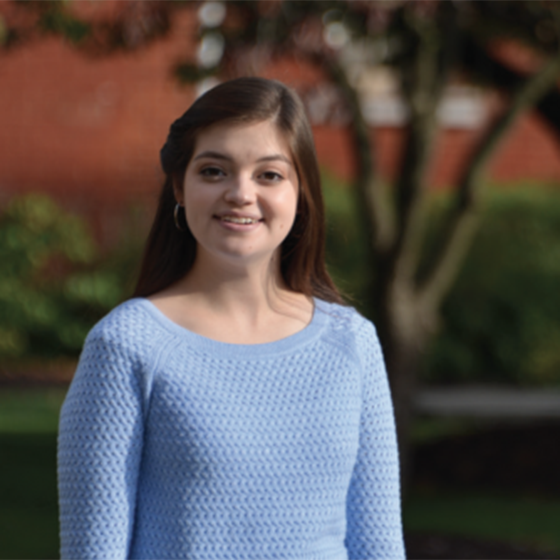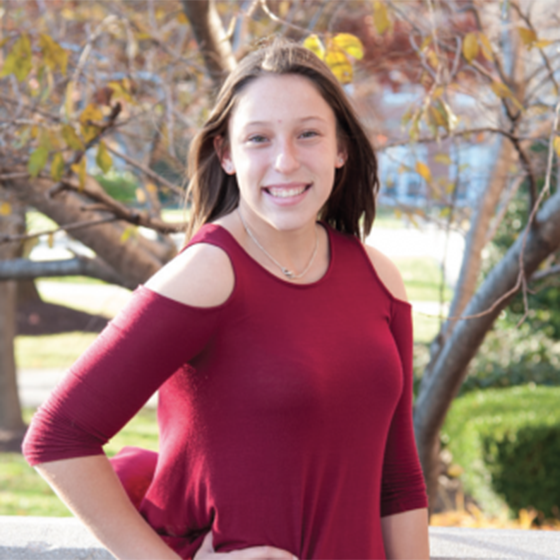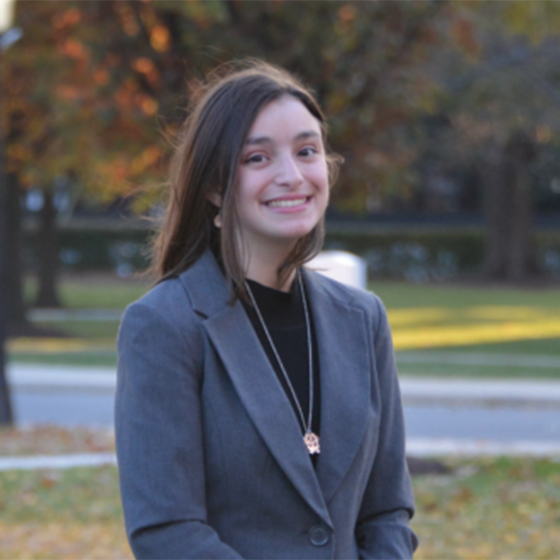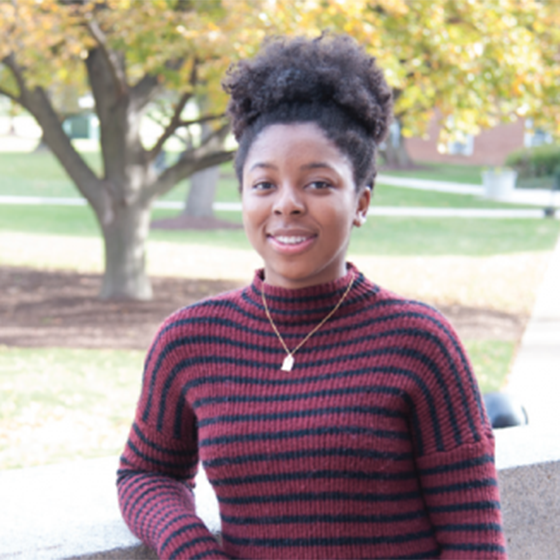 Are you ready to say Hello?
Choose a Pathway
Information will vary based on program level. Select a path to find the information you're looking for!