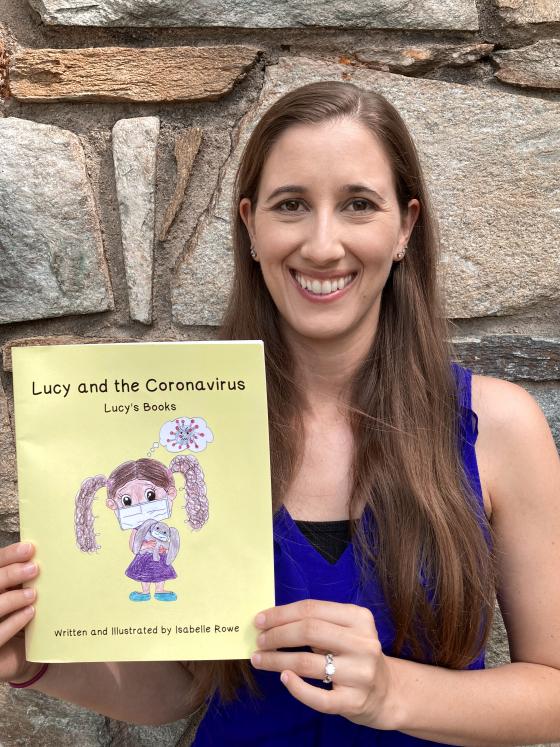 Major: B.A. Psychology (MJ), Studio Art (MN); Employment: Assistant Director of the Therapeutic Nursery Program, The Lourie Center for Children's Social & Emotional Wellness, Writer/Author/Illustrator
Graduation Year
Tell us why you chose to attend Hood? Was there a particular moment when you knew Hood was where you wanted to pursue your bachelor's degree?
The Hood campus it's so beautiful. I first wanted to look at Hood because I had heard really good things about it from friends and I was looking at small colleges in Maryland and it wasn't far from my parents. The specific moment when I decided to pursue my bachelor's degree at Hood was when I visited the French House. Back then, students who were majoring or minoring in French could live in the French House. I could see myself living there; it was perfect for me. Hood had so much to offer. And at the time, I knew I wanted to pursue Psychology and French. When I was there, I was able to double major in Psychology and French with a minor in Studio Art. It was a wonderful opportunity for me to pursue my interests.
What prompted you to pursue a degree in Psychology? Did you have a specific related career or job in mind when you chose this major?
Since High School I knew I wanted to be in a field where I would help people. I have always loved working and being with children. I had envisioned myself as a therapist for children as my career path. The psychology program at Hood looked really great. The professors were wonderful and the classes were really interesting. Now, I am a fully licensed Social Worker (LCSW-C). And I work with young children in the mental health field and early education as the Assistant Director for Therapeutic Nursery Program School at the Lourie Center. 
Did you have a particular professor, course, or campus experience that had an impact on your undergraduate and post-graduate success?
I remember my psychology and French professors being really exceptional and I really wanted to absorb all the knowledge my professors had to offer. For my campus experience I really felt like I was part of a community and surrounded by like-minded people with similar interests. This made my experience really wonderful. 
You were fortunate enough to participate in the Strasbourg study-abroad program. What would you say was the most challenging part of this experience, and what was the most rewarding?
I absolutely loved studying abroad for five months in Strasbourg, France. It was an incredible opportunity and I am so grateful that I was able to go. The most challenging part of that experience was that I was limited in the classes I was allowed to take while there; I wish I had been able to continue taking classes in psychology and studio art. I really enjoyed getting to know the other students who were part of the program. We stayed with host families so this allowed us to practice our French and we were able to really absorb and learn the culture. It was such a rich experience. I did also enjoy taking French classes at the local University where I was able to meet and form friendships with other students.
You were very involved on campus. You were a member of the French House governing council, an athlete on the soccer team, and managed to pursue two distinct areas of study. What advice would you give to current Hood students to help them manage their academic responsibilities, while still ensuring they have enough time and energy for extra-curricular activities?
I am the type of person who often takes on a lot and I challenge myself to work hard and reach my highest potential. Hood is a wonderful place to do that; they give so many opportunities and experiences. My advice for students pursuing study and extra-curricular activities, I would say that it's all about prioritizing and figuring out your time management. Also using your support system when you are struggling or needing help. And knowing what is realistic for you and what your limitations are.
Your "Lucy's Books" focus on helping young children manage difficult and challenging situations, most recently the Covid-19 pandemic. How has your writing been influenced by your work with children at The Lourie Center?
I would say my writing really has come from my experience working at the Lourie Center. I first started out being a classroom Social Worker working with children ages 3 to 5 years who have social and emotional challenges and trauma histories. Now as the Assistant Director for three classrooms, I continue to work with those children, their parents and caregivers, and also train and support my staff in this experience.
When the pandemic hit, I really wanted to find a way to support parents and young children through this difficult time. I have always enjoyed writing and drawing and decided that writing and illustrating a children's book was the best way to combine those two passions as well as to reach as many readers as possible to help families. So far I have published 6 books in the series as well as recorded Read A Longs, which can all be found on my website https://isabellerowebooks.wixsite.com/lucysbooks.
One last question! What does "Hood is Home" mean to you?
When I hear "Hood is Home", I absolutely agree with this statement. That is where I learned how to be independent; it was my first home away from home. And it really is where I've learned so much about myself and where I established a solid foundation for my career. Going to Hood College for my undergraduate degree was one of the best decisions I've ever made.  
Are you ready to say Hello?
Choose a Pathway
Information will vary based on program level. Select a path to find the information you're looking for!