Jarred H. Harrington M.A.'16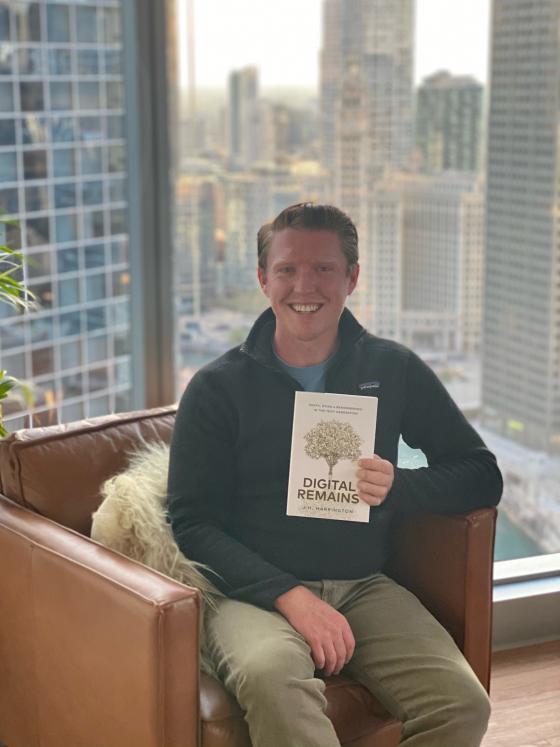 Jarred H. Harrington M.A.'16
Major: M.A. Thanatology; Employment: Full-Time Author; Author: "Digital Remains", www.jhharrington.com
Graduation Year
You came to The Graduate School at Hood College with a B.S. in economics from the University of Kansas; what prompted you to choose Hood?
Easy, the Hood Graduate School offered a truly unique and valuable program that wasn't offered anywhere else - the thanatology program, the study of death, dying and bereavement that generally focused on the psychological aspects of the end of life. If it weren't for this program, I can safely say I would have not only never stepped foot in Frederick and discovered what an amazing piece of the world it is, but I would have never heard of Hood College. The two degrees, economics and thanatology, when combined with my work experience and mortuary science degree, allowed me to immediately use my Master's degree serving as the Industry Expert for the Funeral and Medical Industries at the US Department of Labor. Never let anyone tell you that a field is useless just because it doesn't have a clear 9-5 job path for the masses, it is yours to make of it what you will!
Why did you choose the thanatology program? Did you have a specific career-related goal in mind?
I chose the thanatology program because it offered something that was not offered anywhere else in the world. I know, because I would have gone anywhere in the world to learn what I was able to learn in this program at Hood. It is amazing to me how little value most put on a field that every single person on earth will experience. Death, dying and bereavement factor into more fields and parts of life then I could ever offer in a single interview. The thanatology program not only set me apart in a field full of people with a lifetime of experience in the funeral industry, it also focused my abilities and allowed me to look behind what was happening to the individuals I was working with and discover the processes behind what I was seeing, allowing me to offer a depth of knowledge and advice as well as a silent listening ear.
Did you have a particular professor, course, or campus experience that had an impact on you?
Dr. Terry Martin (former associate professor, psychology) was and is someone that, in my opinion, gets it. Life and death and so much more. He was an inspirational teacher with a depth of knowledge I can safely say few people truly realized. I think about and utilize his stories and lessons daily. He was one of those "once in a lifetime" teachers!
Another, great instructor was Dr. Flavius Lilly (former adjunct professor, psychology of aging) who is one of the best lecturers I have ever had. He turned gerontology from a tertiary field to a field at the forefront of exciting and futuristic endeavors that were immediately applicable to even the younger members of his seminars.  The world needs more teachers like him.
You served as a member of the Thanatology Department Advisory Board. To what did this role pertain? What did you find most challenging about this experience? What was most rewarding?
During my time at Hood, the thanatology program was experiencing several new phases of its life trajectory simultaneously. Among these challenges was market saturation in the Frederick and larger DC metro area, a new graduate counseling program (that while originally designed to include a grief counseling component that worked with the thanatology program but did not, meaning the growing pains in the department began a struggle in where and what role the thanatology program would have in the future), the need for staff adaptation, a need for a program director after the current program director had dropped enrollment from roughly 20 new students a year to zero for two years in a row, and finally program succession planning. With one of the two main professors in the program passing away the year before unexpectedly, (Dr. Dana Cable, professor of psychologyand thanatology), and Dr. Terry Martin beginning to approach the end of his career, the department was beginning to discuss who and how the program would continue. It was rewarding to tackle these questions with so many people that played such large roles in the Frederick community who were also graduates of the program. They saw value in this in-person program, and viewed it as an asset to the community, whereas certain administrators only saw a small program that brought in fewer students than other programs that were more or entirely online. A challenge the program still faces, in its sadly very small current existence as a certificate program from Hood today.
Congratulations on the publication of your non-fiction book "Digital Remains." What prompted you to write about such a specific topic in the "death care" field?
Every single one of us will die. That is a fact, but in the modern world we see fewer and fewer examples of the end of life that relate directly to us as an individual. It is topic that is quite literally avoided, even by trained professionals like those even in the counseling field and those that teach it. "Digital Remains" addresses this. It dives into the vanishing of the obituary section, along with the local newspaper, the growing social and ethical implications of social media, and how our social and familial networks may be grieving a loss. What would you do if someone, perhaps an old friend, you enjoyed seeing updates from on Instagram passed away and without warning all your memories and pictures together were deleted? What would happen if you heard your Grandmother died while scrolling through Facebook? These are real possibilities in the modern world. Through lighthearted real stories and lessons "Digital Remains" explores many of the options you will have at the end of life, and what you need to know about them to make an informed decision, for you or for your parents or friend. You will be shocked at how much there is available to you in terms of options outside of choosing burial or cremation. I also talk about some false, but common, misconceptions like Are we running out of space to bury people?
The field of mortuary science is foreign territory to most people. What is a piece of information you'd like to share to help people better understand this industry?
I think it takes a truly special person to go into a service industry that "most people" don't find much value in until they need help. Mortuary science is one of those fields you can only truly do well in if you set "caring for the person in front of you" as the measure for success. You will not grow wealthy, you'll be accused of being unscrupulous by those that have had few or no interaction with you, you'll be looked down on by other "professionals" who know far less than you, but at the end of the day, you will be helping people at one of the hardest points in their life, and all those other negatives just vanish. It is an often thankless and undervalued job in all of its variations that is truly rewarding to the right person.
One last question! What does "Hood is Home" mean to you?
My time in Frederick was defined by Hood as the heart of the community. It pulls people in that would never have set foot in town and pushes them back into the world to share their experience. It is hard not to feel like Hood is Home even today when you look back at a place like that. In the same breath, Hood is Home is only true while it is an asset to the community and not a school that only focuses on the bottom line. Keeping programs that benefit the community even while not being as traditionally lucrative as other programs, like the thanatology program, will ensure it is the unique and wonderful place for thought and learning it has been in the past. Hood is Home, to me, means discovering and expanding while your feet are planted in true Americana, just venture towards campus on Rockwell Terrace like I did every day and you'll see what I mean.
Are you ready to say Hello?
Choose a Pathway
Information will vary based on program level. Select a path to find the information you're looking for!