Legacy Ring Scholarship: Reflection and Reminders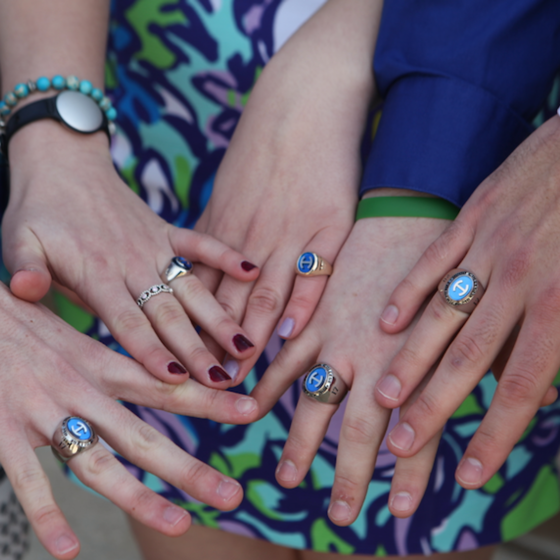 In fall 2019, Derrick Harrigan '07, MBA'14, a member of the Alumni Executive Board, sat on the Hood Legacy Ring and Scholarship Committee. In reading Malana Stanley's '22 application for a legacy ring, he saw himself. "I struggled with school at times—mainly because I had to work in order to remain in college, which meant that sometimes my grades went to the wayside because I was trying to figure out how to provide for myself."
Giving Back | Hood Magazine Fall 2021
In fall 2019, Derrick Harrigan '07, MBA'14, a member of the Alumni Executive Board, sat on the Hood Legacy Ring and Scholarship Committee. In reading Malana Stanley's '22 application for a legacy ring, he saw himself. "I struggled with school at times—mainly because I had to work in order to remain in college, which meant that sometimes my grades went to the wayside because I was trying to figure out how to provide for myself."
When Malana struggled to have the required GPA to qualify for a legacy ring, Derrick decided to fund it. He tells us why he was compelled to gift Malana's Hood ring.
"I felt that Malana expressed the Hood values in her ring scholarship essay, though she didn't have the required GPA, a traditional measure of academic success. But she was, and still is, a highly engaged student leader. Malana is a member of the Campus Activity Board (CAB) and Sisters Aspiring for Success (SAS); holds a campus job and is a student social work volunteer. Malana said in her essay that she saw the Hood ring as a reminder to return to her community to teach, highlighting her dedication to destroying the very barriers that impede success for so many. Malana demonstrated hope for the experiential learner— students that utilize their environment to affirm their strengths and encourage their educational quest. As Hood alumni, it is our duty to help create an environment in which the experiential learner can thrive."
"Malana needed to be seen, heard and given a little nudge. When she submitted her application, Malana's GPA was 2.5. After receiving her ring scholarship, Malana wrote me to share that she had brought her GPA up to 2.77 and had been accepted into the early childhood education program. She wanted the opportunity to work for her ring and I felt called to provide that opportunity for her. I would have liked for someone to have done the same for me."
Be a Part of the Hood College Legacy Ring and Scholarship Program
Thanks to generous donations from alumni, juniors have the opportunity to submit an essay to apply for a legacy ring—one previously worn by an alum and donated—or for the ring scholarship to purchase a new ring.
Learn more about how you can ensure the tradition of the Hood ring will continue for generations to come at hood.edu/legacyrings.
This story was originally published in the Fall 2021 issue of Hood Magazine. To view this story as it appears in print click here. 
Are you ready to say Hello?
Choose a Pathway
Information will vary based on program level. Select a path to find the information you're looking for!