Linda Redd '23 | Chair of the Board Scholar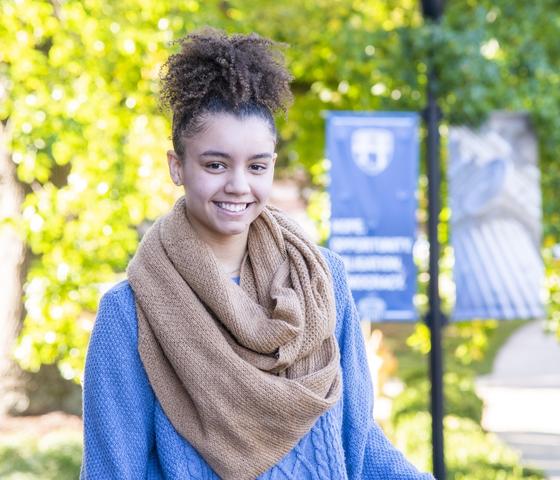 Linda Redd '23 is a recipient of the prestigious Chair of the Board Scholarship. A pre-dental studies biology major, Redd also received a High-Impact Practice Scholarship for a study abroad semester in Poland, where she helped provide dental care to Ukrainian refugees. As she prepares for graduation, Redd reflects on her time at Hood and discusses her plans for the future.
Why did you decide to attend Hood College and how did you become interested in your major?
I chose Hood College because it was close to home, and I loved the community feeling you get from this school. I wanted to study biology to become a dentist so that I could specialize in dental care for people with disabilities. Dental work is very difficult for people with disabilities, and I hope to be able to provide more comfortable care to them.
How has receiving the Chair of Board Scholarship benefited you?
What has been a challenge you faced during your time at Hood and how did you overcome this obstacle?
As we all grow and change as students and people, our relationships change as well, and accepting these changes was very difficult for me. However, I focused on my studies and built new relationships as time passed.
What is your proudest achievement during your time at Hood?
My proudest achievement at Hood College was getting into dental school.
What are your plans for after graduation?
I will be attending the University of New England School of Dental Medicine in the fall.
Do you have any advice to offer incoming Hood students?
I would tell incoming students to trust themselves and trust that everything will work out in the end as long as they preserve.
Are you ready to say Hello?
Choose a Pathway
Information will vary based on program level. Select a path to find the information you're looking for!