Is a Master's in Nutrition Science Right for Me?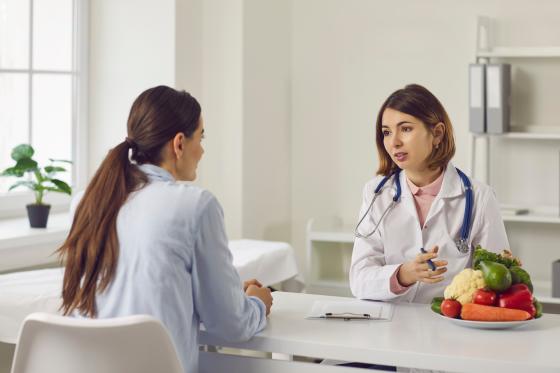 With new requirements to become a registered dietitian nutritionist (RDN), our master's in nutrition science is the pathway to licensure.
Dietetics Track, Nutrition Science, M.S.
Program
Nutrition Science (M.S.), Dietetics Track
Department
The Commission on Dietetic Registration (CDR) has recently announced some big changes to the world of nutrition education. Beginning in 2024, anyone seeking to become a registered dietitian (RD) or registered dietitian nutritionist (RDN) will be required to have a master's degree at minimum to be eligible for the dietetics registration exam. Although this new requirement does not apply to those who are already registered, there are still plenty of reasons to earn an advanced degree in nutrition.
For starters, the industry is flourishing. The Bureau of Labor Statistics (BLS) projects that there will be an average of 5,900 annual job openings through 2030. With an expected growth rate of seven percent, the nutrition field is on track with the national average. In 2021, the median salary for nutritionists and dietitians was $61,650. However, the top 25 percent earn upwards of $77,180. To reach this top bracket, you'll need an advanced degree.
Hood College has launched an exciting new graduate-level program—the M.S. in nutrition science. The program has been granted Candidacy for Accreditation by the Accreditation Council for Education in Nutrition and Dietetics (ACEND), making it Maryland's only master's program in nutrition to carry this endorsement. Coursework for the dietetics track—one of three unique specializations—is imbedded with the required 1,000 hours of supervised experiential learning (formerly known as the dietetic internship), which streamlines the path to becoming a registered dietitian after graduation.
Where exactly do registered dietitian nutritionists work? Beyond hospitals, clinics and private practices, RDNs can be found at schools, government organizations, community centers and more. The healthcare field is vast, and nutrition plays an essential role throughout. Nationwide shortages of healthcare workers, including dietitians and nutritionists, has created urgent demand for RDs and RDNs.
As diet-related chronic diseases like diabetes, obesity and hypertension continue to negatively impact millions of Americans, having access to experts in nutrition is critical. In September, the Biden-Harris Administration announced its National Strategy on Hunger, Nutrition and Health. Goals include integrating nutrition and health as well as enhancing nutrition and food security research, among others. More than $8 billion in funding has been allotted for this historic endeavor. Nutritionists will play a key role in this ambitious effort.
With the new requirements from CDR, however, the nutrition field will likely become more competitive, as all RDs and RDNs will eventually hold master's degrees. If you're already studying nutrition or dietetics, consider earning a competitive edge. Stay ahead of the curve and apply for your M.S. in nutrition science today.
Request Information or Apply Now for Spring 2023.
Are you ready to say Hello?
Choose a Pathway
Information will vary based on program level. Select a path to find the information you're looking for!