Meet Active Duty Graduate Student | Sabrina Rodriguez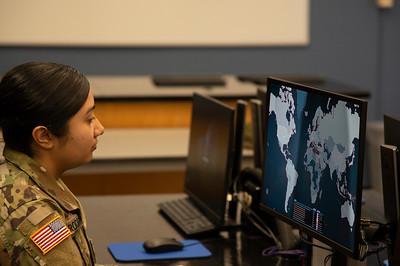 "I chose Hood College due to the location being very close to the base, and because of the great programs offered for working students"
Sabrina Rodriguez
Program
Biomedical Science (M.S.)
Department
Why did you chose Hood College?
I chose Hood College for my Biomedical program due to the location being very close to the base, and because of the great programs offered for working students.  When I spoke with other Active Duty Soldiers and civilians on Fort Detrick, they all highly recommended Hood. Hood College has a wonderful reputation within the community.
What is it like serving on Active Duty while also being a graduate student?   
Being on Active Duty adds a completely different element to the working student lifestyle.  As far as handling my military responsibilities, it is crucial that I am able to properly manage my time.  For example, I need to stay physically fit, complete annual trainings, and ensure I am ready for various duties.
Beyond that, I am also relied upon as a non-commissioned Officer (NCO) to train, mentor and lead my soldiers in meeting similar requirements.  Tasks such as tracking training, weapons qualifications, and their career development takes a large portion of my time, but it is rewarding knowing that I am helping others achieve more.
What is the hardest part of being on Active Duty while also being a graduate student?  
Because I want to make the Army a career, it can be consuming to maintain my skills as a soldier, an expert in my field (laboratory technician) and a leader for others to emulate.  The intensity it requires can be taxing when it's time for military schools such as a Unit Prevention Leader or time at competitions such as the Soldier of the Year event I recently attended.  So, as I mentioned earlier, time management is great (and necessary) skill set to have.
What is the most rewarding part of being an Active Duty graduate student?   
When I first walked into the recruiter's station a couple of years ago, the recruiter informed me that there were no military jobs for research.  However, the medical recruiter mentioned an individual who they had recruited the previous year, and confirmed that my Military Occupational Specialty (MOS) did have a research identifier.
What this meant to me was that I could earn an education through the Army throughout my training, and utilize Tuition Assistance (TA) funds to cover my cost of the Biomedical graduate program here at Hood College.
What advice would you give fellow service members in regards to pursuing higher education? 
 Go for it!  Take advantage of the TA benefit, and choose a path that you find interesting.  Even if the Army is not a long term option for you, we have benefits that will support us as service men and women to succeed in the civilian sector. Take advantage of what you have earned by serving. 
What is your favorite thing or what do you enjoy most about the Graduate School at Hood College?   
Everyone here is unique and it has been fun getting to know some of the students.  The faculty and administrators are great to work with; from the professors to the administrators of various programs, and even other students or peers, has made this a great adventure.  Everyone is very friendly and ready to assist or support you.
How do you think the graduate program will help you in your career and life? 
My hope or plan is to use my Masters degree in Biomedical Science to qualify for a direct commission in the Army.  This will provide an incredible opportunity that few get to realize.  Leading others in supporting our country and its diverse citizens, all while chasing my passion and doing something I really enjoy is very rewarding.
Inspired by Sabrina's story to #GOFURTHER in your education and career as an Active Duty soldier? Learn more about Hood College's graduate programs by clicking here.
Hood College proudly supports its Military community!
Are you ready to say Hello?
Choose a Pathway
Information will vary based on program level. Select a path to find the information you're looking for!