Meet Cailyn Barthlow '22, Summer Intern at the National Cancer Institute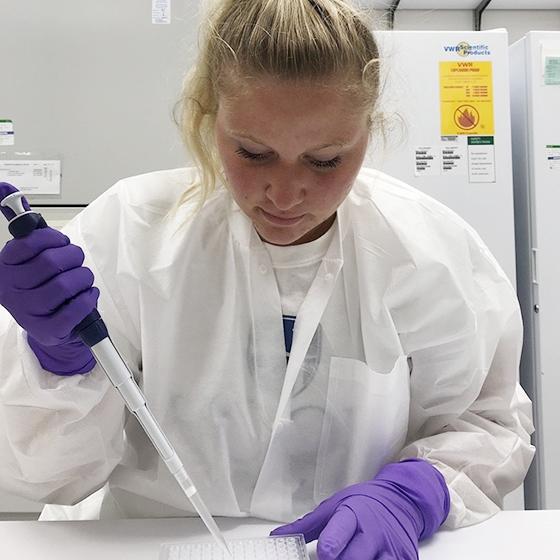 Cailyn Barthlow interned at the National Cancer Institute during the summer 2019 researching HIV dynamics.
Cailyn Barthlow
Graduation Year
Program
Biology (B.A.)
Pre-Professional Preparation
Involvement
Blazer Ambassador, Student-Athlete Advisory Committee, Free Radicals Secretary, CAC Treasurer
Hometown
Department
How was your experience at the Frederick National Cancer Institute working with Dr. Mary Kearney?
I had a great experience working in Dr. Kearney's lab last summer. I was granted my own research project where I sequenced an HIV positive patient's DNA to determine if he developed resistance to drugs that are used to treat HIV, known as antiretroviral therapies. I was able to present my research at the Translational Research Unit lab meeting and I plan to present this research in a poster presentation at Hood College this spring. I worked closely with a post-doctoral fellow, Dr. Jennifer Groebner, who was my direct supervisor and guided me throughout the 11 weeks I was at the lab. This internship allowed me to apply my knowledge from my science courses at Hood to a practical setting. I enjoyed working in Dr. Kearney's lab last summer and I was able to learn a lot about virology and life in a research lab.
How did you get presented with this opportunity to work at the Cancer Institute?
I really wanted to gain research experience over summer break at the National Cancer Institute because of their prestigious work and the fact that it is only 20 minutes from my house. I went to my academic advisor, Dr. Oney Smith, and asked him if he had any connections to a lab at the NCI Frederick that had any openings for a summer intern. Dr. Smith got me in contact with Dr. Cherry who is a Hood professor in the biomedical science master's program and also the scientific program director for the Office of Scientific Operations at the National Cancer Institute. Dr. Cherry then recommended me to Dr. Kearney and then Dr. Kearney offered me a summer intern position in her lab. The connections Hood College and the professors have with the National Cancer Institute allowed me to obtain this incredible internship at the NCI.
How does this experience help with your current coursework as a biology and chemistry major?
Working in Dr. Kearney's lab has helped me with my scientific coursework through a variety of ways. First, I was exposed to a lot of cell biology and virology, so I learned a lot about those two biology disciplines that will prepare me for these two future courses. I also learned many different lab techniques that I was able to carry over to my various labs at Hood. I read many scientific journals over my 11 weeks in the lab and this allowed me to expose myself to scientific writing, which is very useful when we write lab reports in my Hood science courses. And lastly, I learned how to present research, which is also very important in my biology major at Hood because I will have to present my capstone project when I am a senior.
Why did you want to pursue HIV research as a summer project?
I was very open minded when looking for a lab to work in. I knew I wanted to be at the National Cancer Institute at Frederick, but I did not have a preference of what research I wanted to pursue. Dr. Kearney's lab was the lab I was placed in, and I was very excited to see she did HIV research. We had talked a little about HIV in a previous biology course I took at Hood, but I did not know much about the virus going into this internship. Before stepping in the lab, I did some research on the HIV epidemic that occurred in the United States during the 1980s to fully understand the effects of the virus. I learned a lot about the biology of the virus, but also the sociology of HIV. I could not have asked for a better lab to be part of and a better virus to be studying.
Do you have an internship lined up for this summer?
This summer, I am going to continue working in Dr. Kearney's lab with Dr. Groebner. I plan to present my research from last summer at the upcoming Hood College SPIRES presentation day in April. My project from last summer was completed, so I am going to start a new project this May! I am excited to be back in the lab with everyone and continue researching HIV.
Are you ready to say Hello?
Choose a Pathway
Information will vary based on program level. Select a path to find the information you're looking for!