Meet Faculty Member Daehwan Kim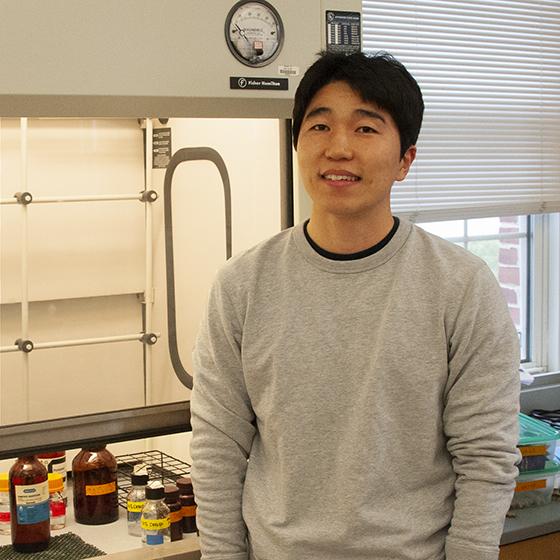 Professor Daehwan Kim strives to help underrepresented students enjoy science and biology.
Daehwan Kim
Program
Department
Degree
Title
Assistant Professor of Biology and the Hodson/Maryland Endowed Chair in Advanced Bioproducts Research and Education
11/30/2018
By Elena Rowe, Marketing and Communications Assistant
Daehwan Kim, Ph.D., currently teaches biology and fermentation and pursues biofuels/bioenergy research as an assistant professor in the biology department. Prior to coming to Hood, he was a lecturer and postdoctoral researcher at Purdue University in Indiana.
He earned his Bachelor of Science in Biotechnology at Korea University, and his Master of Science in Biotechnology at Yonsei University, South Korea. He was granted the opportunity to work at NongShim R&D Center, one of the largest food and biotechnology conglomerates in Asia. At NongShim, he was able to develop, test and patent more than 10 varieties of processed food products.
Kim then returned to Purdue University, where he pursued his Doctorate in Agricultural and Biological Engineering. There, he studied bioprocessing, pretreatment, enzymes, microbial fermentation and engineering principles for efficient conversion of biomass to value-added molecules such as ethanol and biochemicals.
He first became interested in biology in summer 2007 while a student at Korea University working as an overseas volunteer.
"I had experience as an Uzbekistan overseas volunteer from the Cooperation and Participation in Overseas NGOs (COPION), where I worked as a teacher at the school for the physically handicapped," said Daewhan. "I enjoyed being able to help kindergarteners learn during their experience in the classroom. Most of the kids in the class wanted to be a doctor or a scientist because they wanted to care for others, especially parents and friends who had similar disabilities."
Kim was touched by their pure minds and hearts and dreamed of being a scientist who could help others through his interests. That experience has kept him motivated to find new knowledge, and it has contributed to his passion for academic and industrial fields.
"One of my long-term goals as an instructor or scientist is to make opportunities that help students who live in underrepresented areas or who have disabilities enjoy science, and moreover, even become a scientist," he states.
Are you ready to say Hello?
Choose a Pathway
Information will vary based on program level. Select a path to find the information you're looking for!