Model UN Organization Attends DC Summit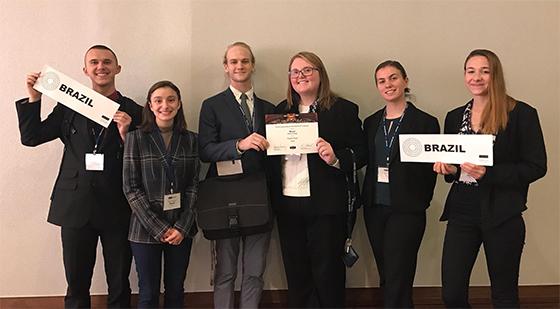 The Model UN Club attended a summit in DC, and two students won awards.
Model United Nations Club
12/7/18
By Elena Rowe, Marketing and Communications Assistant
Paige Eager, Ph.D., professor of political science and director of the global studies program, recently traveled to Washington, D.C., with a small group of students for the Model United Nations summit. The Hood participants were part of the College's Model UN Club, a student organization, as well as an academic experience. Eager describes it as a "simulation experiment."
"Students assume the role as ambassadors from a particular country we are assigned to represent," said Eager. "They have to research topics that are given out ahead of time, write papers that give different perspectives about their country, and this is all before we get to the conference. This year, we represented Brazil."
After their country is chosen, students write the position papers they will present. They debate, vote and try to agree on certain issues. Sometimes they have to represent a country's position on a certain issue that they don't agree with.
"It is fun but a lot of work," Eager said.
This year's participants were Reka Baan '21, Colton Barkefelt '21, Ashly Sargent '21, Kara Poole '19, Simon Williams '21, Caylee Winpigler '21 and Selma Zuljevic '21. Poole and Williams won outstanding position paper for the General Assembly, Second Committee.
"Simon and I both served on the General Assembly Second Committee and wrote a two-part position paper about the 'Development Cooperation with Middle-Income Countries and Ensuring Access to Affordable, Sustainable, and Reliable Energy for All,'" said Poole. "For my part on reliable and affordable energy, I discussed the programs the country has implemented to ensure everyone has access to clean energy."
Williams' part focused on ways Brazil has worked toward global, economic and social development and the programs Brazil has put in place to support other middle-income countries.
The involvement of Williams' peers sparked his interest in the Model UN.
"I am in class now with some friends who have done Model UN in the past, so that's also what got me interested in the club," he said.
Poole's interest also came from a class: "I took a course with Dr. Eager my sophomore year about international relations. We did a mini UN simulation at the end of the course, which got me interested in Model UN and the large-scale simulations."
Overall, Poole and Williams learned a lot and met interesting people during the experience. What stood out to Poole was that everyone wanted to be involved and engaged in solving the world's problems, even though it was only a simulation.
"Neither of us had ever attended a simulation like this before, so it was a little overwhelming at first," said Poole. "We didn't expect the amount of people who were there or how seriously everyone took it. Everyone was really trying their hardest to write working papers that would address and fix these issues on a global scale. It was really cool to be a part of."
In the photo: Colton Barkefelt, Caylee Winpigler, Simon Williams, Kara Poole, Selma Zuljevic, and Reka Baan
Not pictured: Ashly Sargent (Head Delegate, she was taking the photo)
Are you ready to say Hello?