National First-Generation College Student Day 2022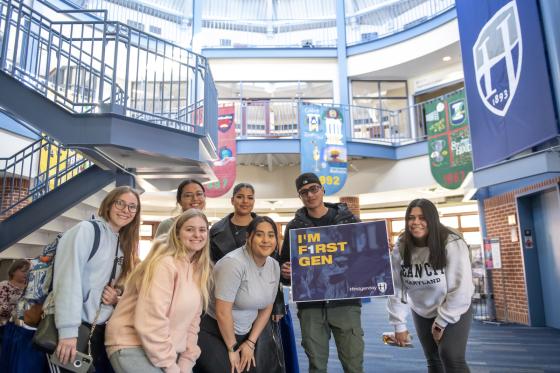 Hood alumni met with current students to share their experiences as first-generation college students.
Alumni and Students Show Off Their First-Gen Pride
On November 8, 2022, Hood College celebrated National First-Generation College Student Day, but what exactly is a first-generation student?
Simply put, any student who is the child of parents and grandparents who did not attend a college or university is considered first-generation. These "first-gens" account for 42 percent of the total collegiate student population nationwide. Here at Hood, 18 percent of incoming freshmen during the 2021-2022 year were first-gens, a number which has steadily been on the rise thanks to the College's accessibility and inclusivity initiatives.
Besides current students, there are numerous Hood alumni as well as faculty and staff members who are first-gens. Even Hood's own president, Andrea Chapdelaine, Ph.D., is herself a proud first-gen college student. The road to graduation is often challenging for first-gen students, who often come from underrepresented communities. They may lack the higher education "fluency" that is natural to their peers who have parents already well-versed in the complexities of college life. Despite this, first-gen students are often the most resilient, dedicated and grateful.
To honor this tenacious group of Blazers, Hood College invited first-gen alumni to visit current first-gen students on campus. In recognition of their accomplishments and overcoming barriers to education, first-gen staff members and alumni handed out cookies, custom first-gen stickers and other goodies. Some of these past and present students who participated in the event shared their thoughts on what it means to be first-gen.
"Today, I spent time with a gal who was a first-generation student, whose parents were from El Salvador and Ghana. They worked really hard so that she could come to college. She selected Hood because of the close-knit friendships, small classes and outstanding student support. I also had a chance to talk with some of the field hockey players who are first-gen. I had played in an alumni game with them last year, so it's cool to see them here as first-gen students. I was reminded of when I was here at Hood back in the late 70s." -Joy Miller Beveridge '82
"To me, being a first-gen student means that I'll be able to support my family in the future and that I'm setting a good example for my cousins. My sister is older than me and she also went to college as a first-gen student. We're both really proud of ourselves and each other." -Phebe Frost '25
"Being a first-gen student means that I get to make a difference and hold a high standard for my niece and nephews to look up to." -Jordan Banks '23
"I'm the oldest of three. My parents started college but couldn't finish, so I'm just finishing what they started and setting that path for my siblings." -Lexie Page '25
Are you ready to say Hello?
Choose a Pathway
Information will vary based on program level. Select a path to find the information you're looking for!