In the NeighborHOOD: Meet Laurie Ward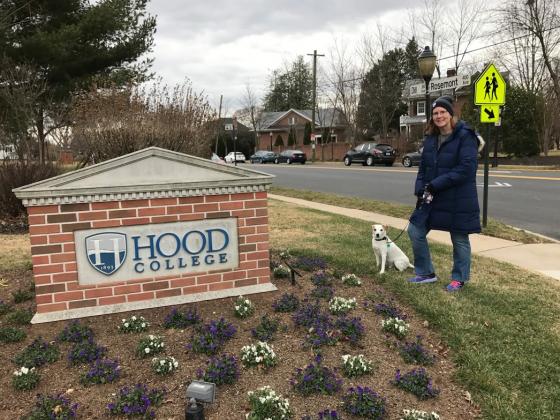 Meet Laurie Ward, vice president for marketing and communications.
Laurie Ward
Hometown
Title
Vice President for Marketing and Communications
What brought you to Hood College?
I moved here for my position. I am the product of a liberal arts education, and it's great to be back in that environment.
What do you value most about your job?
The opportunity to do something different every day.
What is your most memorable moment at Hood?
Launching the new website. It was something I had heard about from my very first moments on campus, during my interview, and I was excited to have the administrative support to accomplish this so quickly after arriving.
Describe your academic interests, research, professional interests or expertise.
All aspects of marketing and communications, but I really love public relations and crisis communications, especially when it comes to professional athletes. When an athlete is in a PR "crisis," I love to come up with my own plan, how I would handle it if I were their PR person.
When you aren't at work, what are you passionate about?
Anyone who knows me would say the gym and my dog, maybe not in that order. Bernie, my Jack Russell Terrier, is like my kid. He has terrific personality, and I tell him every day, he's lucky he's cute. I'm a huge baseball fan and am excited about being in an American League market where I can watch my Yankees more. I'm also passionate about Orangetheory Fitness, a high-intensity interval training workout, and try to get there four or five times a week. I'm also a quilter and enjoy making blankets for friends and family.
What three books would you recommend be on everyone's reading list?
"The Art of Fielding" by Chad Harbach is one of my favorites, about a baseball team at a small liberal arts college
"To Kill a Mockingbird" by Harper Lee, just a classic
"A Man Called Ove" by Frederick Backman, a good reminder that you never really know what someone has been through or where you might meet someone interesting beyond their barbed exterior
What is your favorite children's book?
"The Sneetches" by Dr. Seuss
What is your favorite spot on campus?
The pergola...it changes every day.
What is your favorite place in Frederick?
Baker Park...Bernie and I love walking there, lots of interesting smells for him and it's so nice to live in a community where everyone says hello.
Are you ready to say Hello?
Choose a Pathway
Information will vary based on program level. Select a path to find the information you're looking for!