Passing the Torch: Advice From Graduated Students to New Ones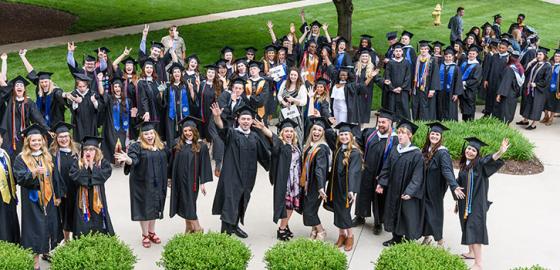 Aug. 22, 2018 -- As we near the beginning of the 2018-19 academic school year, the Graduate School at Hood College is excited to welcome all new and returning students! For many, this is their first experience with graduate school.
Graduate School Alumni
Program
Counseling, Clinical Mental Health (M.S.)
Environmental Biology (M.S.)
Humanities (M.A.)
Reading Specialization (M.S.)
Department
Art & Archaeology
Biology
Computer Science & Information Technology
Education
Global Languages & Cultures
History
Philosophy & Religious Studies
Political Science
Psychology & Counseling
Lois Johnson-Mead, a recent M.S. in environmental biology graduate, thinks that "graduate school is a chance to push boundaries and look inside yourself to find out what you want to explore. I encourage students to try different classes, stretch beyond their normal expectations, join in on events, lectures, and symposiums that can stretch your thinking and potential. Hood College asked me to examine how I think, what I care about, and to discover so much more than I expected. I hope all new graduate students, especially international students, give themselves the chance to embrace those opportunities; after all that's the Hood Way!"
Merrideth Wile, a graduate of the M.S. in counseling program, said simply to "pace yourself, and enjoy the process." Work through classes at the schedule that it right for you and try to get the most out of it.
When asked about what incoming students should know, Tara Scibelli, who earned her M.A. in humanities, said to "do all the assigned readings to get the most out of your classes." Everyone gets busy, but the more that you do for the class, the more that you will gain.
Mia Zimnick, another environmental biology graduate, explains you should "prioritize your education. It may be easy to get caught up in life outside of school, but while you're in the program, try to make it your main focus. This includes reaching out to your professors when you need help, forming study groups with your fellow students, and spending a few weekends in the lab. It'll all be worth it when you're done."
Megan Ramsburg, who graduated with an M.S. in reading specialization thinks that "it is important to know that you can approach your professors. They are here to help you and can be very accommodating to your needs. Ultimately, they all want to see you succeed in your program."
Mir Abdul Wasay, the outgoing Graduate Student Association president who completed his M.S. in information technology stated, "I personally believe that education neither starts nor ends in the classroom."
Finally, environmental biology graduate Kevin Stanfield advises to "immerse yourself in the experience. You may have recurring dreams about the effects of climate change on an obscure species of owl, but it makes learning easier!"
Are you ready to say Hello?