From Psychology to Management Information Systems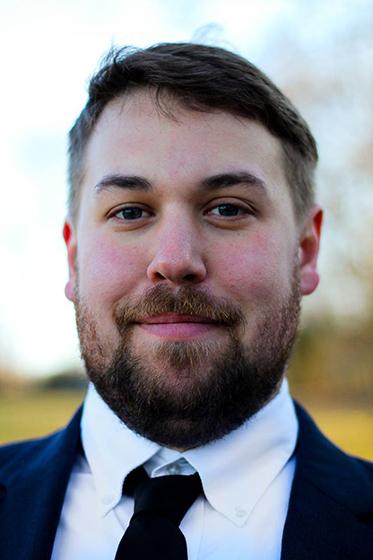 The Unique Journey of Jeffery Larson
Jeffery Larson
Program
Management Information Systems (M.S.)
I'm from the little town of Alexandria, Minnesota, a beautiful town, full of pleasant people, and known for housing the discredited Kensington Runestone and a 10 foot Viking statue named Big Ole. I graduated from Jefferson High School and after a variety of service and factory jobs, enlisted in the army as a microwave communications specialist. In spite of the "trial by fire" of boot camp, I look upon this time in my life fondly. I was surrounded with opportunities to better myself, and I benefitted from the support and structure. Most of all, I needed the tools to improve myself, and the military had those in spades. Before the Army, the longest I held a job was a year and a half, and the Army always re-assigns soldiers fairly regularly. Wanting to avoid following a career because it is convenient, I decided to use my education to pursue another love: reading. I loved getting inside the characters of books, and seeing those characters develop and grow. I enrolled in Frederick Community College as an English major, but after a Psych 101 class, changed my major to Psychology with no regrets. It took a great amount of effort, but I achieved high grades, and transferred to Hood.
How has your experience been at Hood so far and why did you decide to come back?
My academic growth at Hood has been fantastic. More than that, the students and professors have been essential at growing a sense of pride in learning and achieving that I have rarely seen on such a wide scale. In my senior year, I was trying to decide where I could go from Hood to keep growing intellectually. I had tailored as much of my undergraduate career as I could to studying the various aspects of human sexuality, and spent much of my senior year looking into Masters and Ph.D. programs for psychology, but a growing desire to return to a technical career kept distracting me. Partway through my final semester, Dr. Elizabeth Chang, who taught the web design course I took for my non-lab scientific thought core requirement, noticed how much I enjoyed it. She invited me to join the Computer Science club, and later asked me why I didn't major in computer science. Dr. Chang told me of the Master's in Management Information Systems program, and encouraged me to apply. When I finally applied, I saw the same things that initially attracted me to Hood. Small college, small class size, academic rigor and a culture of learning. Further, my brief time in the Computer Science Club had shown me different and interesting ways that Hood's CS department was crossing disciplinary lines through their personal and professional interest in very human ways of using their technical expertise. Things like musical computing which showed self-expression through highly organized code, or seeing the Women's March in DC through tweets using Geographic Information Systems (GIS). I was fascinated, and that fascination grew into a determination to fuse my two major personal interests for a career. Thanks to Dr. Chang, I knew of a place where I could learn those skills in a way that was effective for me. It didn't hurt that I live in downtown Frederick, either.
Why MIS? Can you explain how and why you decided to make a career change from Psychology?
I love that I studied psychology, and despite the growing urge to return to a technical career, I still feel that the study of the human mind is intrinsic to my academic self, and I needed a career that fit the two. I didn't take any management courses during my undergrad, but I do know that my interest in psychology ultimately revolves around people. In that, management and psychology have common ground. As for the technical portion, I already know I will love it, and I already know the professors at Hood have a lot to teach me. When I realized that there are few, if any, programs that will fit me as well as the MIS degree, it became an obvious choice. I realized that there probably aren't any programs that will both fit me and set me up for success like the MIS program will.
Can you offer advice to those students who might be in the same situation – changing their major/career? What are some of the things to consider before making that decision?
I didn't come to this decision overnight. I labored over it, and hunted for information to ensure I wasn't making a mistake. For anyone considering a career change, research your potential path. There is a lot to look into, like career forecasts and job growth, but just as important is to decide if you have the wherewithal to push yourself through the transition. Most importantly, will the change help you become someone you want to be, or help get you to a place where you can have the opportunity to improve in a way consistent with yourself?
What do you expect from MIS program?
While I can't be sure where I will end up, I think the MIS degree will give me the tools to reenter a field where inactivity breeds irrelevance. Further, I think it will do so while retaining a focus on people. I think, and the DOL confirms, that this is a very in-demand skillset. I have no worries about my future employability.  
Are you ready to say Hello?