Q&A with Megan Shaine, Ph.D.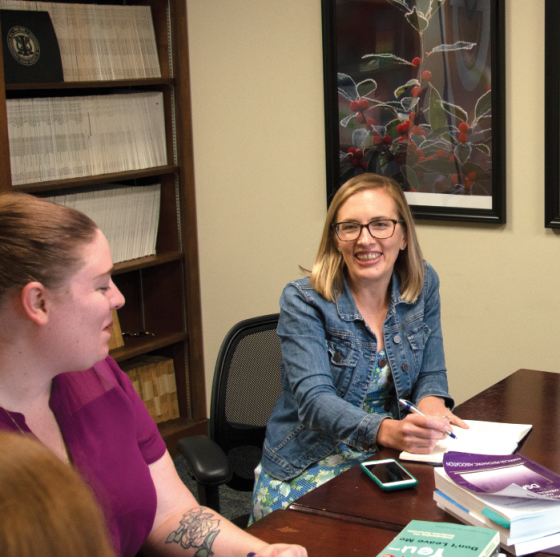 Professor Shaine tells us what's new in the counseling master's program and about her research on the mental health care experiences of transgender military service members and veterans.
Q&A with Megan Shaine, Ph.D. | Hood Magazine, Fall 2019
Department
How long have you been at hood and what are you currently teaching?
I started at Hood in fall 2016, so I am in my fourth year as a faculty member in the counseling program. I am an assistant professor and also serve as the practicum and internship coordinator, which means I oversee field placements for all of our graduate students. I teach Counseling Techniques, Trauma and Crisis Intervention, and our practicum and internship classes.
Tell us about your latest research. What sparked your interest in transgender military service members and veterans?
As part of a bicoastal research partnership between Hood College and Portland State University (PSU) in Oregon, I recently completed a mixed-methods study of the mental health care experiences of trans military service members and veterans. My colleague, Dr. Deanna Cor from PSU, and I worked with a team of students including Abbey McAlister '19, Stephanie Kesner '18 and Nicole Logan. We conducted 10 qualitative interviews and collected more than 50 survey responses from trans military service members and veterans. In both formats, we asked them about their experiences with mental health care providers both within and outside the U.S. military system, as well as barriers to accessing mental health care and experiences of discrimination.
My interest in military populations stems from my own family's history of service and my clinical work with military families. I became interested in the trans military population more specifically over the past several years, as they have endured a roller coaster in their pursuit of open service. After the Obama administration moved to end the ban on trans open service in 2016, the current administration has moved back: the ban is now back in effect as court battles continue. Dr. Cor and I became curious about our abilities as mental health care providers to serve this population, who we hypothesized may not feel safe seeking help within the military. This struck us as particularly concerning, given  that this population, as members of both the trans and military communities, have a compounded risk for mental health challenges including suicidal thoughts and behaviors.
How can we better meet the mental health care needs of this particular population?
First and foremost, trainees and experienced mental health care providers both within and outside the military should seek specialized training to work with both trans and military populations. Our participants reported feeling a persistent and exhausting need to educate their providers. They also described striking geographical differences in the competence of military providers to work with trans clients; some participants reported accessing high-quality, specialized care at dedicated LGBT veteran centers, while others reported driving six hours to receive competent medical and mental health care. We also need to remember that trans military clients, like anyone else, want to be seen as the complex individuals that they are, and that forming a genuine, therapeutic relationship is the number one key to success in any counseling relationship. Practically, non-military mental health care providers need to be aware that cost and ease of access are major barriers for this population. This means we should consider offering a sliding scale fee for military clients and their families or consider donating our time through organizations like Give an Hour (where you can sign up to provide free mental health services to veterans). Many more of us,  especially if we live in areas with high military populations, should consider becoming paneled with Tricare, which is the insurance provider for many service members and their families. Furthermore, if we are trained to work with trans and/or military populations, we should make this clear in our directory listings.
What's new and exciting in the counseling master's program?
We've achieved CACREP accreditation! The Council for Accreditation of Counseling and Related Educational Programs is the gold standard for programs in counselor education. We are also very proud of our expanding relationship with Frederick Memorial Hospital's Behavioral Health Services. We now place clinical mental health interns across a range of care levels within BHS: the inpatient behavioral health unit, crisis services in the emergency department, the psychiatric partial hospitalization program and  Hood College's outpatient counseling center at the FMH Toll House location. On the school counseling side, we continue to build our relationships with Frederick County, Carroll County, Washington County and Montgomery County Public Schools. My colleague, Atiya R. Smith '03, M.S., Ph.D., LCPC (assistant professor of psychology and counseling) is also coordinating with the Maryland School Counselor Association to host their graduate student seminar in fall 2019.
Tell us about the pilot study happening this summer.
Andrew Campbell, Ph.D. (assistant professor of psychology and counseling) and I were fortunate enough to receive a Board of Associates McCardell Grant to develop a mindfulness-based curriculum for counseling courses in trauma and crisis this summer. We are collaborating with Lyda Holguin Palacios and other colleagues at The George Washington University to design and pilot a series of mindfulness, reflection and self-care activities to build into courses with emotionally difficult material. The idea is to teach them important professional skills to ward off compassion fatigue and vicarious trauma. We know that 90 percent of the U.S. population has experienced at least one traumatic event in their lifetime, so we have to be mindful about retraumatization when students are sitting in these courses.
What types of clients do you enjoy working with in your private practice?
I work with a wide variety of clients in my private practice in Washington, D.C. Currently, I am really enjoying working with emerging adults (ages 18-24) and new parents, as both of those populations are dealing with significant life and role transitions that are really fascinating and rewarding to work with. I continue to work with clients who have experienced trauma and always consider this an absolute privilege; lately, I have had the honor of working with a few new parents who experienced birth trauma.

A Bit of Advice
What exactly is mindfulness, and how can we practice it?
Many people who are new to mindfulness are intimidated because they find it impossible to "clear their minds." In fact, this is not the aim of mindfulness. Jon Kabat-Zinn, who is one of the founders of mindfulness-based stress reduction, defines mindfulness as  "awareness that arises through  paying  attention, on purpose, in the present moment, non-judgmentally." You are not  trying to rid your mind of thoughts but rather to accept them and allow them to pass without judgment. Over time, this can dis-empower more negative thoughts that may have been holding us back. One of the great things about mindfulness is we can practice it anywhere, anytime, and we have more and more tools to facilitate it. Many of my clients are busy, working professionals, so I recommend they try one of the  many  mindfulness apps available now. Many of them engage in guided meditations through their smartphones while walking to work or after putting their kids to bed, and it only takes 10 minutes!
Are you ready to say Hello?
Choose a Pathway
Information will vary based on program level. Select a path to find the information you're looking for!