Q&A with Wayne L. Wold, Professor of Music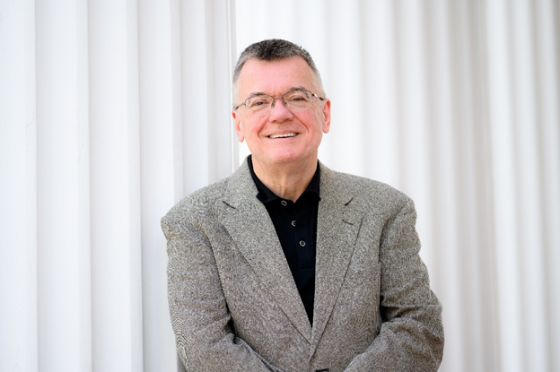 Wayne L. Wold has been teaching music at Hood for 30 years.
Wayne L. Wold: Organist and Professor of Music
Program
Department
Degree
Title
Wayne L. Wold, Hood College organist, professor and former chair of the music department, has been teaching here for 30 years. Aside from teaching at Hood, he has been able to perform at Camp David, across the U.S. and around Europe. Through music lessons and teaching, Wold has been able to maintain relationships with students and alumni, which is his favorite aspect of teaching.
How long have you worked at Hood?
Since 1990. After working as a part-time instructor, I became full time in 2000. I moved to Maryland in 1979 from Minnesota for a church music position.
What has been the most enjoyable aspect of teaching and performing at Hood?
The students I have come to know through various courses and lessons. I have watched students graduate and go on to graduate school and into professions. I keep in touch with many alumni.  I have often given organ recitals on campus, as well as in Europe. The music department's campus concerts have a good following. A lot of people from the community come listen to our concerts.
When did you become interested in playing the organ and/or other instruments?
I started taking piano lessons at age five. At that time, I was already creating music on the piano. I started playing the organ when I was 16.
How did you become involved working at Camp David?
I have always been a church musician and when I began teaching at college, I became a part-time church musician. In 1996, I began my position as the director of chapel music at Camp David. I did that for 17 years up until 2013. I worked there part time, but it was very special. I started there at the end of Bill Clinton's first term and continued there until Barack Obama's second term.
Some of my most memorable times there were Bill Clinton singing in the choir I directed, performing at the G8 Summit Dinner and having the opportunity to meet government officials and celebrities. I met Steven Spielberg, Condoleezza Rice and Madeline Albright, among others. It was a small chapel community up there, so over a cup of coffee, I was able to chat with many of these people.
What are your goals for this new year?
As the music department, we are always looking for ways to grow our program, to tap into new areas, and continue to involve and engage the students whether they are music majors or not. This way, students can expand their musicianship and be involved in our music ensembles.
Trips are always a highlight for the department. The Chamber Singers have been to Europe and the Hood College Choir has presented concerts up and down the east coast, including Florida and New York City. Going on these trips is a way to gather alumni and prospective students.
Are you ready to say Hello?
Choose a Pathway
Information will vary based on program level. Select a path to find the information you're looking for!