Reciprocal Learning in Honors with Dr. Katherine Robiadek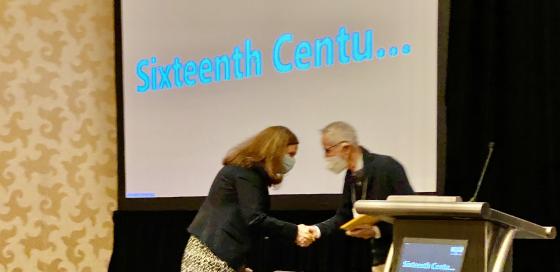 Dr. Katherine Robiadek wins the Sixteenth Century Society's Carl S. Meyer Prize
In Honors, Students and Faculty Learn Together
The Honors Program obviously impacts the students involved, but what about the faculty? Dr. Katherine Robiadek, Assistant Professor of Political Science at Hood College as well as the Director for the Martha E. Church Center for Civic and Community Engagement, may have the answer to that question. 
Robiadek won the 2021 Carl S. Meyer Prize for her paper detailing Machiavelli's ethical critique of mercenaries in his only dialogue, The Art of War, which is on military affairs. For those of you who don't know much about this prize, it is awarded by the Sixteenth Century Society, an international association that focuses on scholarship about the early modern era (which ranges from the 1450s to the 1660s). To put it another way, achieving this prize is no small feat!
Robiadek attributes this, in part, to being able to discuss her project with the Honors class she taught. In fact, she had this to say about the program: "It's wonderful that Hood College faculty have the opportunity to engage Honors students in meaningful discussions about their scholarly projects, since those conversations serve both student learning and faculty work." Dr. Katherine Robiadek is a prime example of how professors benefit from the program just as much as the students. 
If any of this information was interesting to you and you want to learn more from Dr. Robiadek, fear not! She teaches a Democratic Theory (PSCI-HON 397). The class will discuss topics such as justice, representation, rights, pluralism, deliberation, individual perceptions of democracy, and the events of January 6, 2021. Don't know much about these topics? All the more reason to join!
If you want to learn more about the relevance of Machiavelli's political theory today, please join Dr. Robiadek for an online panel hosted by YouTube show, "Italian Innovators," and featuring other speakers including, among others, Dr. Christopher Celenza (Johns Hopkins University), Dr. Bill Connell (Seton Hall University), Dr. Luca Cottini (Villanova University), Dr. Stefano Baldassarri (ISI Florence). Learn more and register here for the event which will take place on Wednesday, December 15th, from 3pm-5pm U.S. Eastern Time.
Are you ready to say Hello?
Choose a Pathway
Information will vary based on program level. Select a path to find the information you're looking for!