Social Justice at Hood | Domestic Violence Awareness Month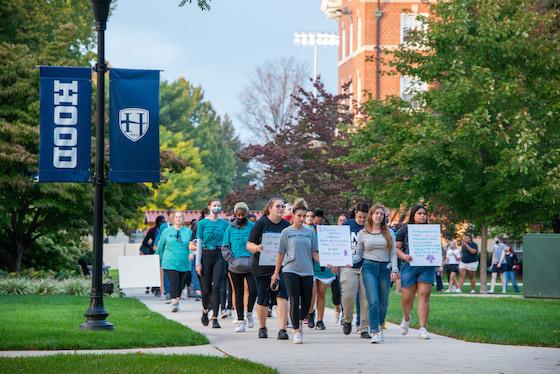 Hood students, faculty and staff are proudly participating in Domestic Violence Awareness Month.
Domestic Violence Awareness Month
"Everyone knows someone." So goes a popular rallying cry amongst the national conversation surrounding domestic violence. Although there exists a wide net of support services for survivors of abuse, statistics show there is still serious work to be done. In the United States alone, one in three women and one in four men have experienced some form of violence by an intimate partner. This equates to more than 10 million men and women every year.
Significant progress has been made since Domestic Violence Awareness Month was launched over 30 years ago. The goal is to connect individuals with organizations that protect and advocate for survivors, as well as shed light on what has long been considered a taboo subject. "It's hard to confront a situation when it's so close to home," says Nina Carr, who serves as CARE project coordinator at Hood College. "I think there's also still minimization, and maybe that comes with knowing the people involved."
As difficult as it may be, addressing the issues that stem from intimate partner violence is a matter of great urgency—especially on college campuses. In fact, women ages 16-24 most predominantly experience various forms of abuse. Forty-three percent of college women report experiencing violent and abusive behaviors. Defining domestic violence, however, can be tricky. In broad terms, it is a pattern of power and control in a relationship. It can assume many forms—physical, mental, verbal, financial, social—and it is not always easy to spot. Fifty-seven percent of college students say domestic violence is difficult to identify.
Besides the obvious indications of physical violence, such as unexplained bruises, there are often more subtle signs to be aware of. For instance, a person might exhibit changes in behavior or demeanor, becoming unusually withdrawn or isolated when normally they would be talkative and outgoing. In a college context, someone might start missing class or skipping out on extracurricular activities. Other times, an abusive partner might be constantly monitoring the victim, demanding to know where they are at all times.
If you happen to suspect a friend or classmate is being abused, it can be intimidating to navigate how you should help. Fortunately, even small gestures can make a huge impact on connecting someone with the tools to escape an unhealthy relationship. "It's really about expressing concern from an authentic place. Never push the person to necessarily do anything. See what they're comfortable with," suggests Carr. "Create a safe environment to express your concern and what you're seeing. You might say, 'Hey, I noticed these things and I'm concerned about you. If you need to talk, I'm here for you.' The least you can do is plant a seed."
Here at Hood, there are many resources and support systems for students to utilize. In addition to health and counseling services at Frederick Health's Toll House Site, there are designated confidential staff who act as intermediaries for survivors. Campus Safety and the Title IX coordinator are likewise available for reporting relationship violence on campus. Frederick Health Hospital also offers services specifically for domestic violence, such as evidence collection, medical treatment and connecting with law enforcement. Hood students can also get involved with the Student-led Peer Advocacy for Healthy Relationships and Consent (SPARC) and Active Bystander Initiative to learn more about forming healthy relationships and intervention strategies. In the wider Frederick community, Heartly House operates a 24-hour crisis hotline and emergency shelter. They also provide legal services and educational outreach, among a host of other programs.
In partnership with Heartly House, Hood College recently hosted the annual Walk a Mile in Their Shoes event in observation of Domestic Violence Awareness Month. After being postponed last year due to the coronavirus pandemic, this year's walk saw a huge boost in attendance and featured a variety of guest speakers. "The idea behind Walk a Mile is really about compassion and empathy—putting yourself in somebody's shoes—because victim blaming is so pervasive, and it lacks that understanding of how difficult it is to be in a domestic violence relationship," Carr explains. "Everybody should recognize their role and be able to educate others about healthy relationships. Hopefully we can have a society where this isn't so prevalent, and ultimately that's what can make a safer community."
Are you ready to say Hello?
Choose a Pathway
Information will vary based on program level. Select a path to find the information you're looking for!