Social Justice Spotlight | Sarah McKinley '23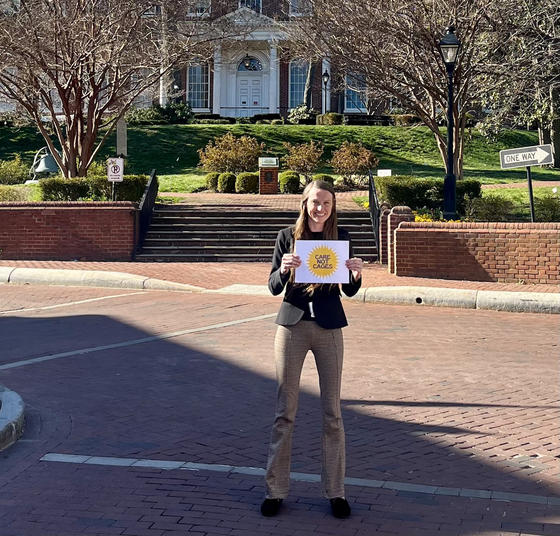 Sarah McKinley '23 describes her experience advocating for prison reform before the Maryland State Senate.
Social Work Student Testifies at Maryland Senate
Program
Department
Sarah McKinley '23, a senior social work major, is more than a student—she is an activist for change. On March 8, 2023, she traveled to Annapolis to give oral testimony before the Maryland State Senate. McKinley argued in favor of the Maryland Mandela Act (SB 0459), which proposes reduction of and restrictions on the use of solitary confinement in state prisons. The bill would also require correctional officers to undergo an additional 40 hours of training in trauma-informed care.
The opportunity to speak before the Senate arose from McKinley's field placement with the Maryland Office of the Public Defender (MOPD), where she works directly with people affected by the carceral system. She has witnessed firsthand how solitary confinement causes undue distress and adverse outcomes for those forced to suffer through it.
"My field placement with the MOPD has been one of the most rewarding experiences of my life," says McKinley. "Every single attorney, social worker and support staff working at the MOPD are exceptional people who dedicate their time and hearts to advocating for a historically underserved population."
Calling upon the knowledge gained from courses at Hood, McKinley focused her testimony on how trauma—specifically, childhood trauma—feeds into criminal behavior. As a result, she believes the need for trauma-informed interventions is critical to prison reform. Solitary confinement, on the other hand, does more harm than good and frequently leads to additional trauma, causing a vicious cycle. McKinley describes working with men, women and even children who have been placed in solitary confinement for weeks or months.
"Having the opportunity to testify before the senators about an issue that is so near and dear to my heart felt like the most important and significant thing I have ever done," says McKinley. "I have seen how mass incarceration impacts our clients, their families and their communities; and how people of color are disproportionately impacted and targeted by our legal system. It's disheartening that solitary confinement still exists. Incarceration is supposed to be the punishment, not creating more cruel and dehumanizing experiences for those who are serving time."
McKinley herself had a challenging childhood. From age 11 to 18, she was raised in foster care. This motivated her to pursue a career in social work as a means of helping people who have been through similar ordeals. "I have overcome many obstacles to get where I am today, and I want to use my own traumatic experiences to empower others," she says. "Social work is all about the Strengths Perspective, which builds upon a person's strengths and emphasizes our human capacity for resilience. I aim to lift people up from the murky waters of their lives and guide them to the clarity of recognizing what their life can be like."
After graduating from Hood, McKinley plans to begin a Master of Social Work program at the University of Maryland School of Social Work in Baltimore. She will also be returning to the Maryland Office of the Public Defender to complete her internship with the policy director. McKinley is grateful for the support of her professors at Hood, including Tina Barr and Michelle Gricus, who provided her with the foundation and confidence to pursue a career in social work.
"I would tell anyone who is considering studying social work at Hood that our program is excellent," says McKinley. "Because we are such a small department, it's a more personalized experience, and I always feel supported and valued. The program will provide you with the skills, knowledge and ethic to be an amazing social worker, and if you embrace the experience, you will grow both personally and professionally."
Watch a video of Sarah McKinley's testimony and learn more about Hood's social work program.
Are you ready to say Hello?
Choose a Pathway
Information will vary based on program level. Select a path to find the information you're looking for!