Students Present Biofuels Research at UMBC Conference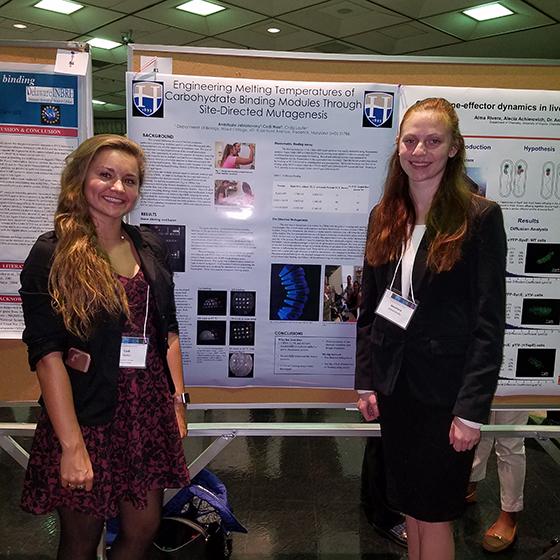 Anastazia Jablunovsky and Codi West presented their biofuels research at a symposium in October at UMBC.
Anastazia Jablunovsky and Codi West
Program
Biology (B.A.)
Chemistry (B.A.)
Department
Biology
Chemistry & Physics
Anastazia Jablunovsky '19 and Codi West '19 presented their biofuels research at the 21st Annual Undergraduate Research Symposium in the Chemical and Biological Sciences in October at the University of Maryland Baltimore County. Their work, on recycling enzymes for biofuels production, was part of a U.S. Department of Agriculture grant.
"Anastazia and Codi are developing tools that will help us lower the cost of biofuel production," said Craig Laufer, Ph.D., professor of biology at Hood who supervised the project. "The cost of the enzymes necessary to produce biofuels from agricultural wastes such as sugarbeet pulp is a major obstacle to a cost-effective process. By developing a new way to recover the enzymes after the reaction, we can reuse them multiple times, which should significantly reduce the operational costs. We are genetically engineering enzymes to modify their properties to make them much more amenable to recovery and reuse."
Jablunovsky, a chemistry major and biology minor, and West, a biology major and chemistry minor, presented to two different judges and dozens of interested people who attended the conference, including research groups from other schools.
"The best part of this for me was that it made our work feel important," said Jablunovsky. "The fact that so many others cared about this project really helped validate that we are doing something worthwhile."
West echoed that sentiment: "It was a good experience for me to present my research to other professors, judges and students. It was gratifying to receive positive feedback from other participants."
In addition to presenting, the pair learned about the research in the chemical and life sciences of other undergraduate students from colleges and universities from all over the Middle Atlantic states and beyond.
"I would definitely like to attend more poster sessions in the future to see all the great work being done in the sciences," said Jablunovsky.
West enjoyed the experience for the presentation practice and the chance to meet others who could be interested in similar research.
"I would recommend that students should take advantage of participating in a science symposium in order to strengthen presentation skills, to potentially collaborate with other participants on future projects," said West.
Are you ready to say Hello?
Choose a Pathway
Information will vary based on program level. Select a path to find the information you're looking for!