Summer Intern, Christian Ficarra, reflects on his time working with CCWS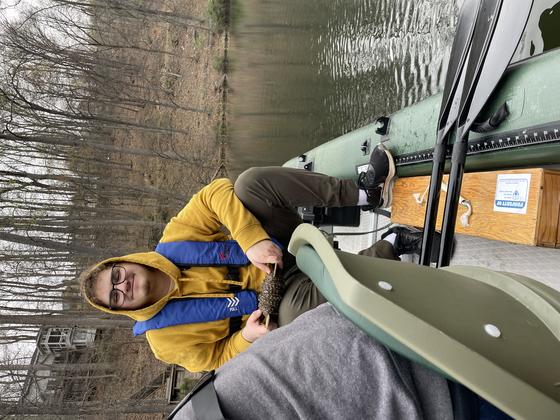 Christian Ficarra spent the summer months staying on campus to complete a 6-credit internship with the Center for Coastal & Watershed Studies, where he dove into the Environmental Services branch. His primary project focused on a small lake in the Catoctin Mountains, ThorpeWood, to determine suitable conditions for different types of fish hatcheries.
Summer Intern, Christian Ficarra, reflects on his time working with CCWS
Graduation Year
Program
Sustainability Studies (B.A.)
Hometown
Department
"I really enjoyed sampling the bacteria sites and meeting with all the volunteers and collect the samples from them.  I didn't expect the amount of freedom I was given to be given to me and I appreciate the staff trusting me to produce the quality of work they were looking for.  I felt like I was being treated as an asset to the Center and was not made to feel inferior.  I liked being held to the same standards as everyone else. 
I have learned how to talk with all types of people and I also learned what the expectations are when you work in a professional setting.  I feel the best connections I have made this summer are with my co-workers, my bosses, and the various organizations I have worked with. 
I plan to finish up my studies and hopefully find a job with a non-profit organization such as a riverkeeper network, or a job in a lab.  I do plan on going back to school at some point to get my teacher's certification to help lead the next generation.  I want to make an impact on the world in a positive way and be remembered for my actions in a positive way." -Christian Ficarra, '24.
Are you ready to say Hello?
Choose a Pathway
Information will vary based on program level. Select a path to find the information you're looking for!