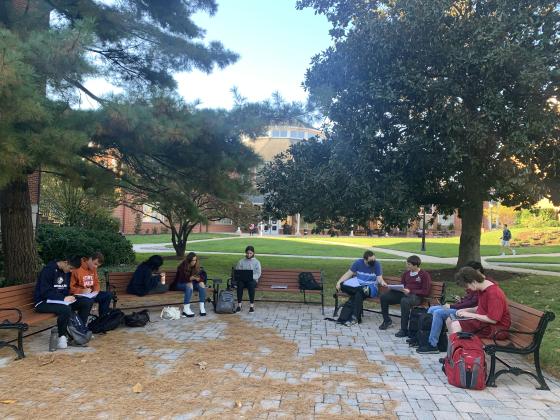 Winter break has come and gone.
Spring Semester 2022
Goodbye to snowy landscapes, staying inside, drinking something warm under a blanket, and especially to sleeping in! You will all be dearly missed. Now, like the plants that are struggling out of the dirt, we also must fumble our way out of the stagnation of winter and back to work for the spring semester. 
Flowery language aside, the main point is that we're back and better than ever! It often takes a while to adjust after changing environments. In order to help with the process, the Honors Program has kickstarted the semester with some activities.
There are various events planned for this semester, ranging from viewing the illuminated boats in downtown Frederick on Carroll Creek to hiking to indulging in s'mores with good company. 
This semester's courses are nothing to overlook either. With topics on neuroscience, sustainability, and food among the many others, it'll be difficult to find something you won't consider interesting in some way.
 
Welcome back everyone, and let's make this semester yet another one to remember!
Are you ready to say Hello?
Choose a Pathway
Information will vary based on program level. Select a path to find the information you're looking for!