Welcome Robert Klinedinst | Vice President for Finance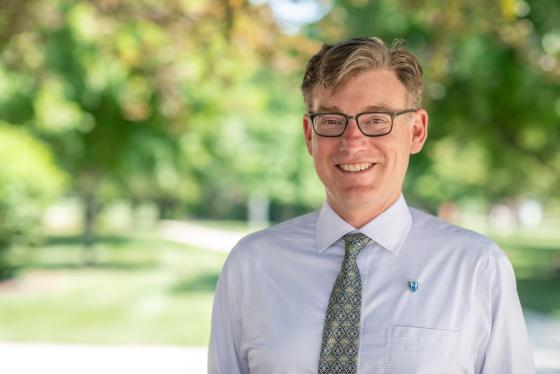 "Architecture involves understanding needs and programmatic requirements. It's about solving problems."
Senior Team
Hood College is proud to welcome Robert Klinedinst as the new vice president for finance. Klindedinst joins Hood after previously serving as a senior architect at The Johns Hopkins University. He held higher education principal roles with Little Diversified Architectural Consulting and Harriman Architecture and Engineering. At the latter, he was also a partner and treasurer.
With a wealth of experience in higher education, Klindedinst is no stranger to college campuses. His background in planning and architecture gives him unique insight regarding campus facilities and operations. Shortly after beginning his career as an architect, Klindedinst earned an MBA from Penn State Great Valley. Combining skill sets in project management and financial planning with design and engineering helped define his trajectory.
"Architecture involves understanding needs and programmatic requirements. It's about solving problems. There's a design process that can be applied to buildings, campuses, organizations and how they operate," says Klinedinst. "As an architect, I learned how to manage large, complex project budgets. Organizational budgets are similar, just with different components and timelines."
Klindedinst hopes to leverage his diverse background in meeting his primary goal—continuing the success of Hood. Within his first 100 days, Klindedinst will be busy developing relationships with faculty, staff and students, while discerning the myriad elements that comprise the institution.
One of his long-term ambitions is to help steward Hood's transition into an eco-friendly, "green" campus. Investing in sustainability can ultimately save money, and more importantly, help combat climate change. "As with any project, we follow a process of data gathering, understanding the campus and facilities, how much energy they're using, then identify opportunities for improvement," says Klindedinst. "The new sustainability studies program at Hood is an obvious group of individuals I'd like to connect with and build upon what they're doing."
Klindedinst's work has taken him up and down the east coast, working on more than 30 campuses from Maine to North Carolina. Now settled in Maryland, he is eager to explore Frederick with his wife, son and dog. He cites the beautiful Hood campus as what initially attracted him to the position. "My first impression was just the place itself. There's a certain character and scale that felt good—it's a special place," he says. "Frederick is a cool town with lots of history. Thinking about how Hood fits into that bigger picture, there's a lot going on here. There is a nice balance being in-between metropolitan urban areas and outdoor recreational areas. With all that, plus Hood's strong financial position, entrepreneurial programs, supportive alumni network and great leadership, I am optimistic about Hood's future."
Are you ready to say Hello?
Choose a Pathway
Information will vary based on program level. Select a path to find the information you're looking for!